ramsac Tech Clinic – Do you have a burning technology question?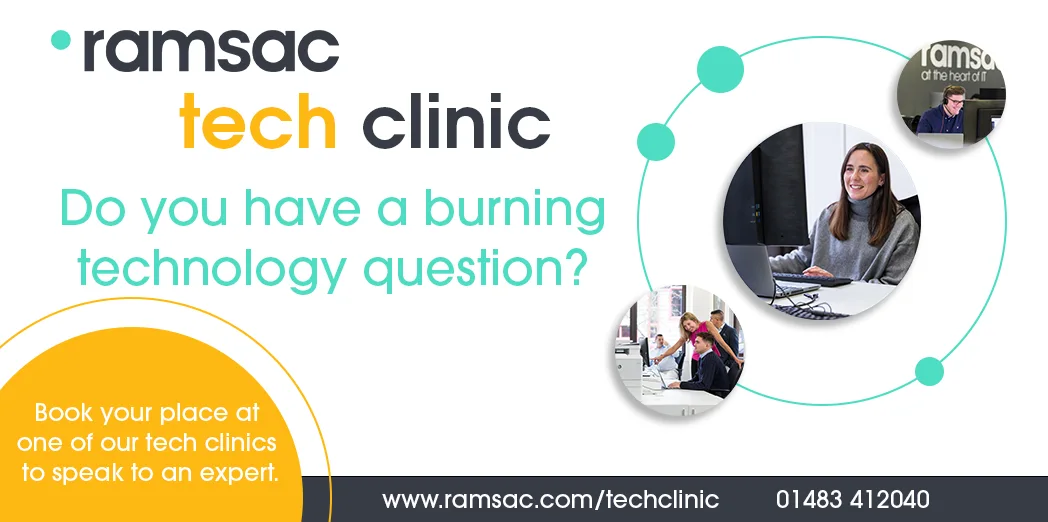 ---
Is there an IT issue you would love to know more about, or a task that feels too cumbersome that you're sure there must be a better way to do?
Why not join one of our monthly 'Tech Clinics' which we run both online and in person.
Our clinics are open to all – from experienced IT managers, office managers, operations leads or business owners. If you have a burning question or something you would like to know more about, we invite you to register for a clinic, submit your question and we'll make sure the appropriate industry experts are available to discuss your challenge in greater detail.
Our technical clinics will cover all aspects of technology, including SharePoint, cybersecurity, general IT and Microsoft 365 we can help with advice on product & services, industry trends or roadmap strategies.
Simply register for one of our clinics, submit your question and we will get back to you.
Event details

Date: The last Tuesday of each month (apart from December)

Time: 11:00am-12:00pm

Location: Online
Please note: The content of this event will be aimed at people running businesses or organisations of at least 20 staff and it's unlikely to be so relevant to sole traders or micro businesses. If a registration does not fit our delegate criteria we reserve the right to cancel the registration. We verify you via your use of your professional email address in your registration. Registrations made via personal, rather than professional, email addresses will not usually be accepted.