Chambers Group
Chambers Group was established in 1964, and over the last 5 decades has built a strong reputation for delivering high quality value-for-money services to local companies and homeowners. The company has evolved into an integrated recycling, commercial waste management and aggregates business, servicing a wide range of commercial and domestic customers.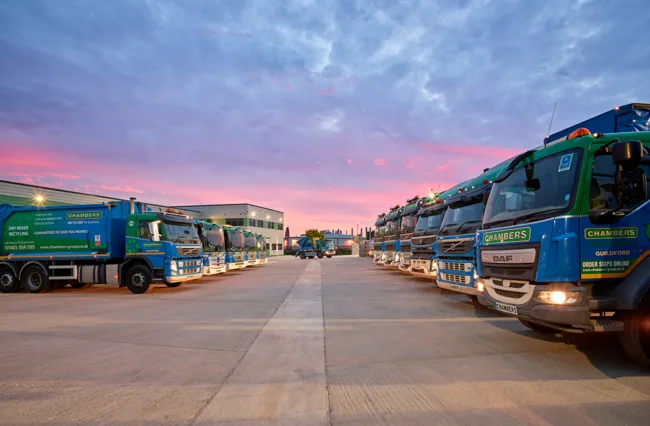 "Big enough to handle us, small enough to care"
Prior to moving to ramsac, Chambers had already outsourced their IT function, but they were looking to move to a more local managed service provider who focused on customers and provided reliable connectivity and network management. Commenting on the reasons that drove Chambers to look for an alternative provider Andy Brittain, IT Manager at Chambers said
"We needed an IT provider that understood people and provided a customer focused support process. The company needed to be big enough to handle us but small enough to care. In addition, we wanted a local business with a good proven track record".
Making the move to ramsac
Chambers made the move to ramsac in 2021 and choose the totalIT service. totalIT is a fully managed IT service that takes care of everything, from supporting end users 24/7 with any IT question, to around the clock system monitoring, remote IT administration, server management, system updates, security maintenance, and management of licences, renewals and subscriptions. Explaining why Chambers choose ramsac, Andy commented
"From the very first contact the company screamed "customer focus" and didn't dwell on the technology but more about the needs of Chambers. Being local did also give us the "feel good" factor as they are not far away. Chambers need their trucks on the road and have a number of IT pinch points that makes things very difficult if there are issues. ramsac understood our needs and have put in extra processes for dealing with these types of issues."
Adding the human factor to IT projects
Since moving to ramsac, we have completed multiple projects including rolling out Microsoft Defender, Sophos Intercept X, network improvements, and working with Chambers to create a comprehensive IT Roadmap that gives a clear vision for their IT journey. Commenting on the experience of working on IT projects with ramsac, Andy said
"The experience has been much better than our previous provider! Projects are always hard as expectations need to be set on both sides, we have had far fewer "Oh" moments with our projects and know what is and isn't covered within the timeline provided. To sum this up, ramsac have introduced the human factor to IT projects."
A breath of fresh air in the IT industry
Since working with Chambers, ramsac has worked hard to reduce issues and this has been reflected in the reduction of support calls Chambers have contacted the ramsac helpdesk with. Commenting on the benefits that Chambers has experienced since moving to ramsac, Andy said
"The monitoring is very good and we do benefit from a comprehensive monthly report. The quarterly server patching did highlight ramsac's focus on reducing issues, during the period Jan 1st to May 31st 2021 we had 466 support tickets, for the same period in 2022 we had 377 and this included the ramsac take-on period."
Concluding on the benefits Andy remarked on the experience of working with the ramsac team
"Our experience of ramsac people has been very good. For Chambers it is not about SLAs but more about the people, ramsac employees genuinely care about what they are doing and the people they help which is a breath of fresh air in the IT industry. We would recommend ramsac to other organisations."