Cybersecurity resources
As the cybersecurity landscape changes, make sure your business remains up to date with the latest news and best practices that helps to keep your data safe and secure. As a leading cybersecurity specialist, ramsac's experts offer their insight on cybersecurity essentials, including awareness training, risk assessments, and solutions.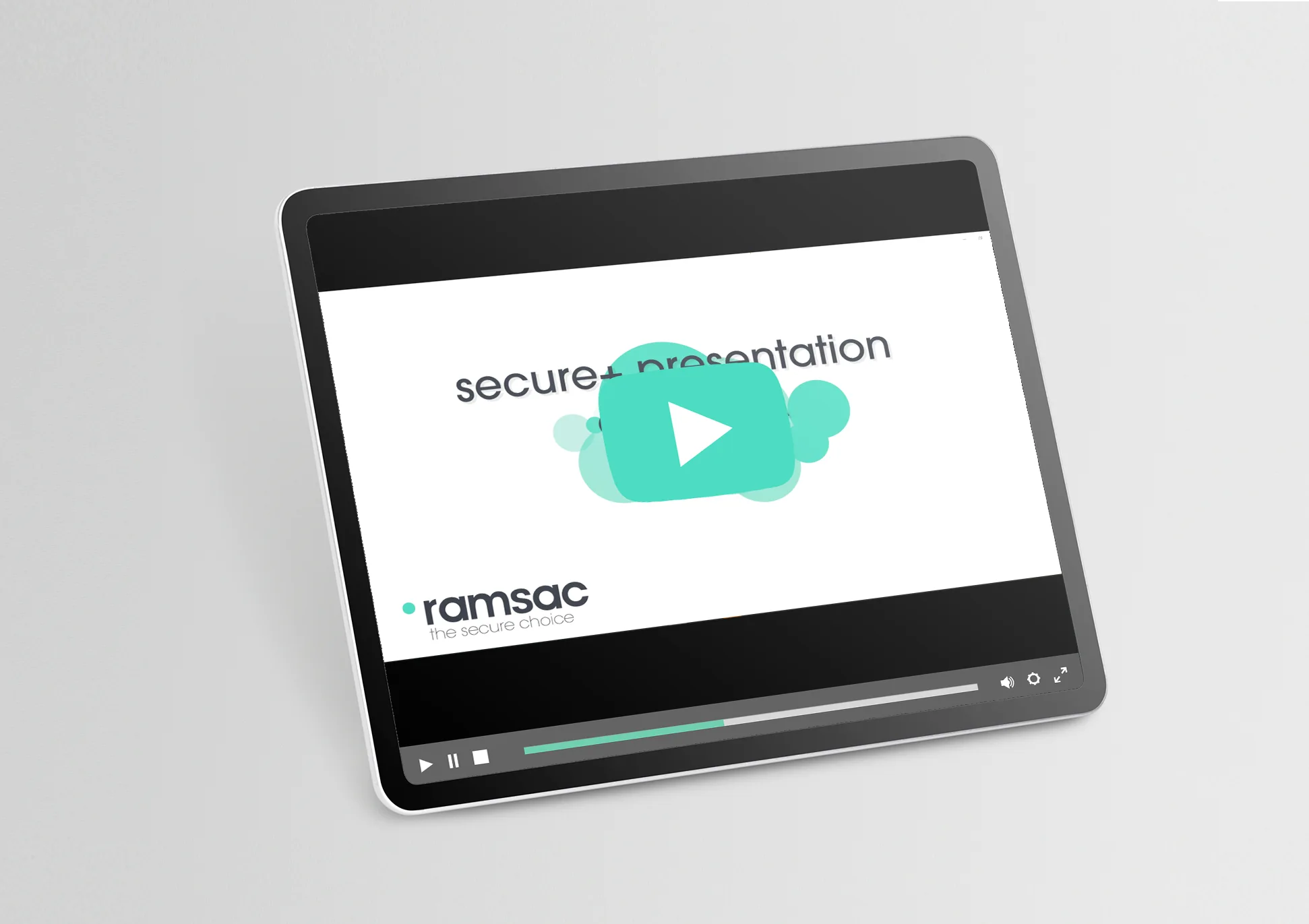 Video: secure+ presentation and Q&A – May 2023
During this event we explain the the advantages that our secure+ clients are experiencing in terms of improved cybersecurity monitoring since its launch earlier this year. [...]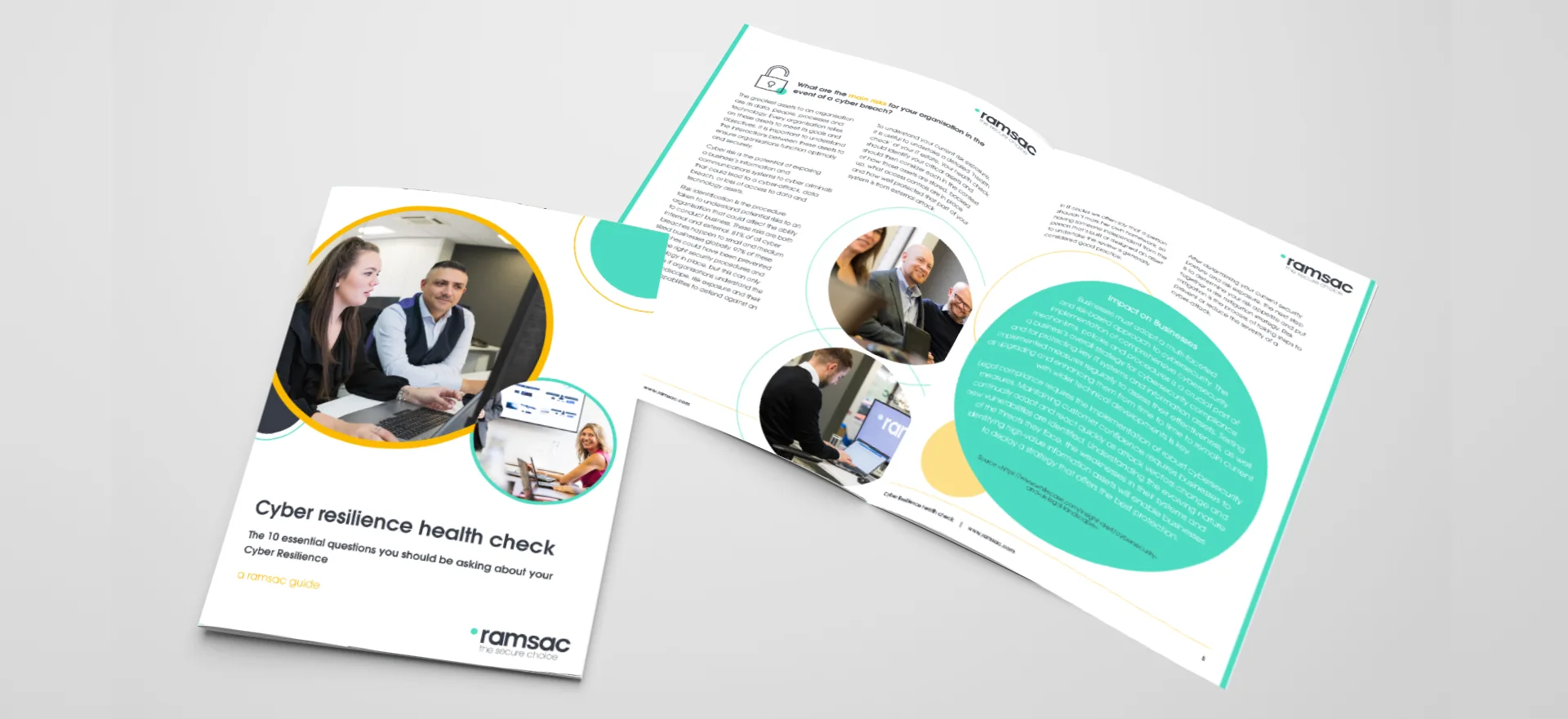 White paper: Cyber Resilience health Check
The 10 essentials questions you should be asking about your Cyber Resilience [...]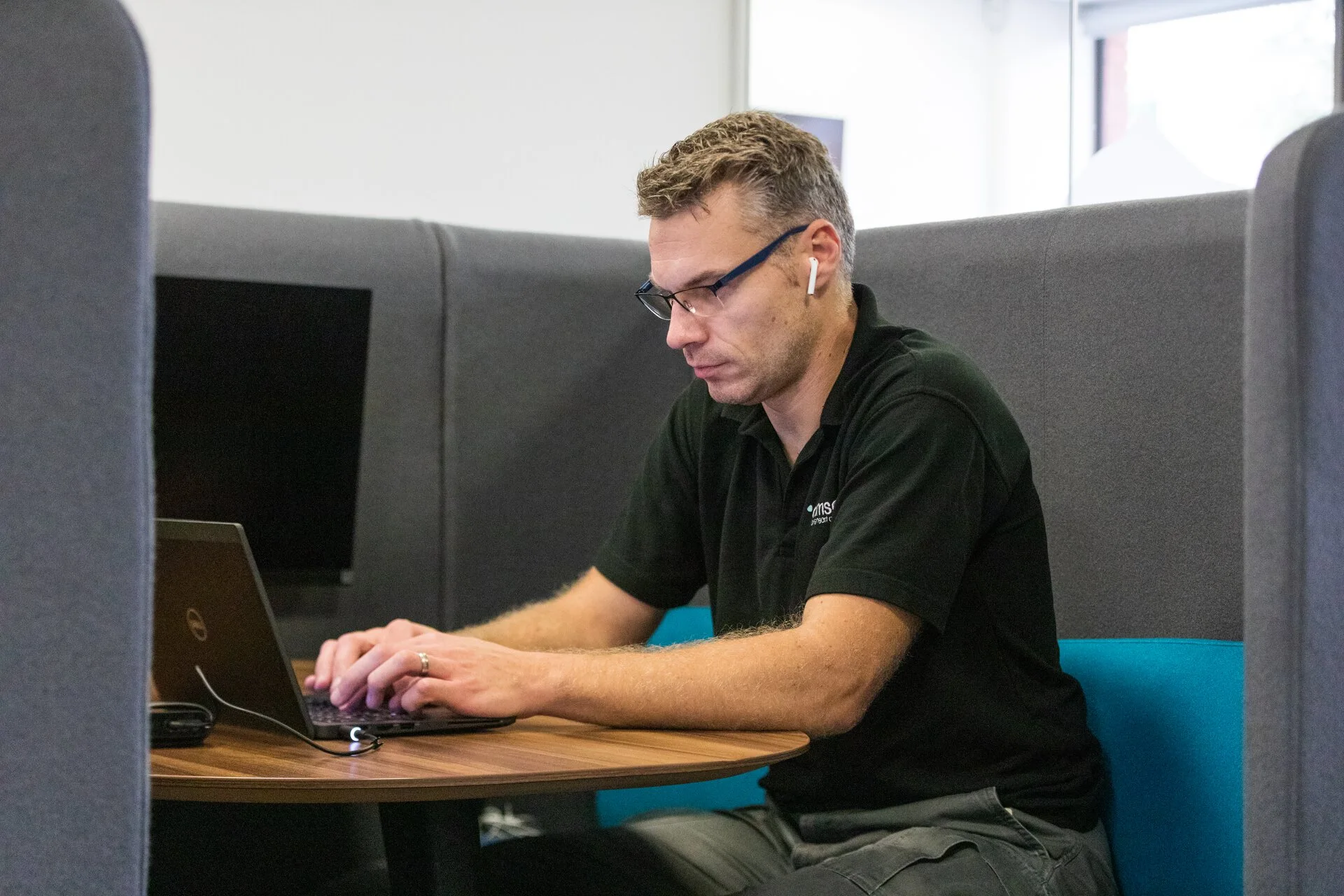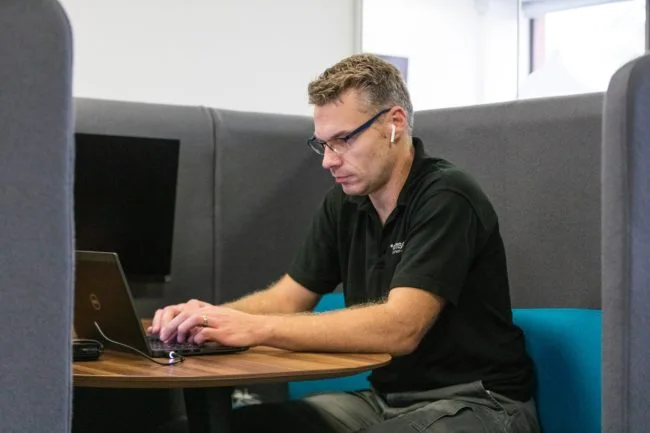 Cybersecurity, social media and the workplace  
Snapchat, Facebook, Instagram, Twitter, TikTok, Reddit, BeReal – the list goes on. Social media platforms are so ingrained in our everyday life that not using them would feel strange. [...]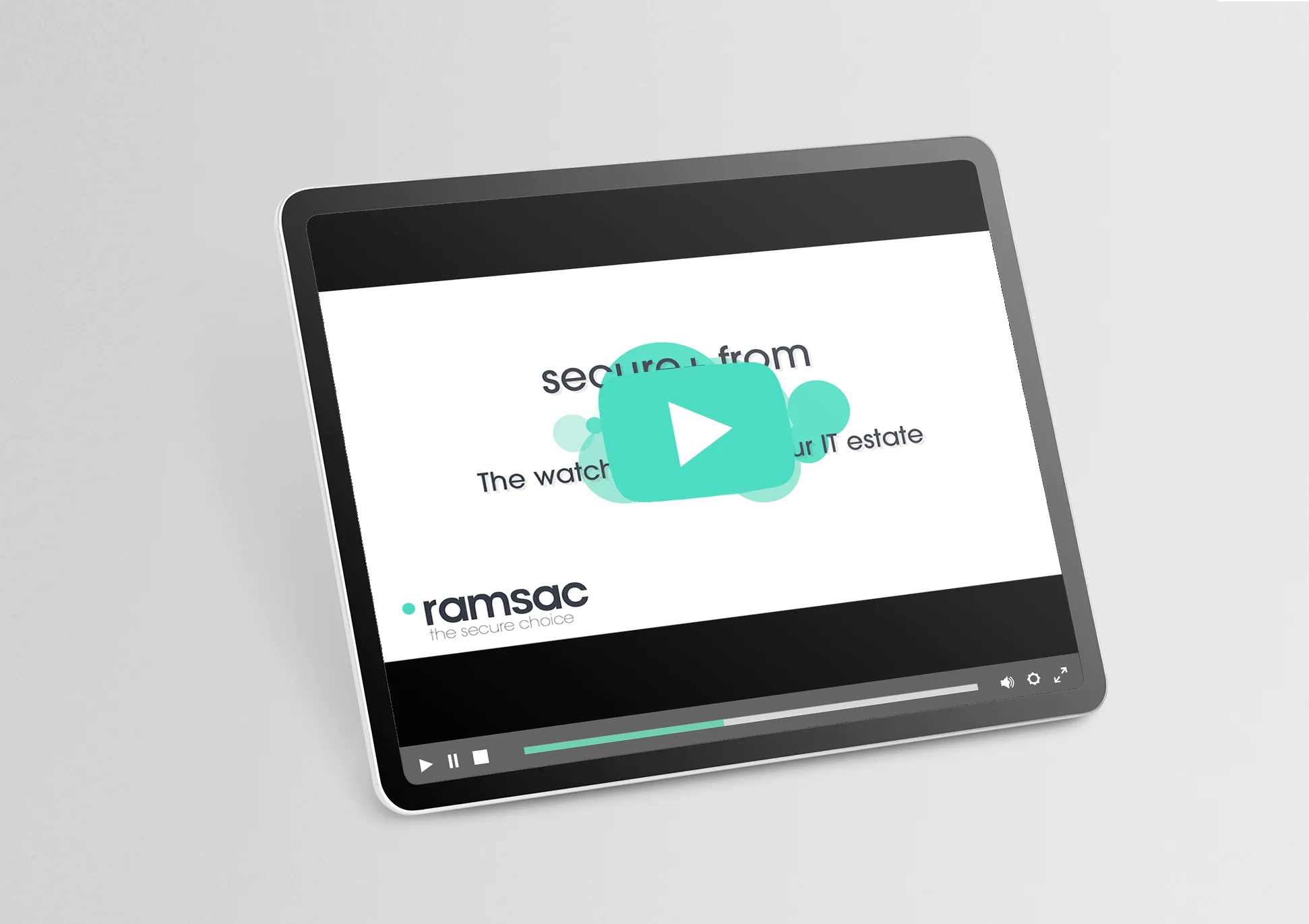 Video: Introducing secure+ from ramsac
secure+ is a proactive cybersecurity monitoring service from ramsac In this video we explain what secure+ is, how it works and how it protects organisations from cybercrime. [...]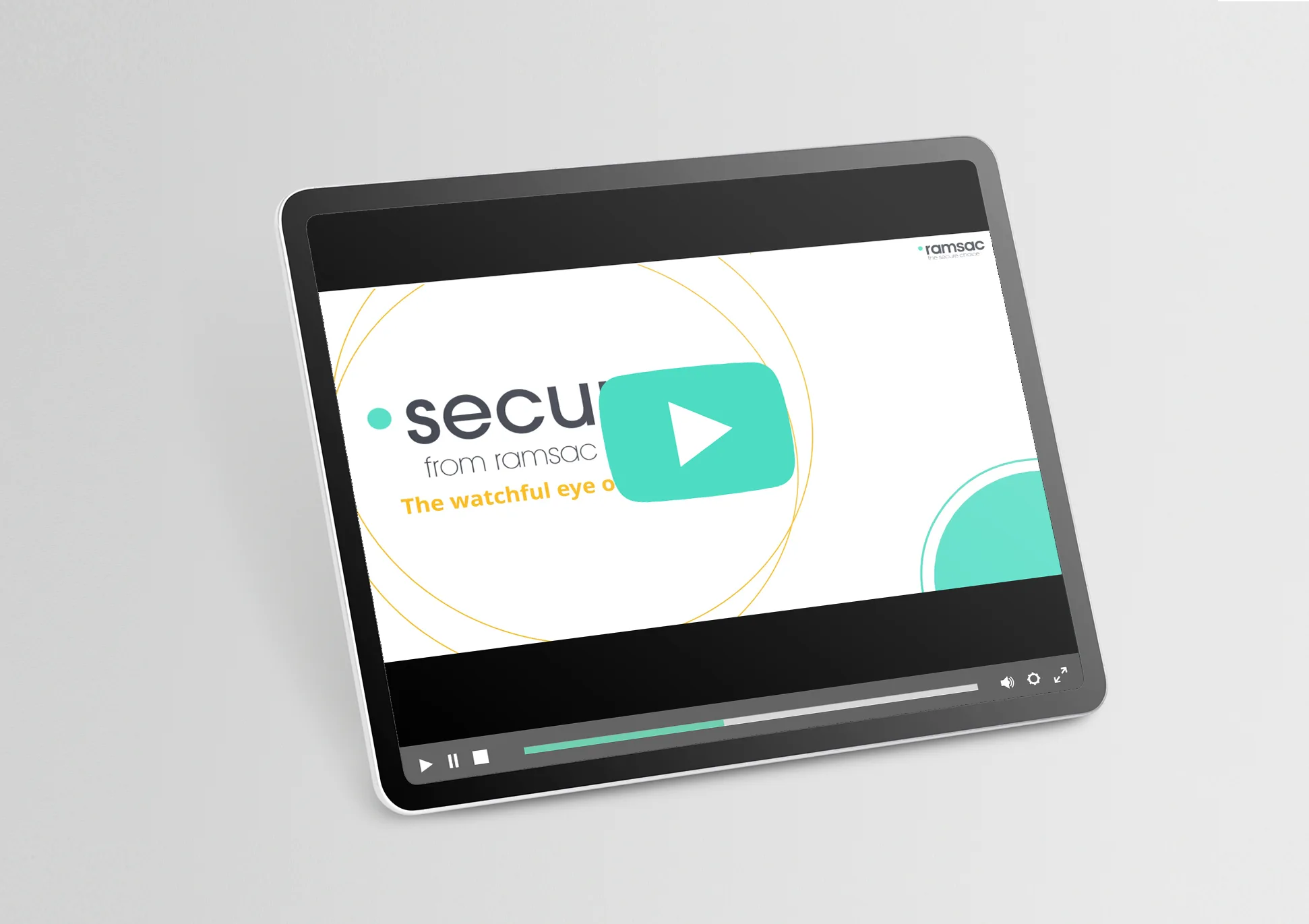 Cybersecurity monitoring from ramsac
In this video we introduce secure+ ramsac's new cybersecurity monitoring solution [...]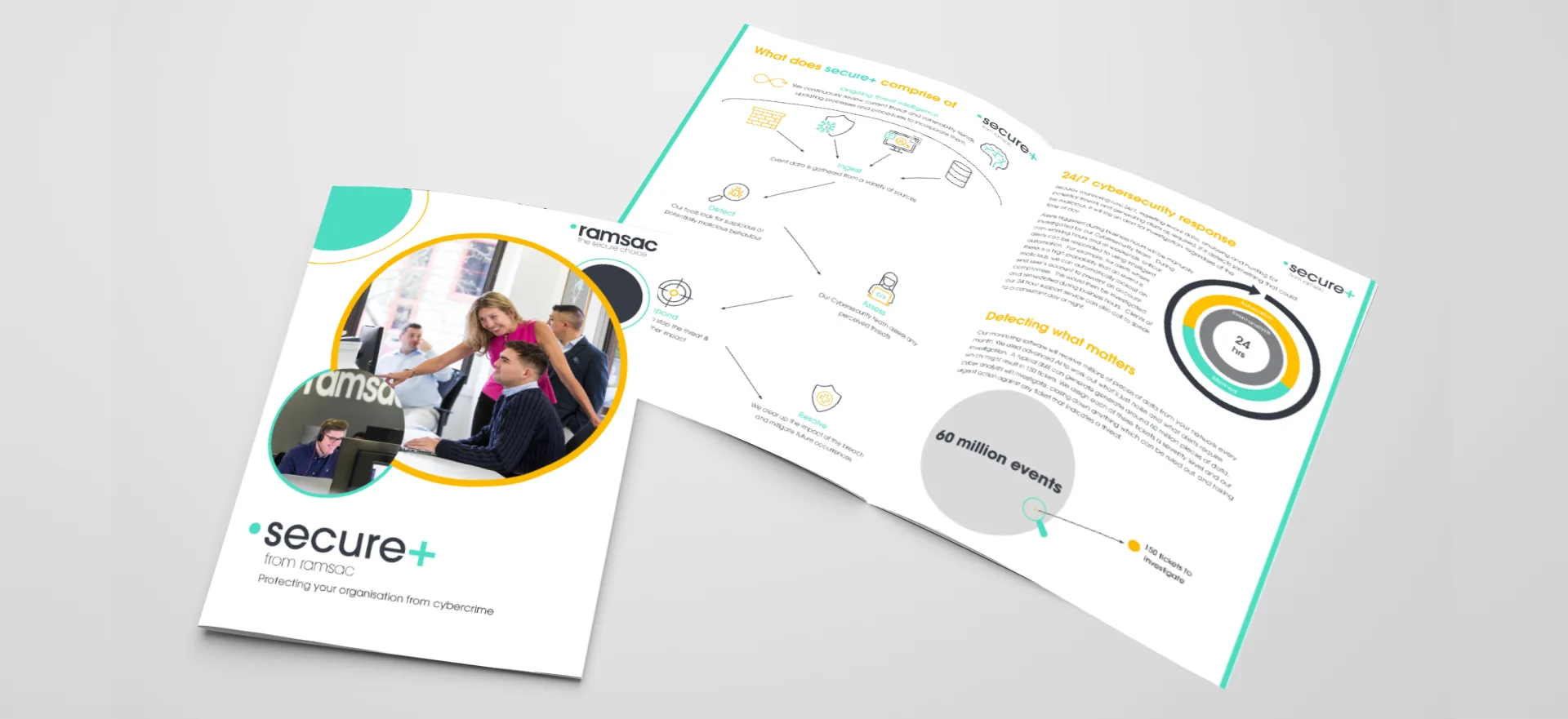 Brochure: secure+ from ramsac
secure+ is a proactive cybersecurity monitoring service designed to hunt for signs of malicious activity or potential cyberbreach, ramsac then takes action to prevent damage from being done [...]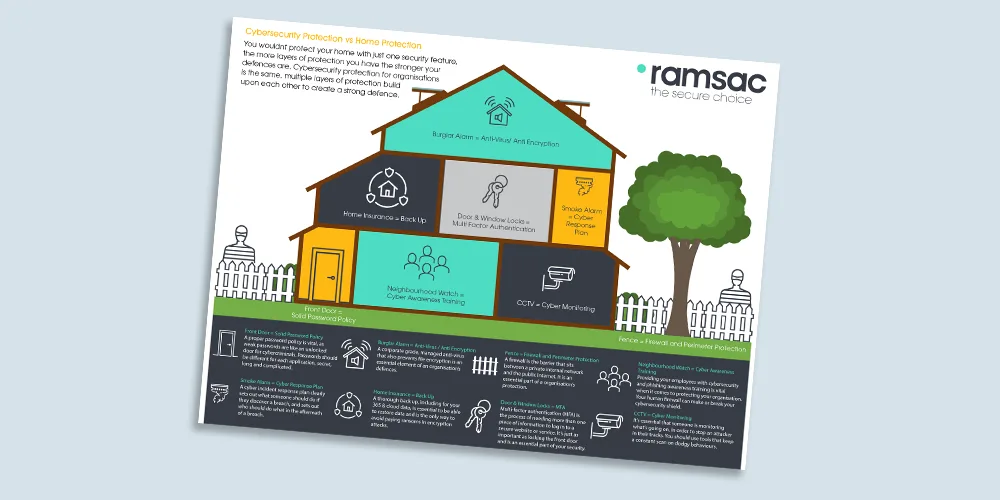 Cybersecurity Protection vs Home Protection
We have created a diagram to demonstrate how having multiple layers of cybersecurity protection strengthens your organisation's defences. [...]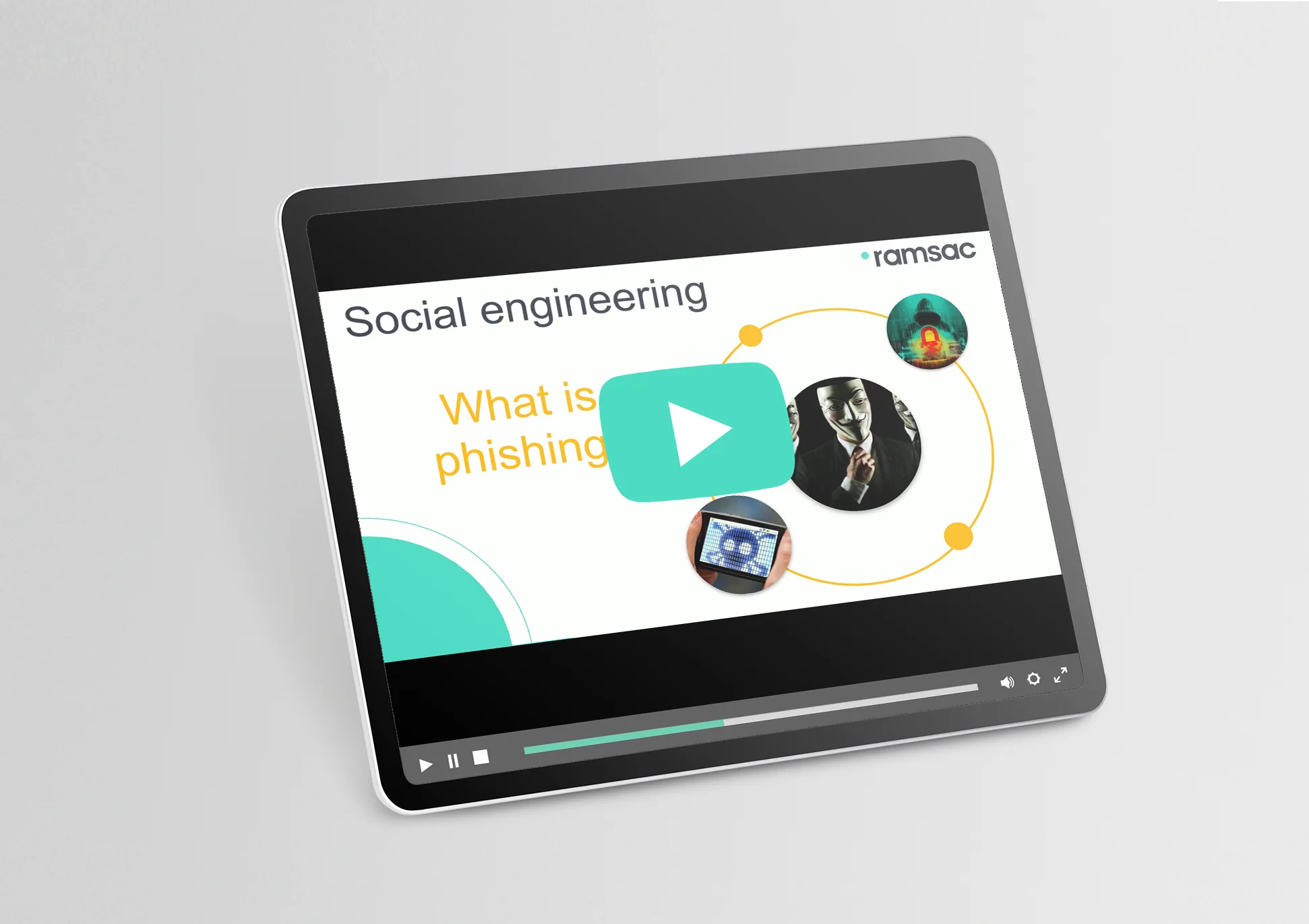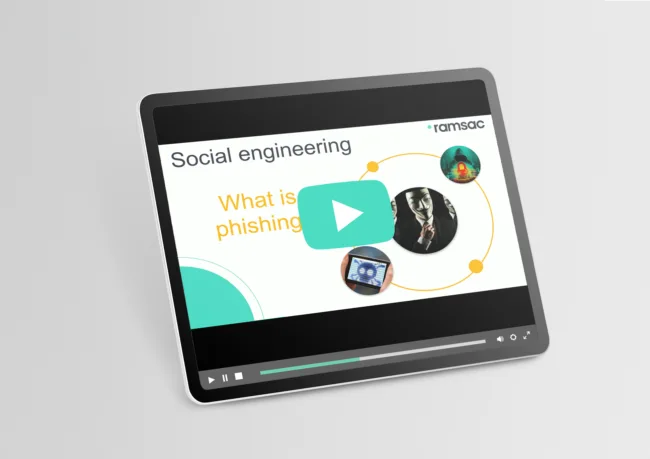 Phishing: Social Engineering series from ramsac
In this video we give advice on how spot common phishing techniques. Phishing is when Threat Actors (cybercriminals) try to trick you into giving out sensitive information or taking [...]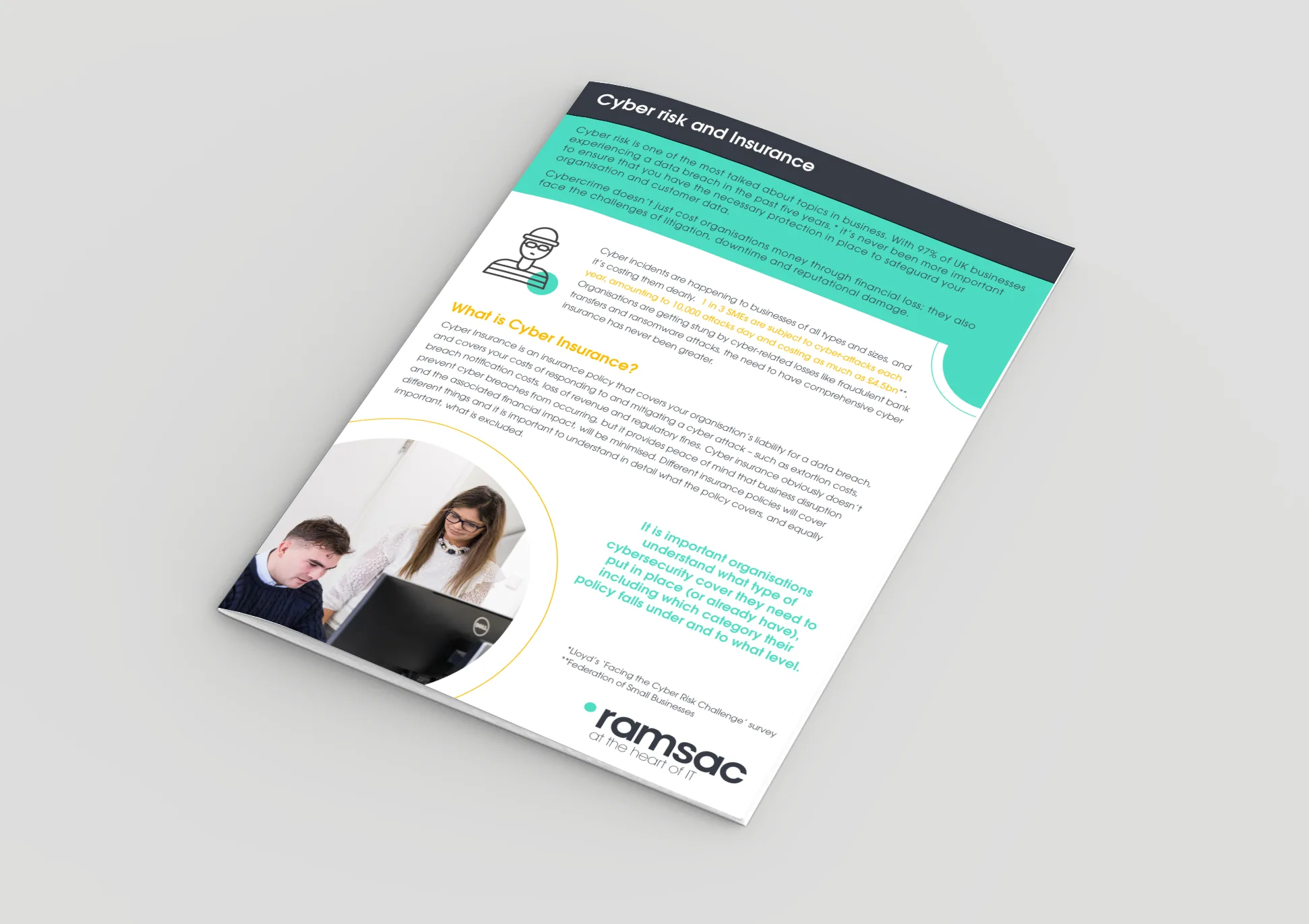 Cyber risk and Insurance
Cyber Insurance is an insurance policy that covers your organisation's liability for a data breach, and covers your costs of responding to and mitigating a cyber attack – such [...]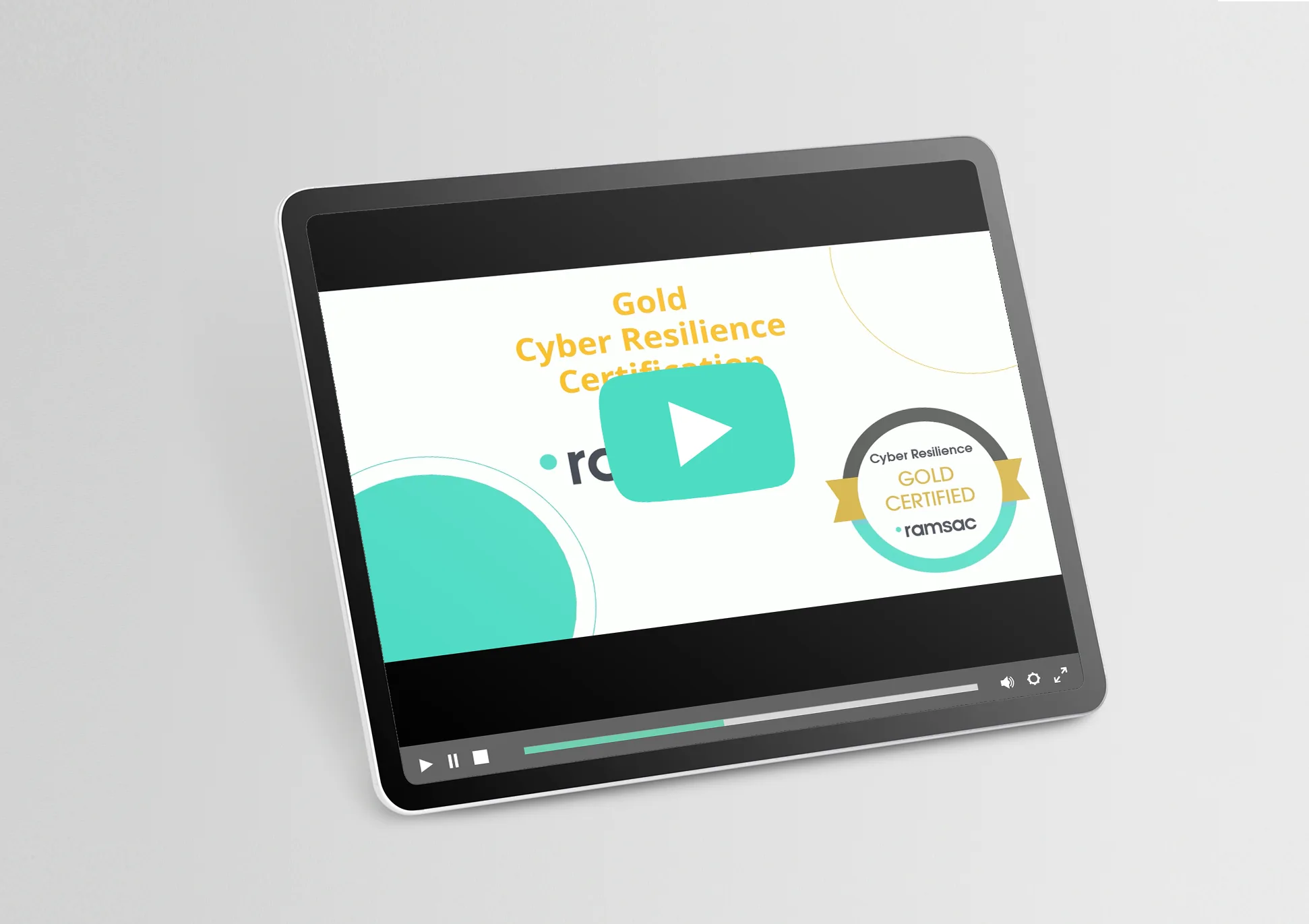 Gold Cyber Resilience Certification from ramsac
Organisations that achieve Gold Cyber Resilience Certification really are demonstrating the best in cybersecurity practices and they are implementing proactive measures to assess their vulnerability on an ongoing basis. [...]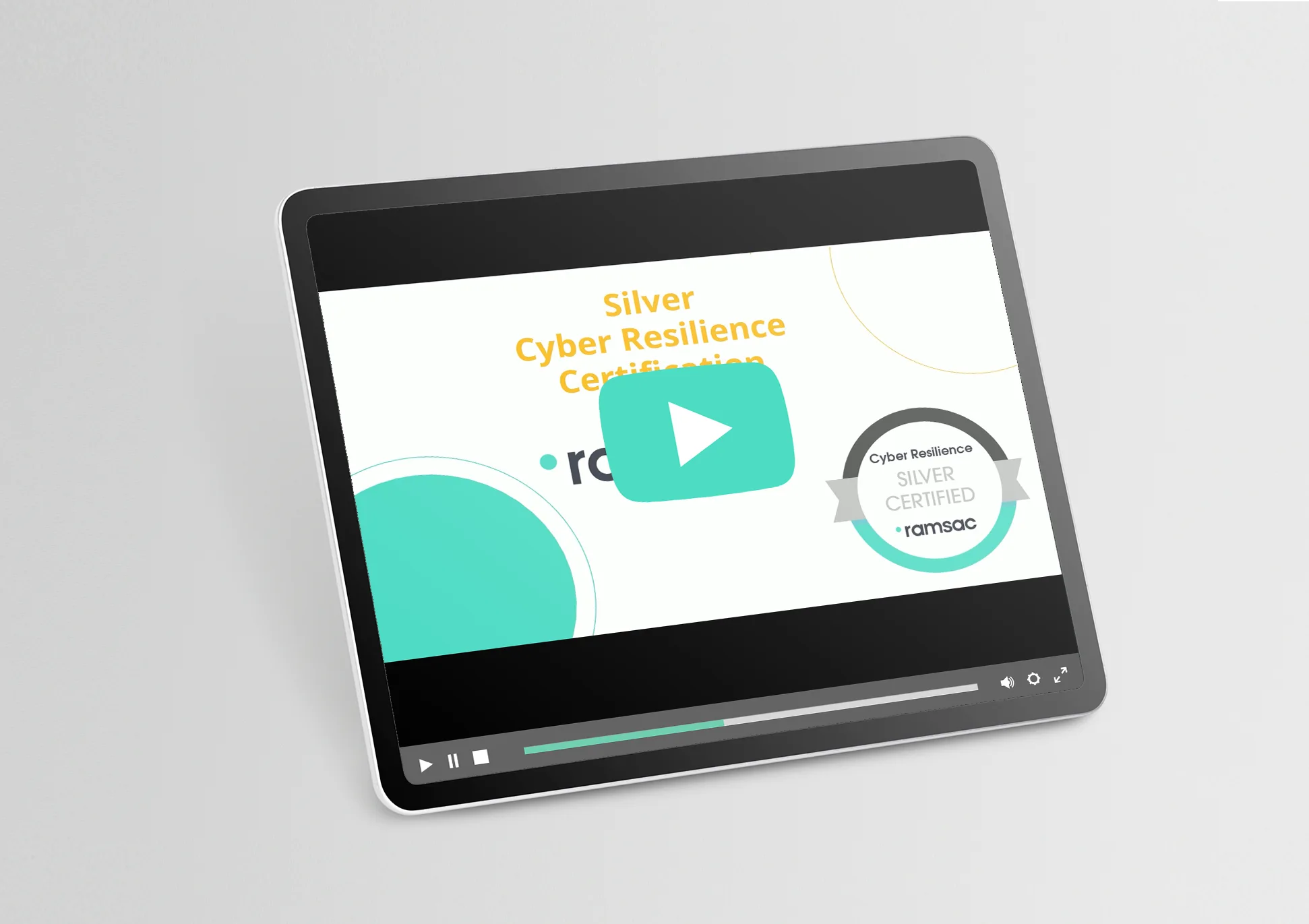 Silver Cyber Resilience Certification from ramsac
The Silver Cyber Resilience Certification represents great cyber resilience, reflecting practices that protect both end user devices, IT hardware and cloud stored data. [...]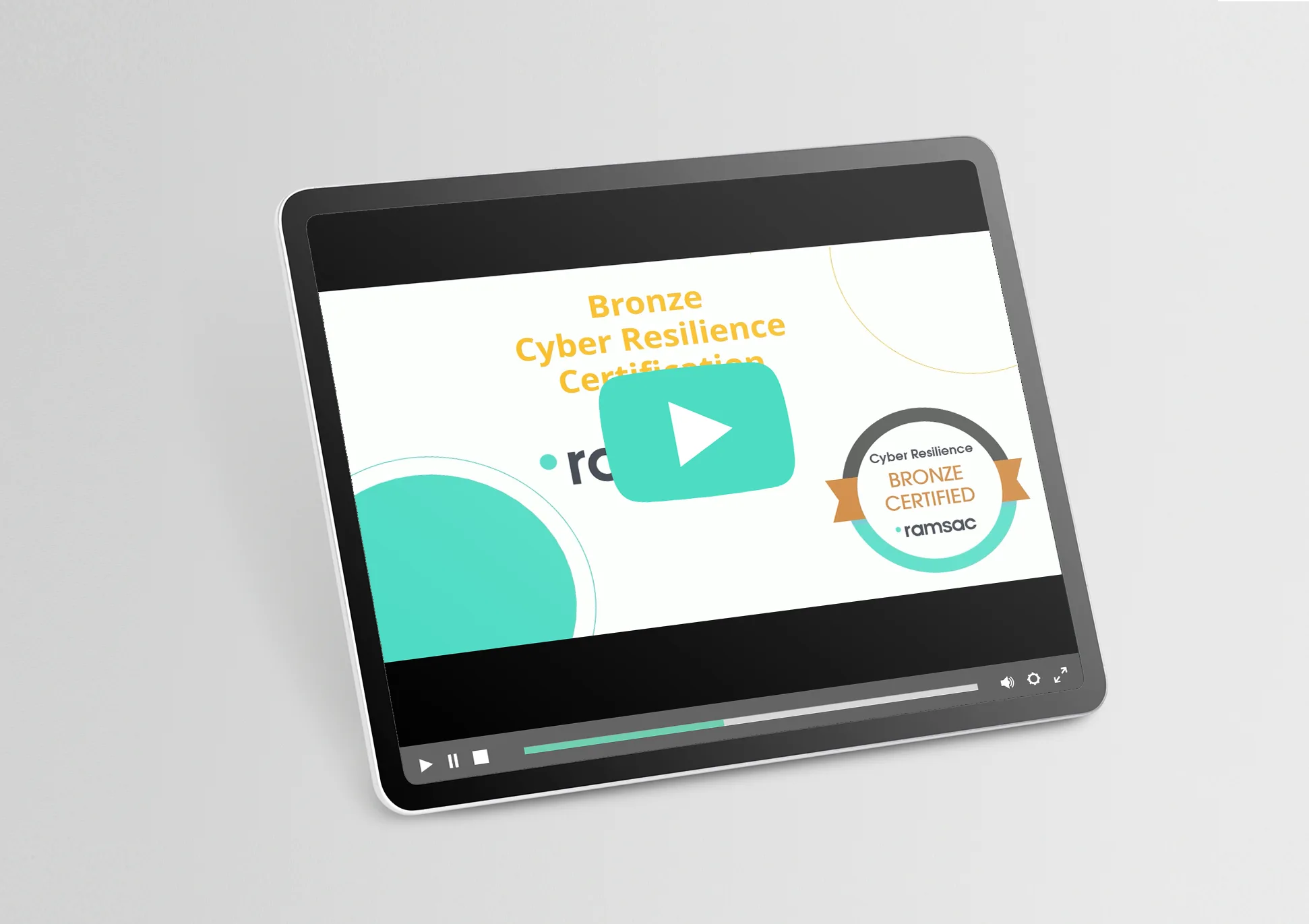 Bronze Cyber Resilience Certification from ramsac
Our Bronze Cyber Resilience Certification represents the minimum level of good practice cybersecurity that all organisations should strive for. [...]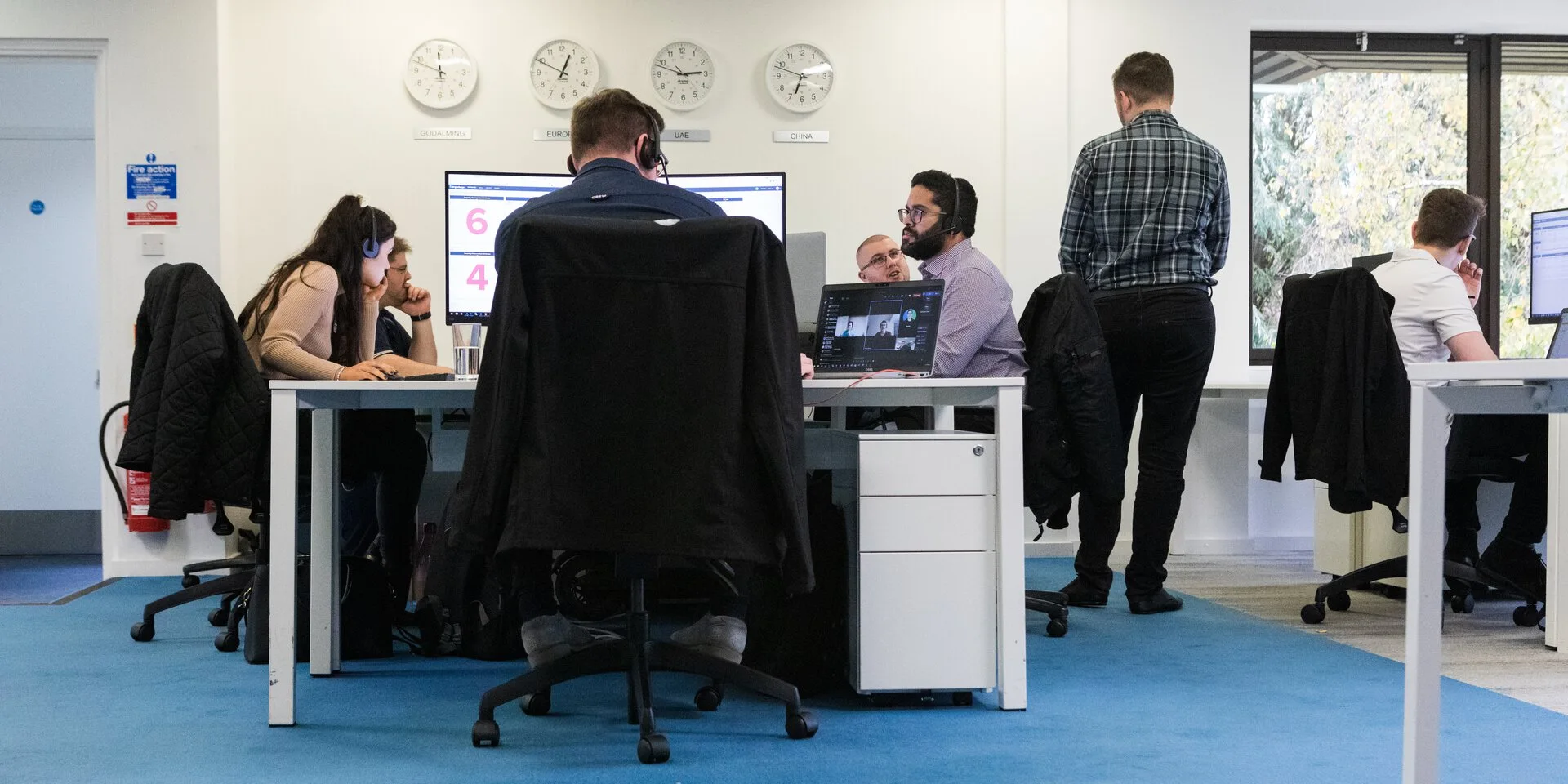 Password complexity: best practice, tips & advice 
Creating, memorising, using, (and then updating) a complex-enough password for device logins is no easy task. When different users within a business, who might have to sign into multiple [...]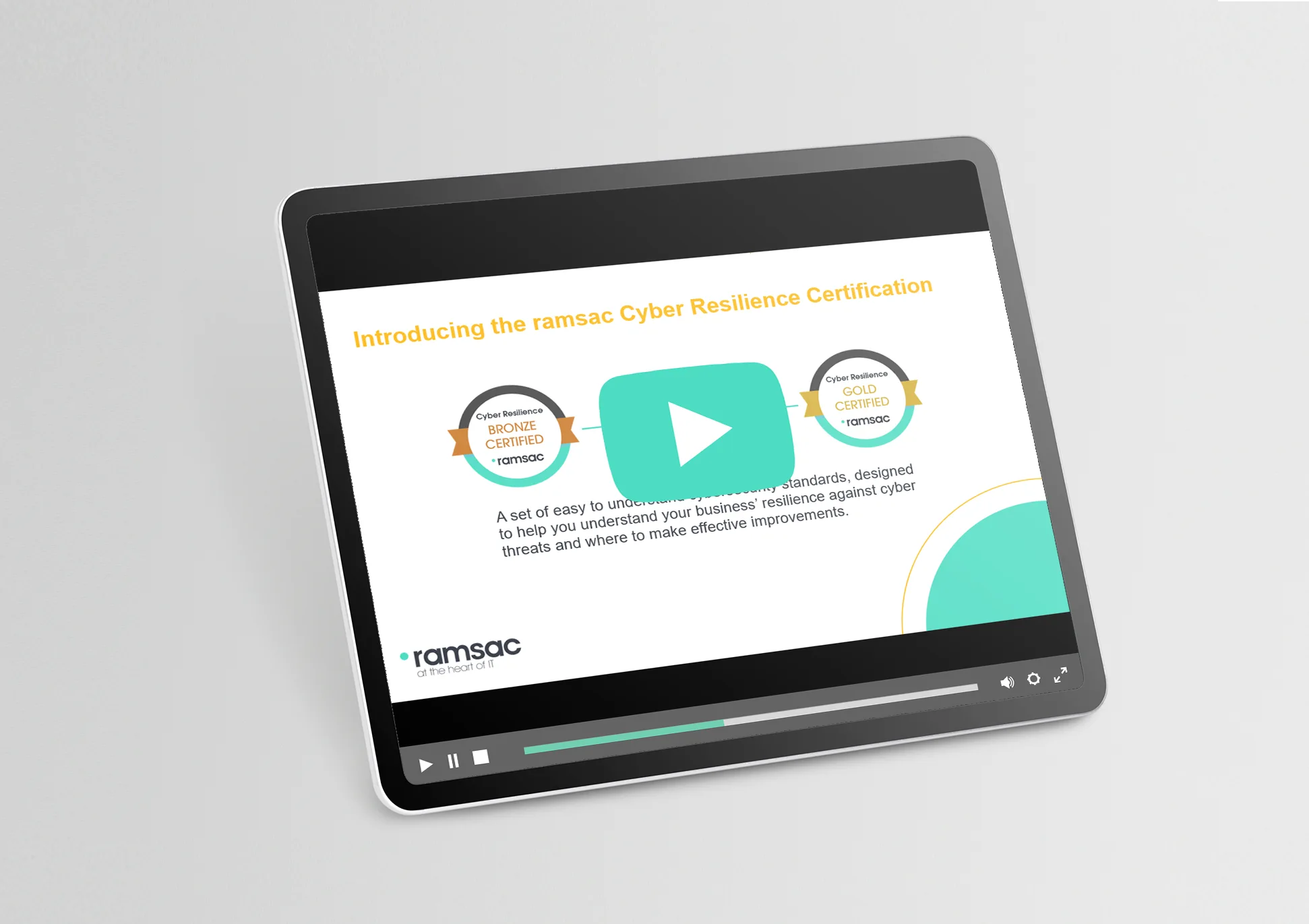 Overview – Cyber Resilience Certification
In this video we introduce the Cyber Resilience Certification, the Bronze, Silver and Gold levels and what organisations need to do to meet them. [...]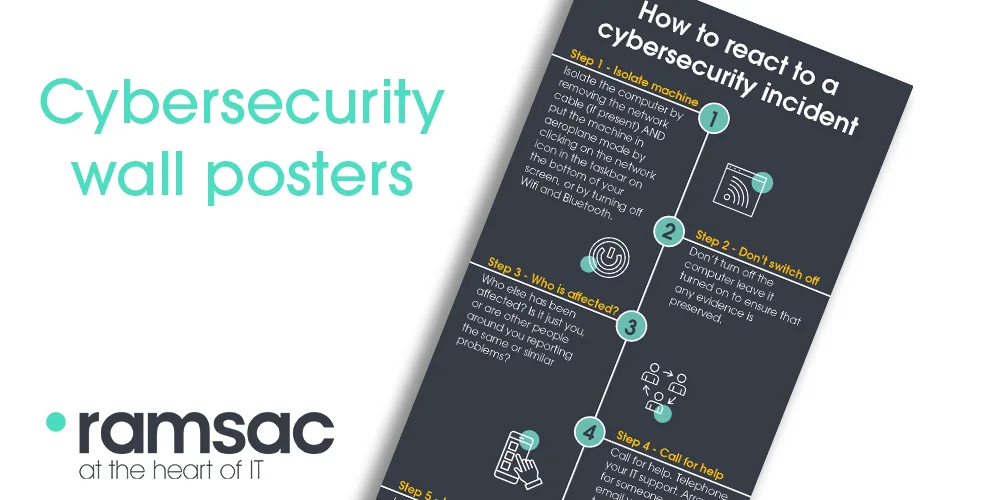 Poster: How to react to a cybersecurity incident
To support your users in understanding what immediate steps they should take during a cybersecurity incident we have created posters that can be placed around your offices to act [...]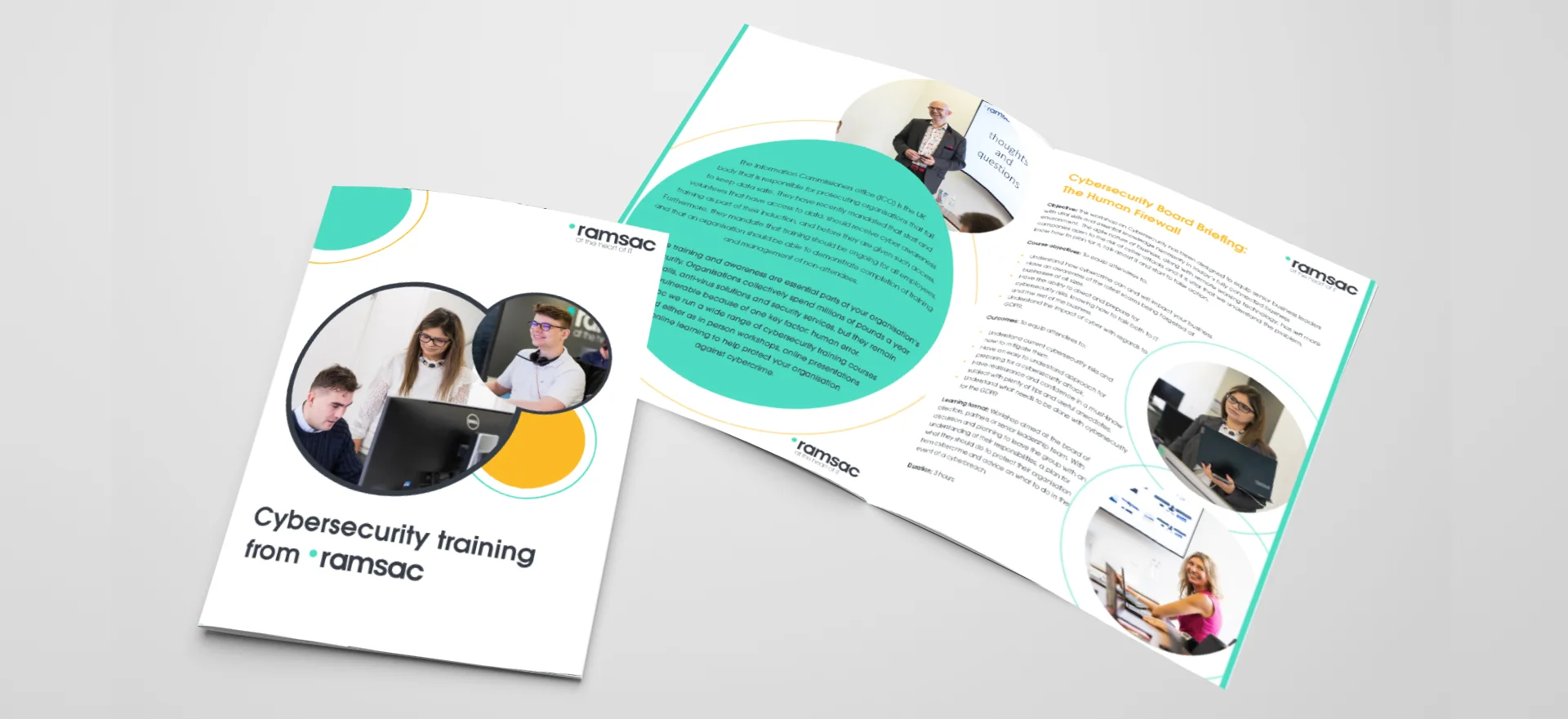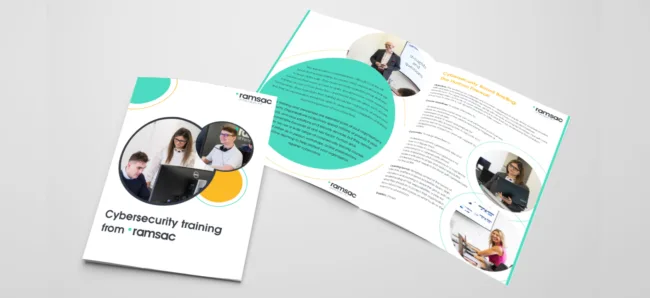 Cybersecurity training programme
At ramsac we run a wide range of cybersecurity training courses offered either as in person workshops, online presentations or online learning to help protect your organisation against cybercrime. [...]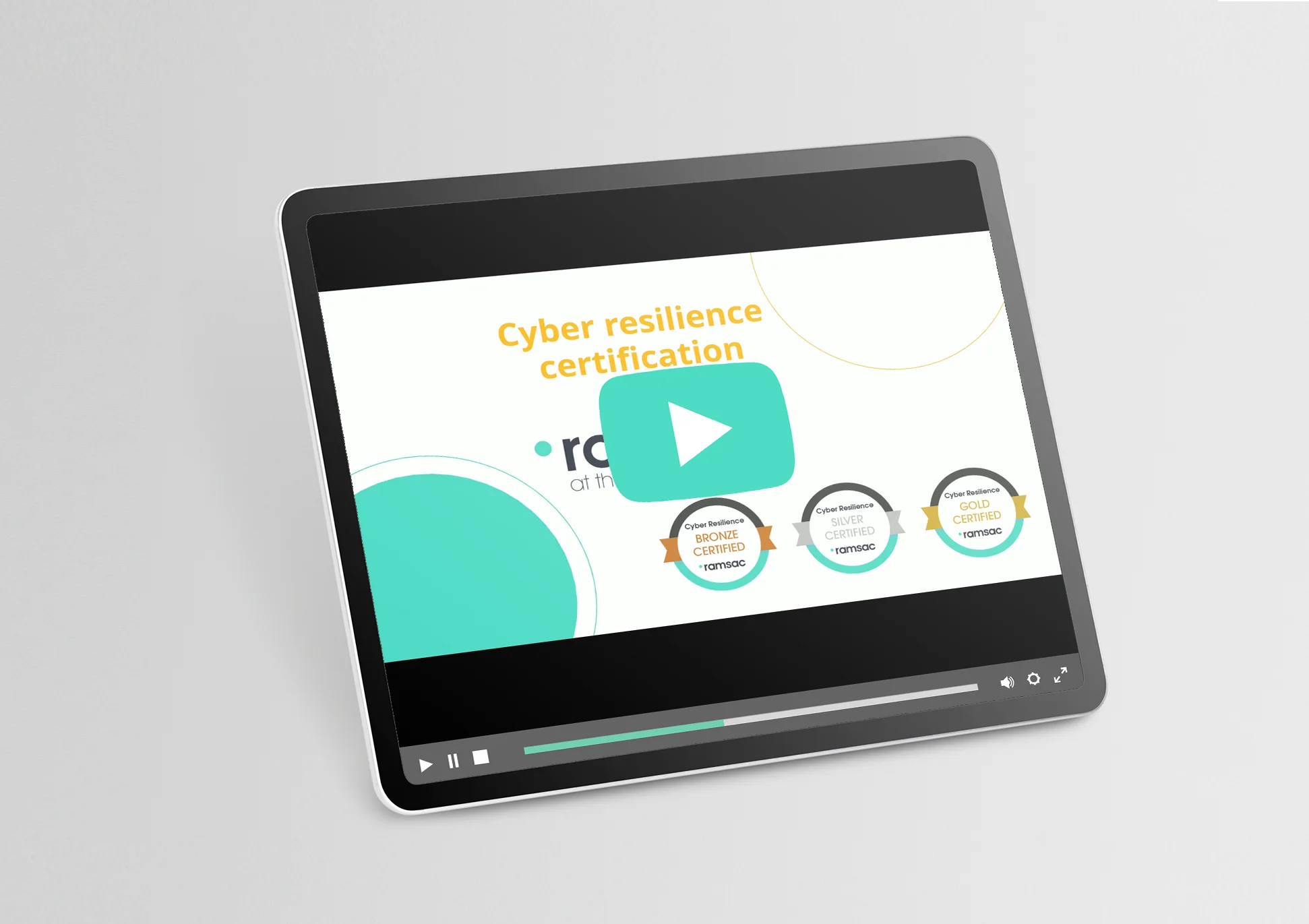 Video: Cyber Resilience Certification
ramsac is committed to helping organisations to protect themselves against cybercrime, to help organisations understand where they are on their cyber resilience journey, we have created the ramsac cyber [...]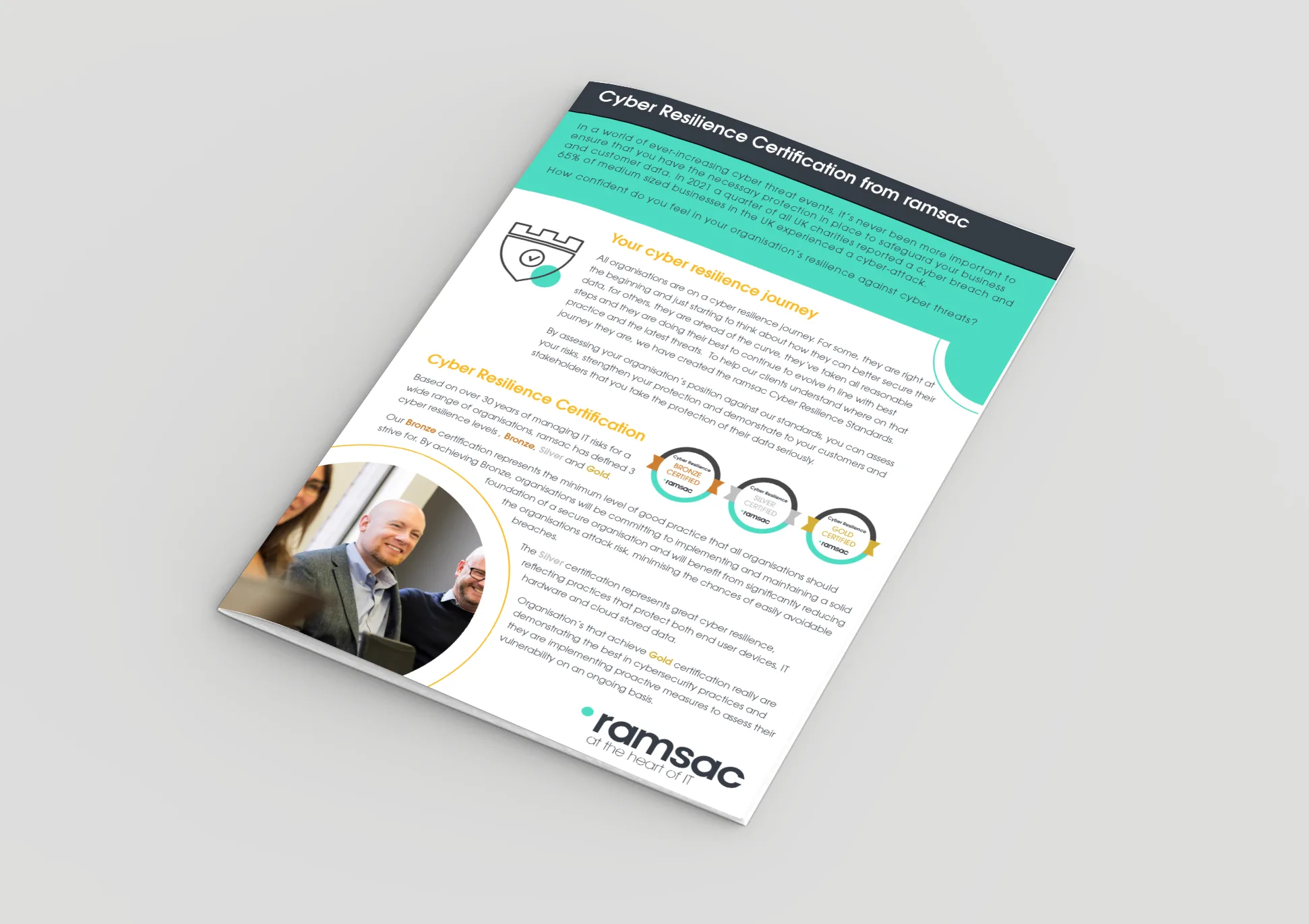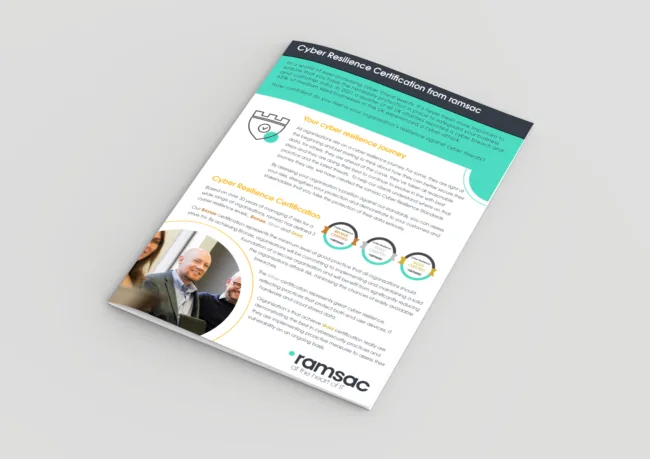 Cyber Resilience Certification from ramsac
By assessing your organisation's position against cyber threats, you can demonstrate your commitment to your customers' data and services. ramsac's Cyber Resilience Certification helps organisation achieve the highest level [...]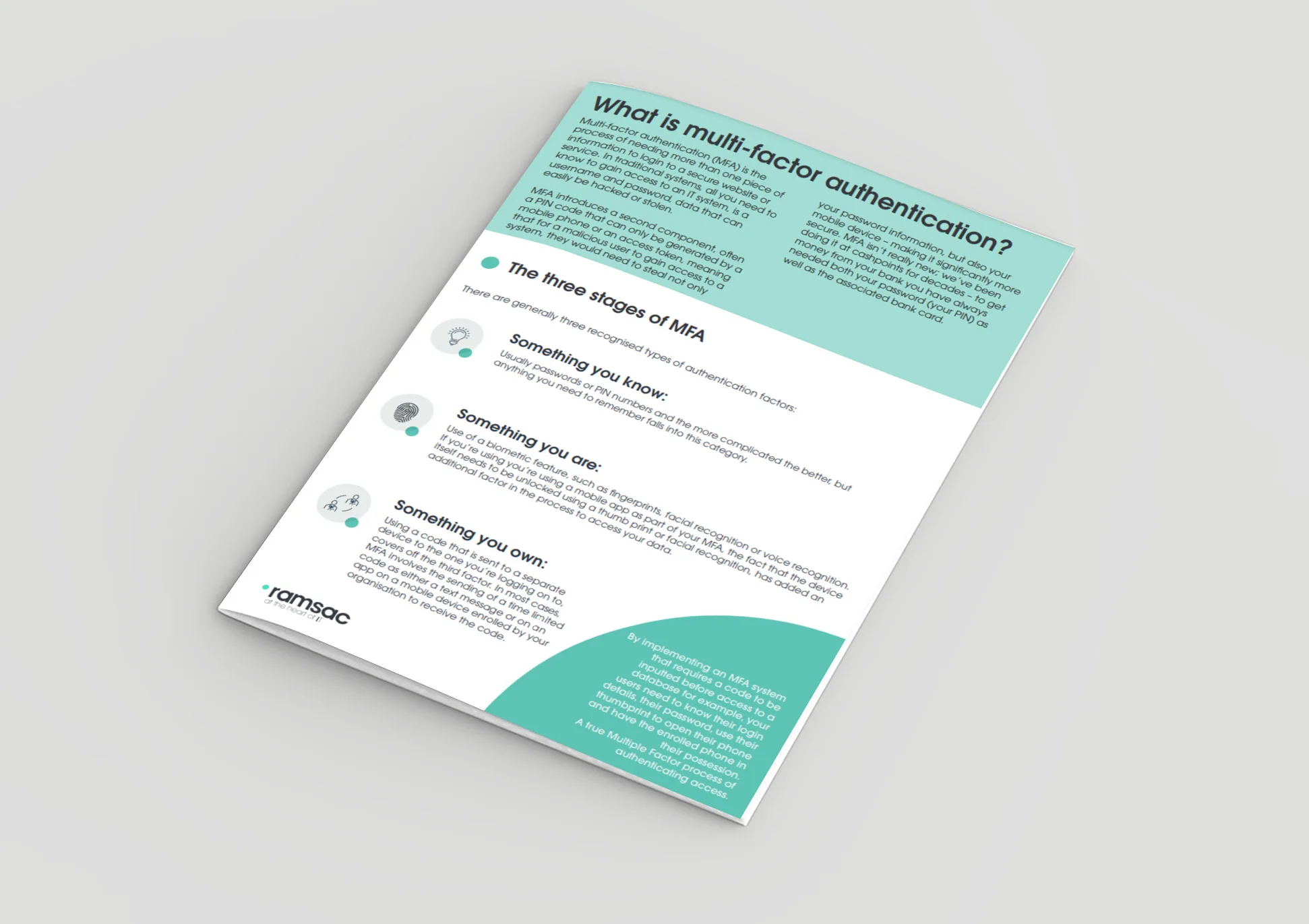 Multi-Factor Authentication Factsheet
Multi-factor authentication (MFA) is the process of needing more than one piece of information to login to a secure website or service. In traditional systems, all you need to [...]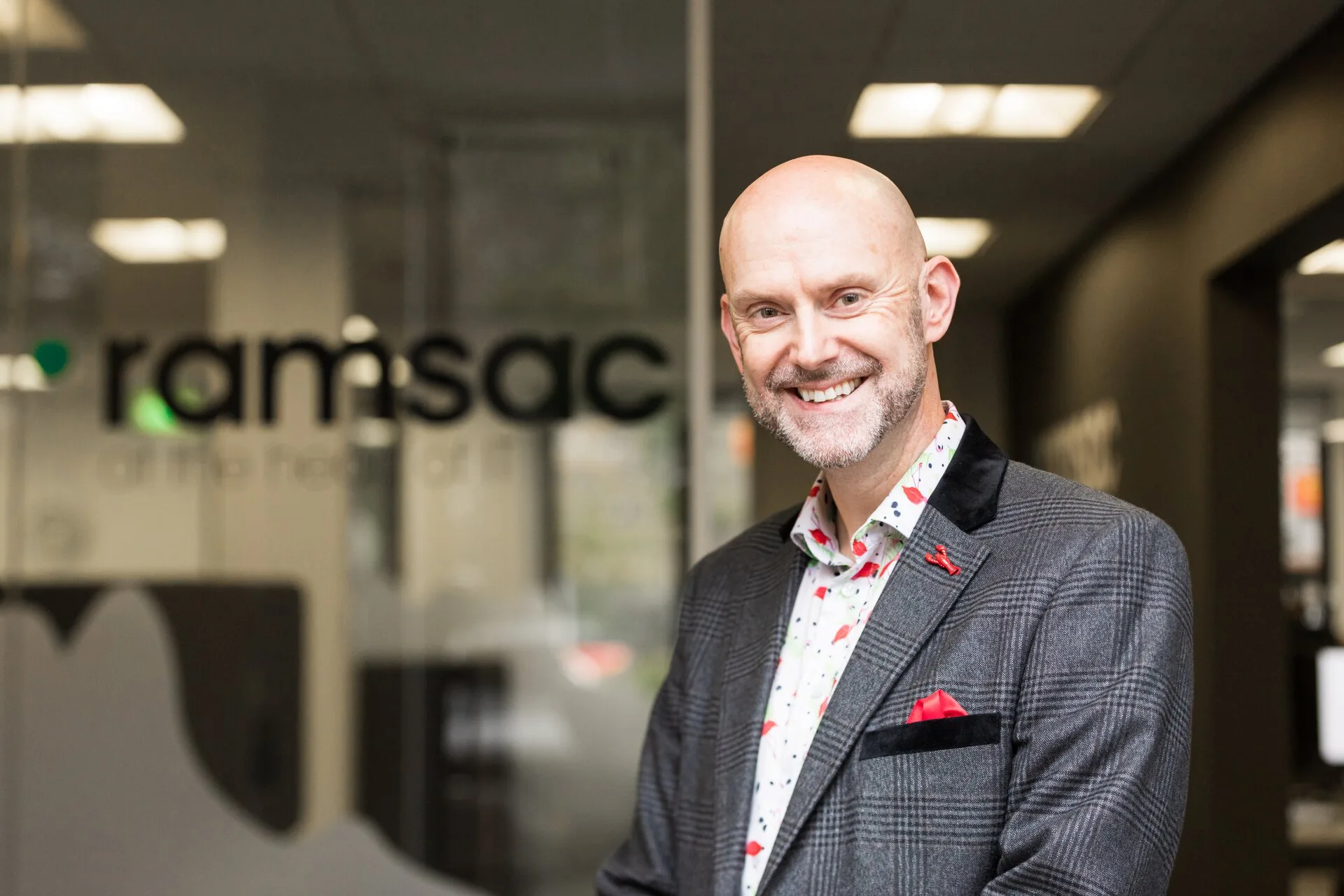 Cyber Chat Series
MD of ramsac, Rob May has created a cybersecurity video series, Cyber Chat, with tips, and advice on how organisations can protect themselves against cybercrime. Episodes: [...]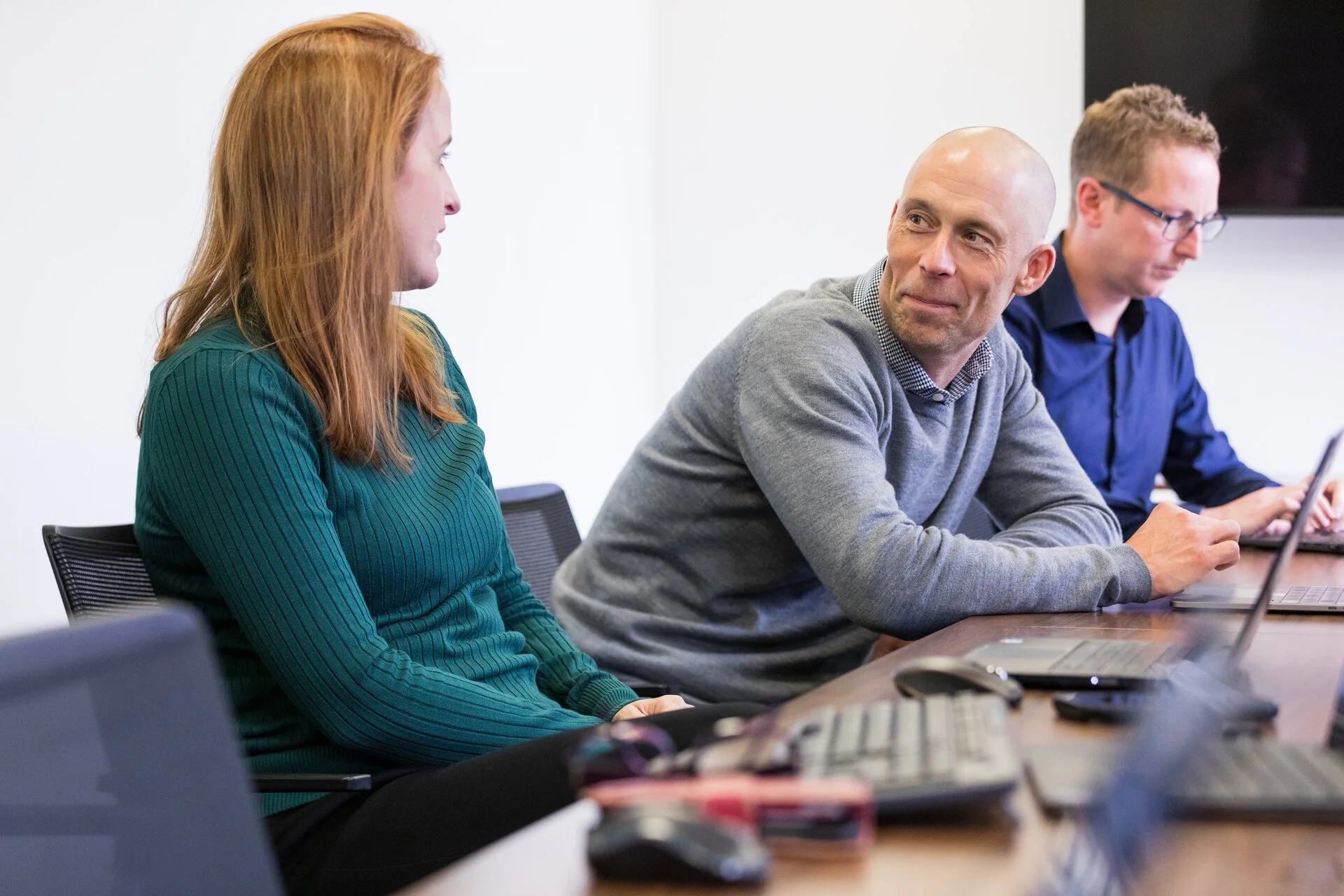 What's the difference between cybersecurity and information security?
Cybersecurity is just one aspect of information security. While cybersecurity protects unauthorised access to data from your networks and computer systems, information security has a wider remit. It protects [...]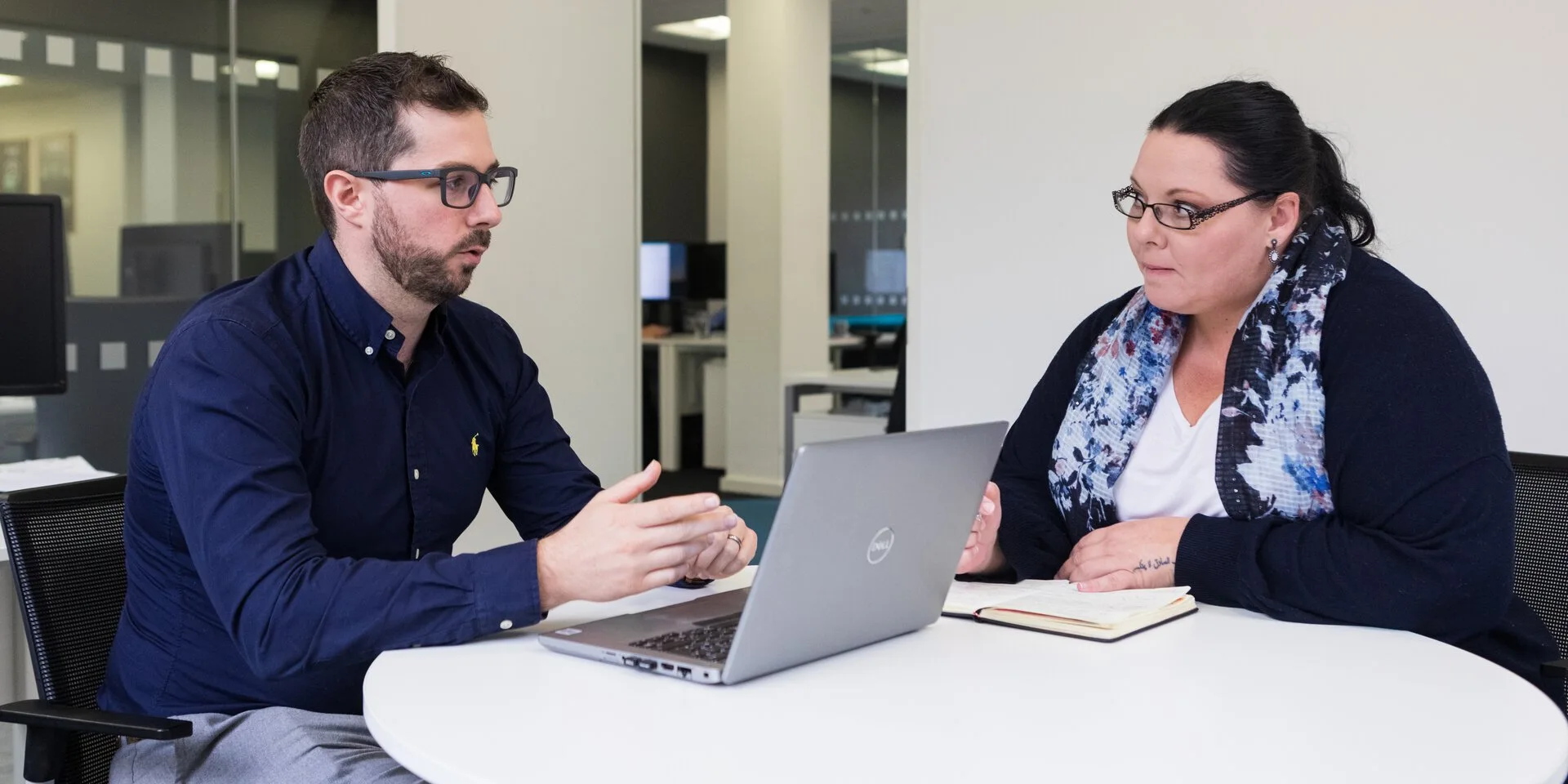 What is cybersecurity?
Cybersecurity explained Cybersecurity is the suite of tools and processes that protect your business's digital assets. Cybersecurity is what keeps computers, networks and data protected from unauthorized access. Data [...]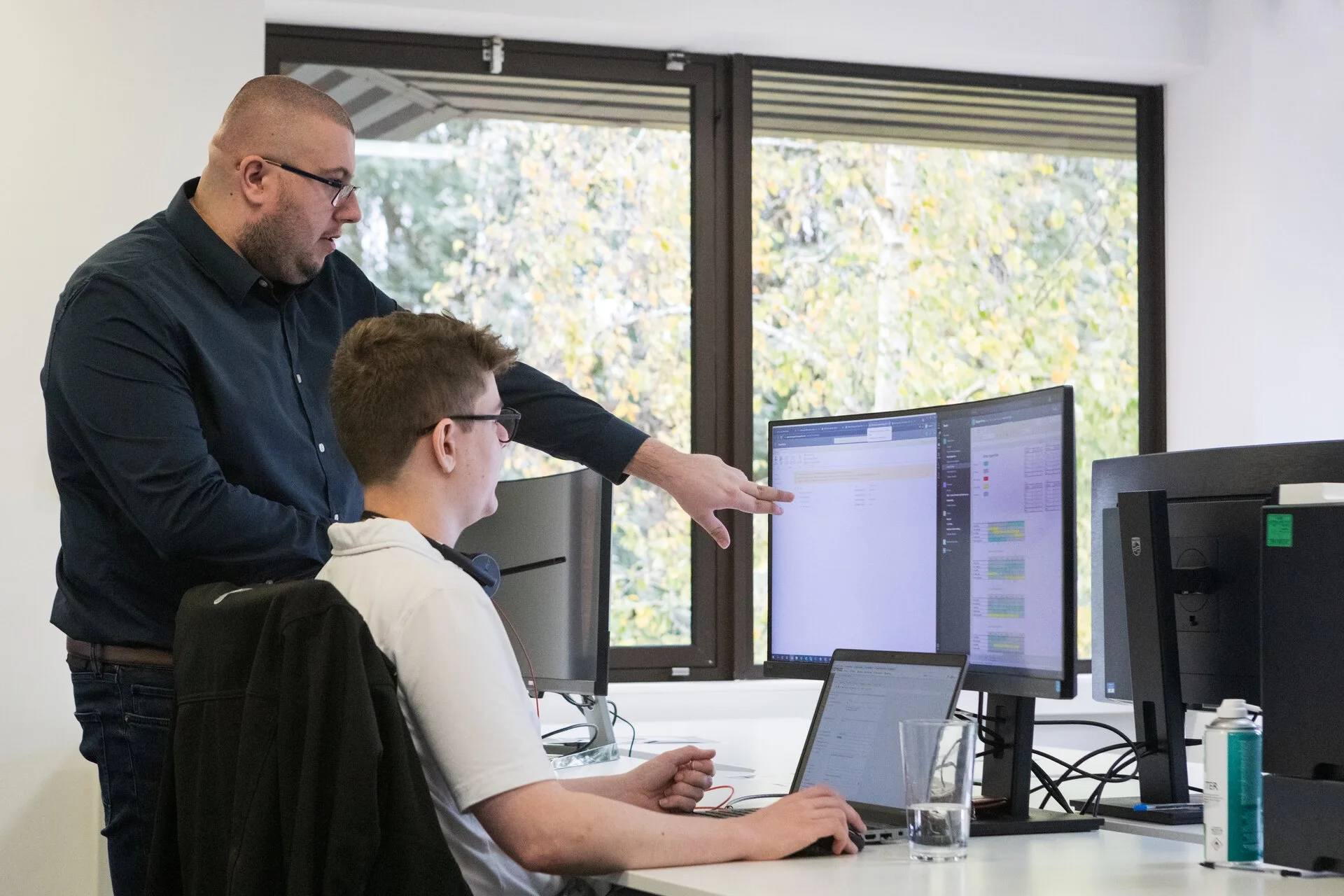 Multi-Factor Authentication (MFA)
Multi-factor authentication (MFA) is the process of needing more than one piece of information to log in to a secure website or service. In traditional systems, all you need [...]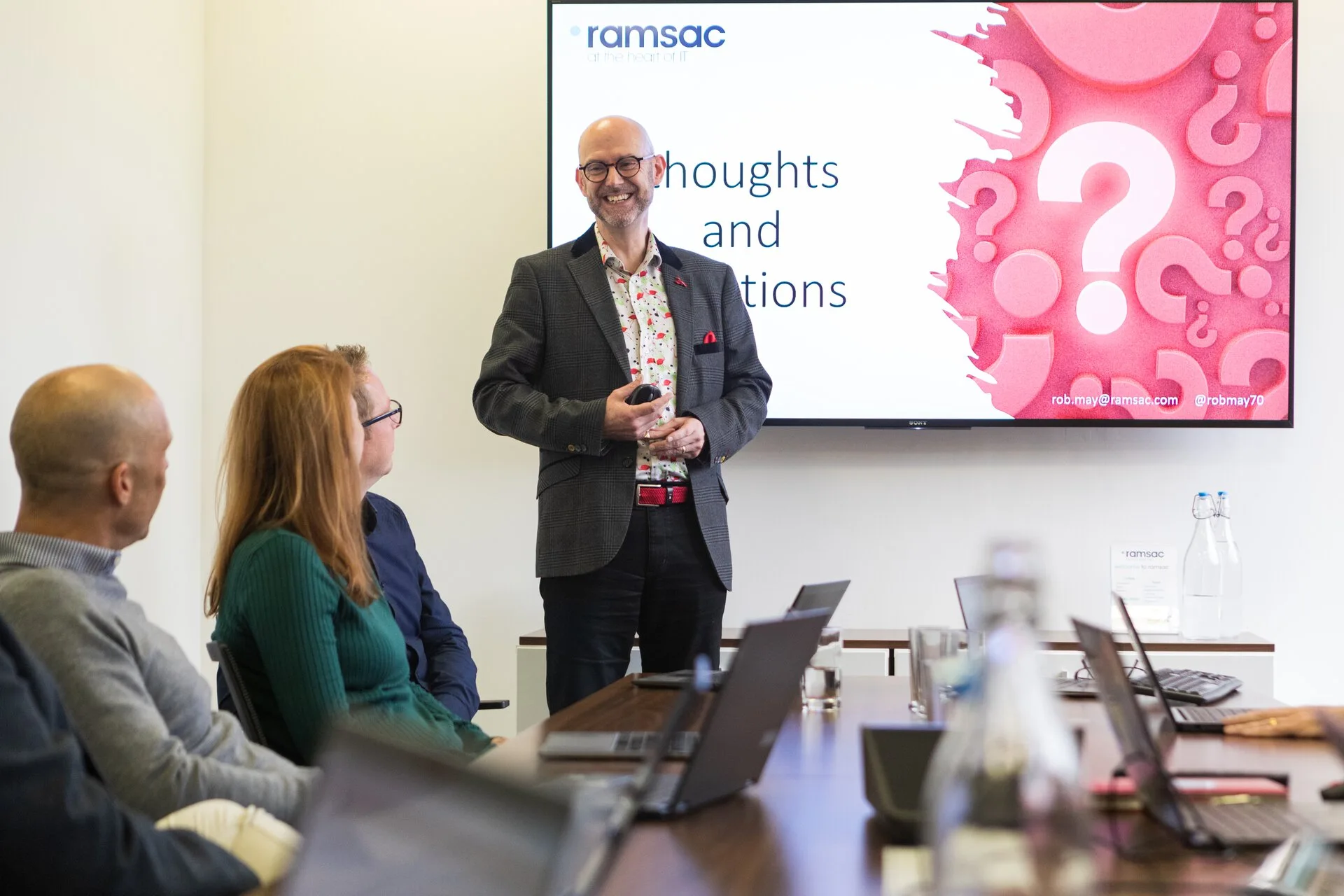 The Importance of Cybersecurity Awareness & Training
Employee training and awareness are essential parts of your business's cybersecurity. All the firewalls in the world can't protect you when an employee lets a hacker in unknowingly. According [...]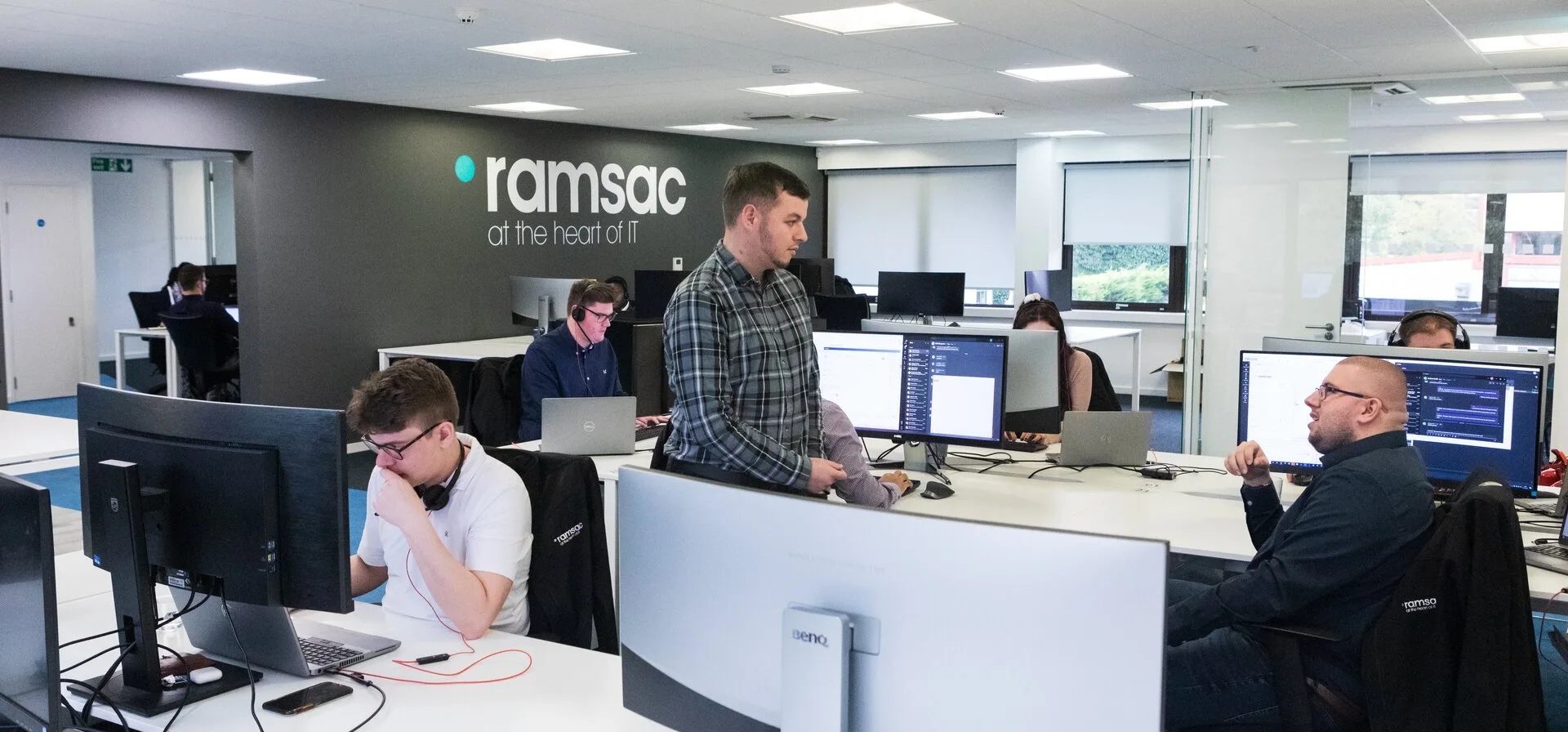 An Introduction to Cyber Attacks
The only way to protect yourself from a threat is to know the threat that's targeting you. This is essential for cybersecurity because businesses are attacked by hackers every [...]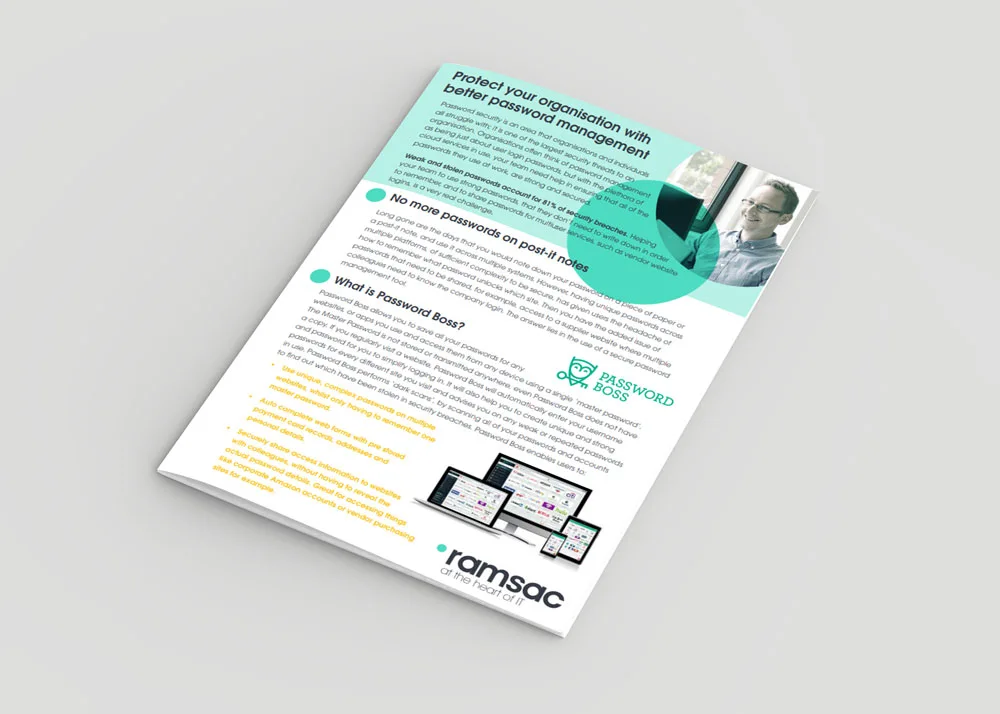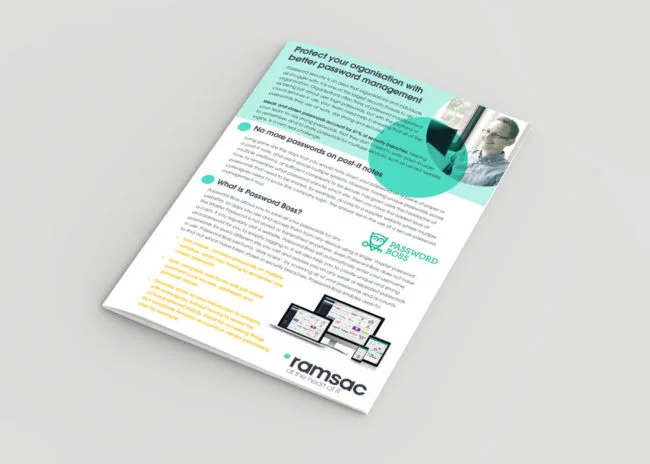 Password Boss Factsheet
Password security is an area that organisations and individuals all struggle with; it is one of the largest security threats to an organisation. Find out how deploying Password Boss, [...]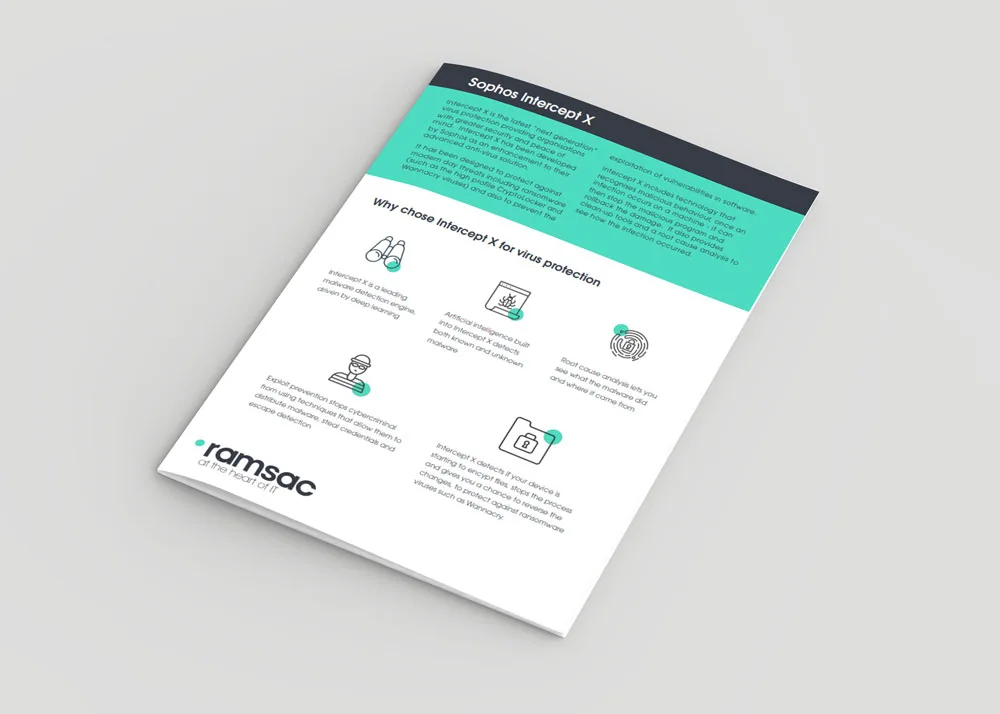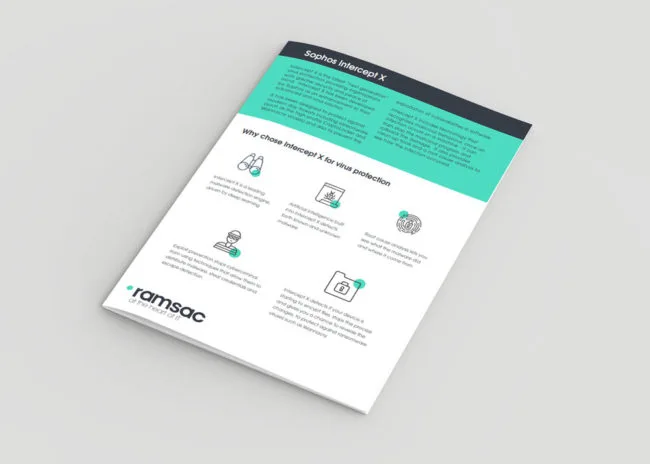 Sophos Intercept X factsheet
Intercept X is the latest "next generation" virus protection providing organisations with greater security and peace of mind. Intercept X has been developed by Sophos as an enhancement to [...]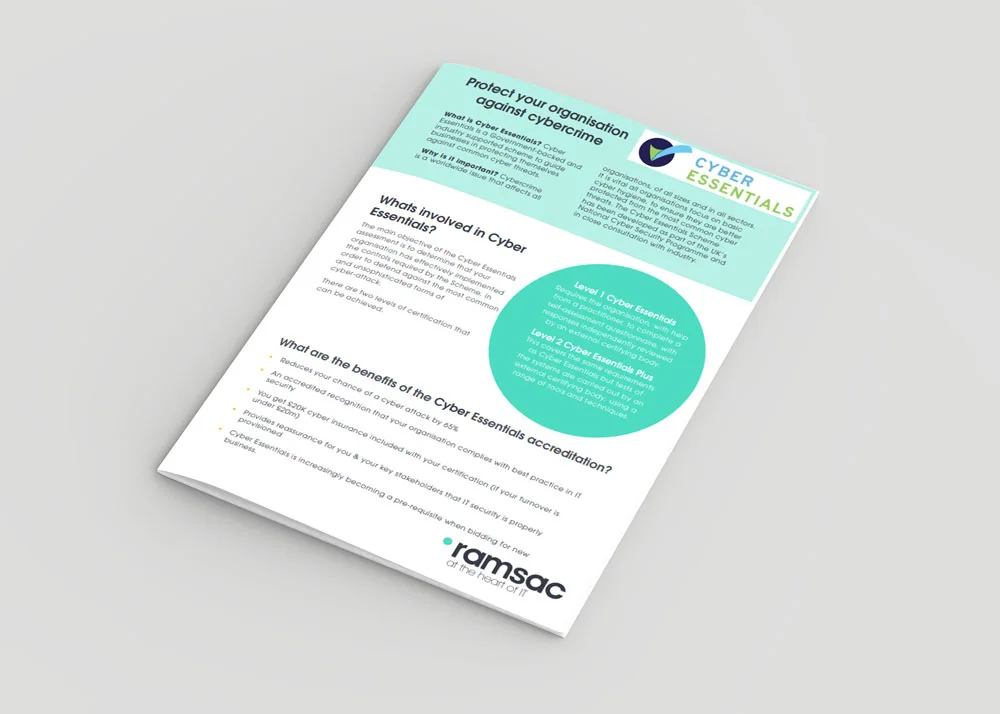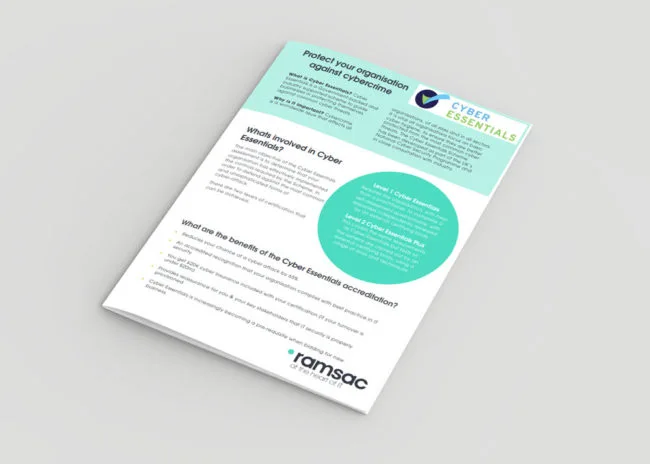 Cyber Essentials Factsheet
A short guide to help you understand, what Cyber Essentials is, what's involved in the accreditation and the benefits of becoming certified. [...]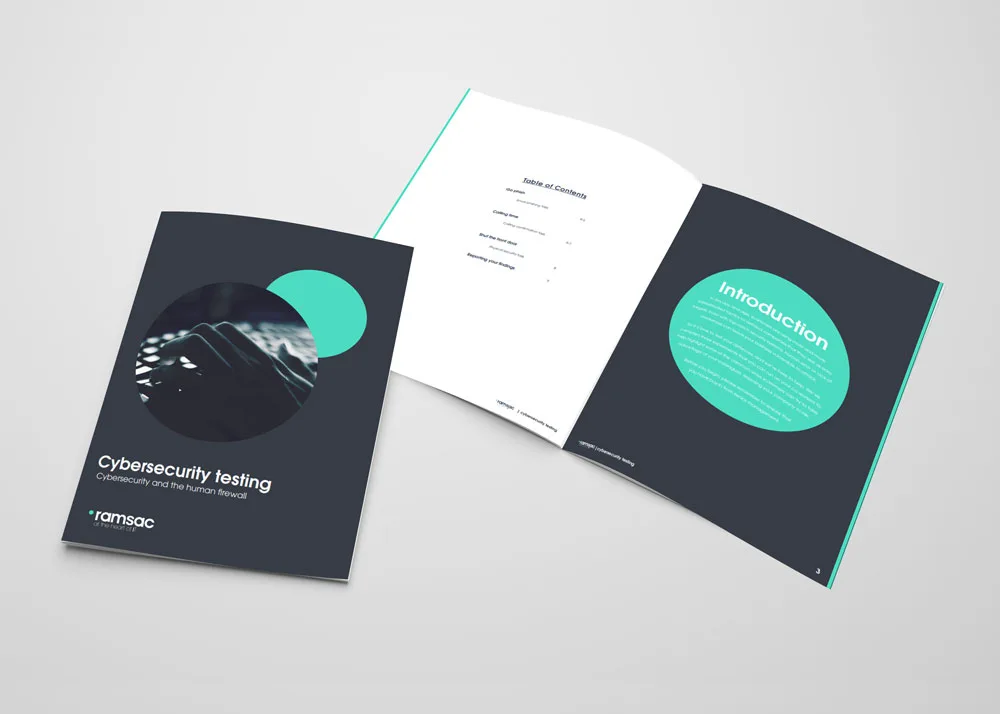 Cybersecurity Testing – Brochure
Testing your defences is important for any organisation. We've compiled three experiments that you can run on your co-workers to help highlight some of the common ways scammers can [...]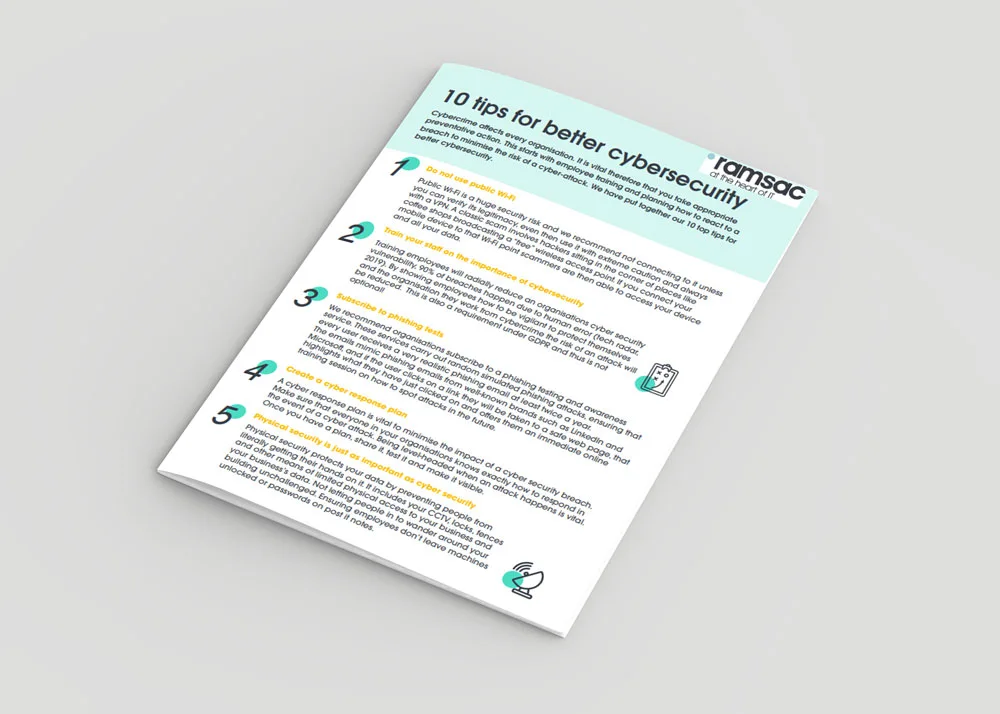 10 tips for better cybersecurity
We have put together our 10 top tips for better cybersecurity. This starts with employee training and planning how to react to a breach to minimise the risk of [...]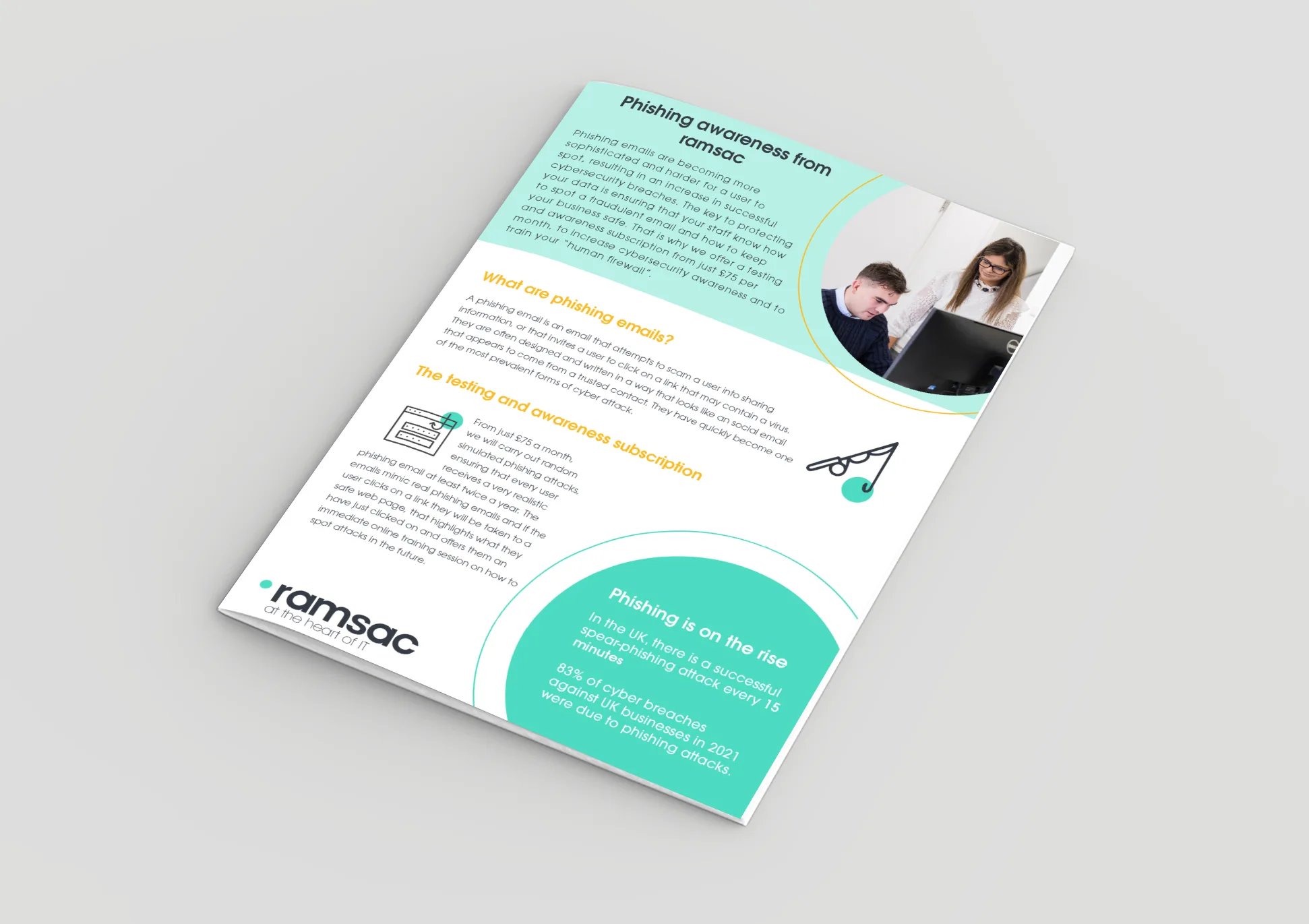 Phishing awareness
The key to protecting your data is ensuring that your staff know how to spot a fraudulent email and how to keep your business safe. Read more with our [...]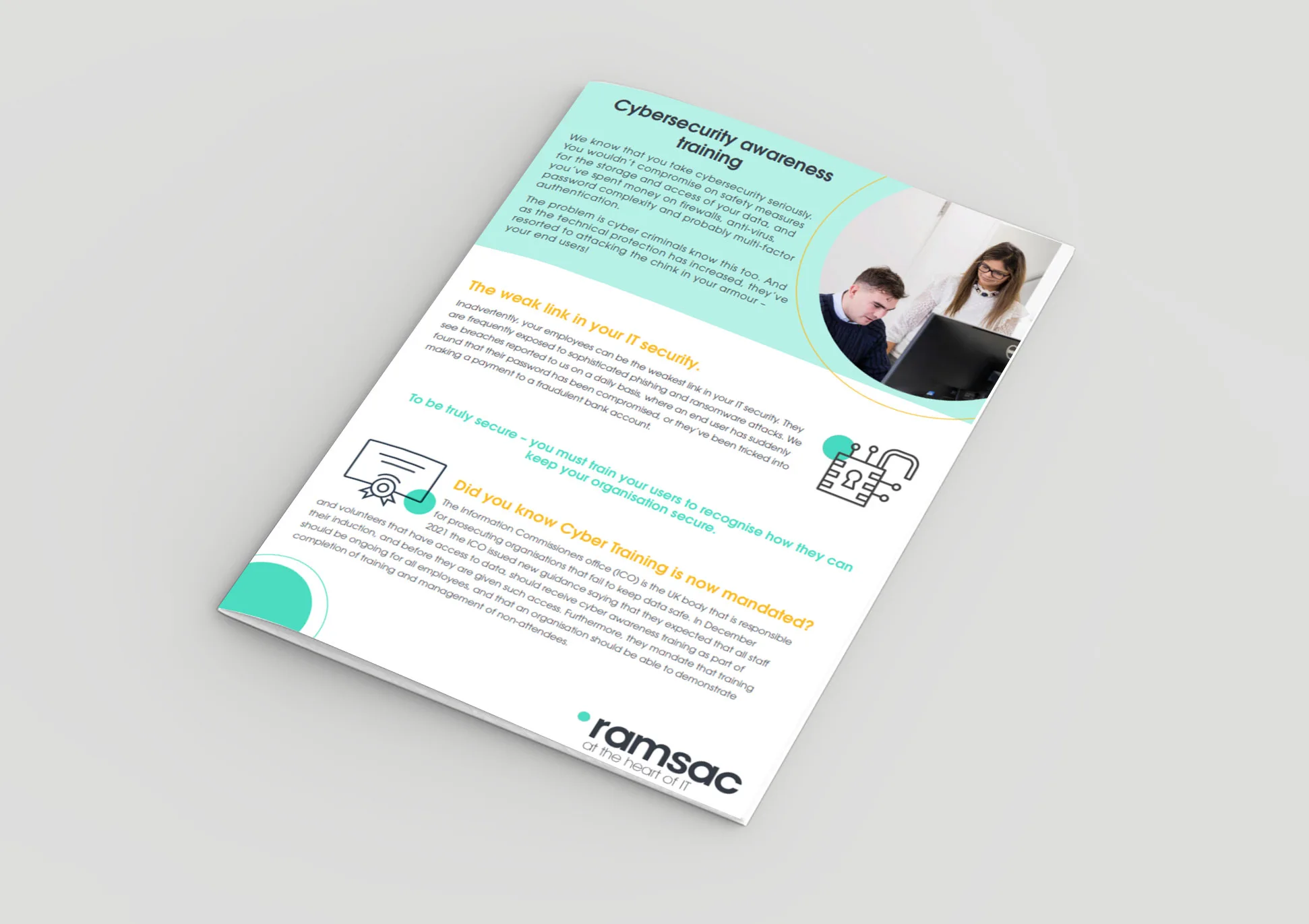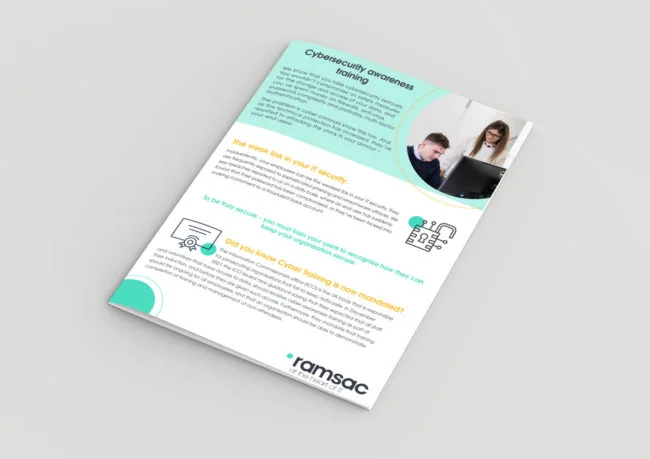 Cybersecurity awareness training
This cybersecurity awareness training solution provides the best, most effective content in the industry using modern, engaging and humorous training videos [...]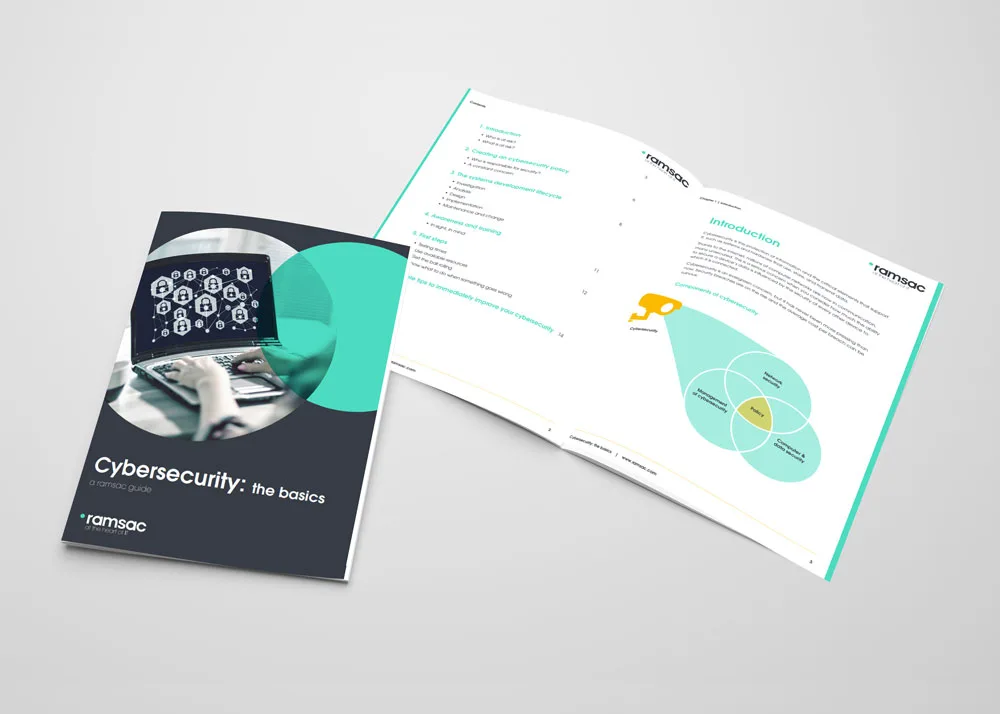 Cybersecurity the basics  
At ramsac we run a wide range of cybersecurity training courses offered either as in person workshops, online presentations or online learning to help protect your organisation against cybercrime. [...]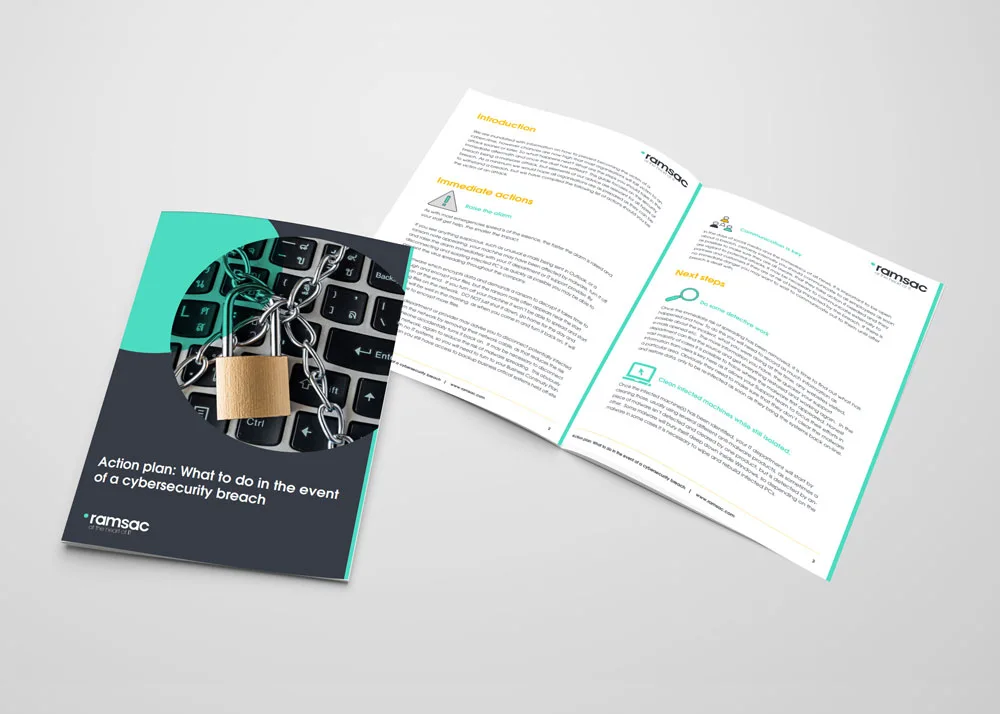 Action plan: what to do in the event of a cybersecurity breach 
We are inundated with information on how to prevent becoming the victim of a cybercrime, however, chances are now high that most organisations will fall victim to an attack [...]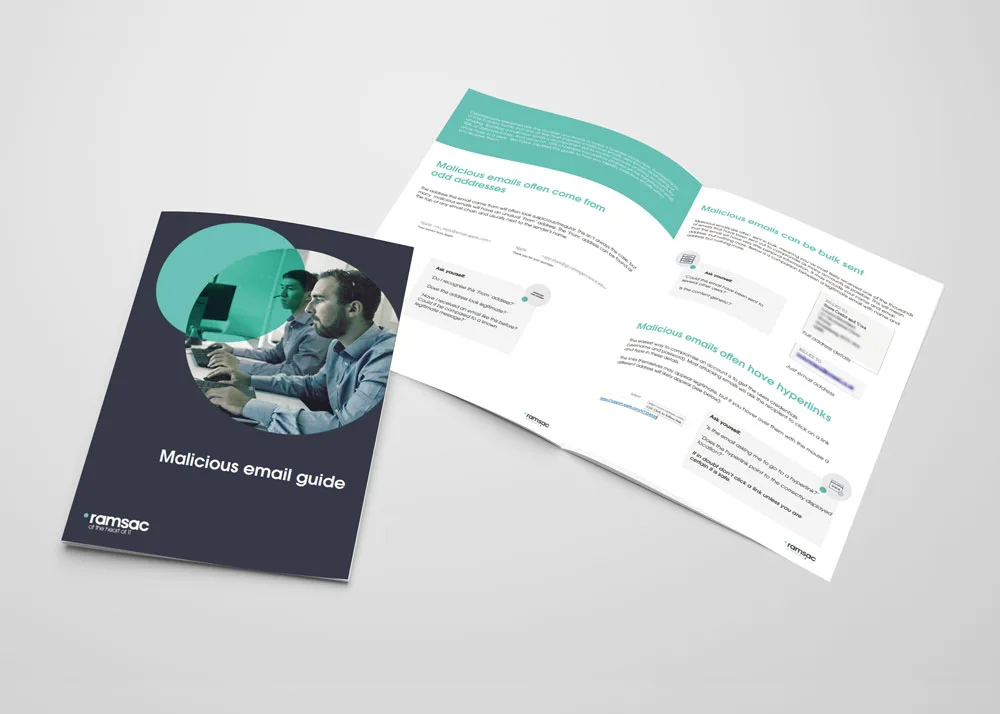 Malicious email guide
Cyber attacks come in many forms, but one of the most popular is malicious emails, also known as phishing or whaling. Spotting a malicious email is an important skill [...]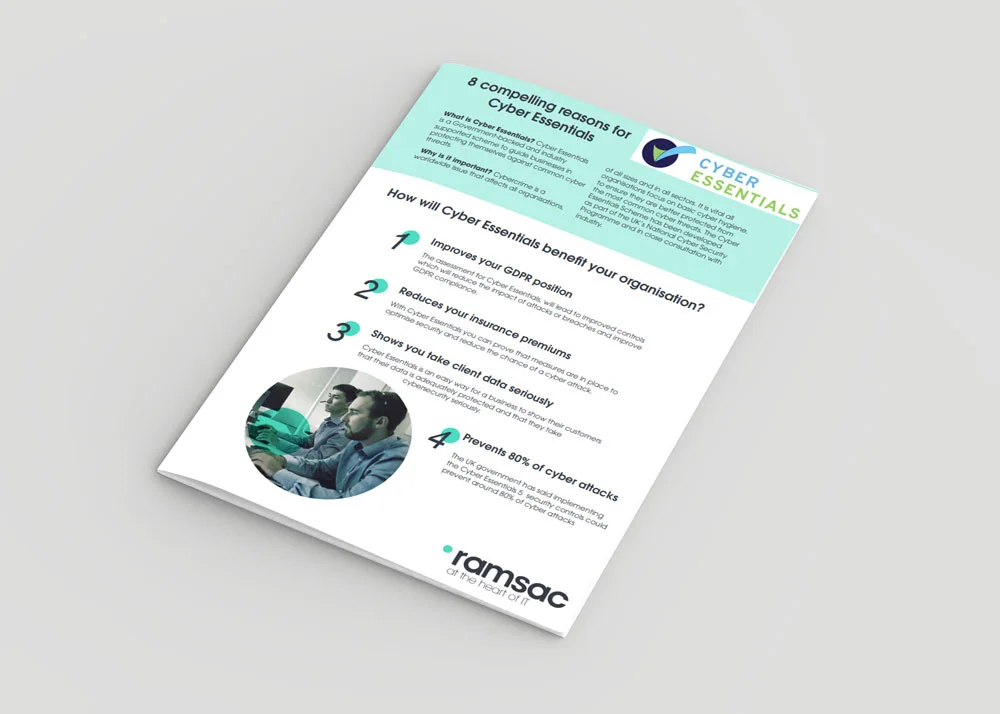 8 reasons for cyber essentials  
We explain what Cyber Essentials is and give 8 compelling reasons as to why your organisation should be doing it. [...]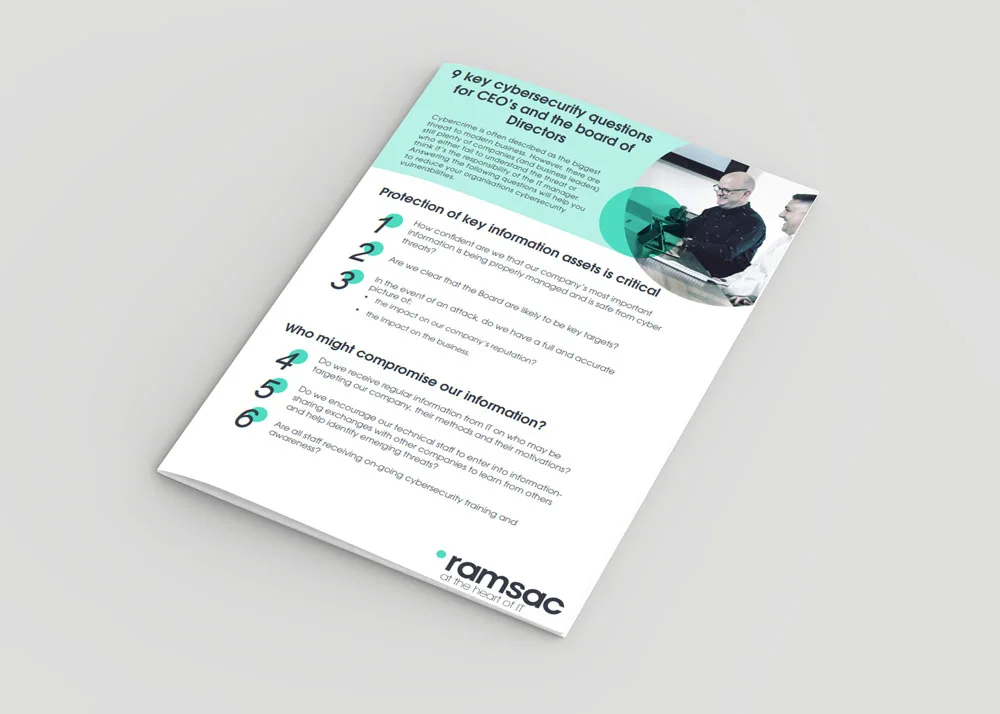 Cybersecurity questions for the board  
Cybersecurity is often described as the biggest threat to modern business. Answering these 9 questions will help you reduce your organisation's cybersecurity vulnerabilities [...]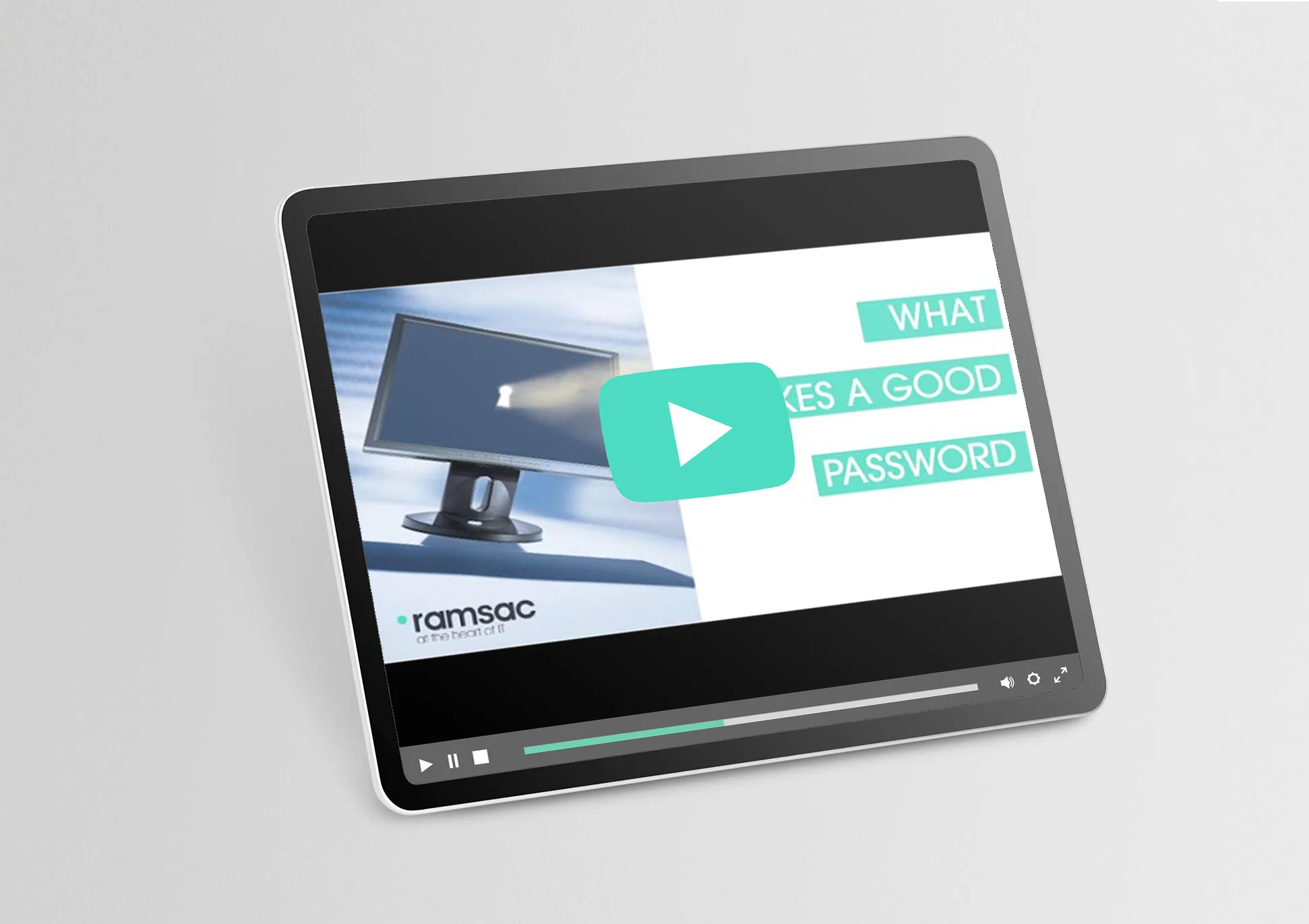 Video: What makes a good password
Watch our short video to learn how to create strong effective passwords that will protect your organisation from cybercrime. [...]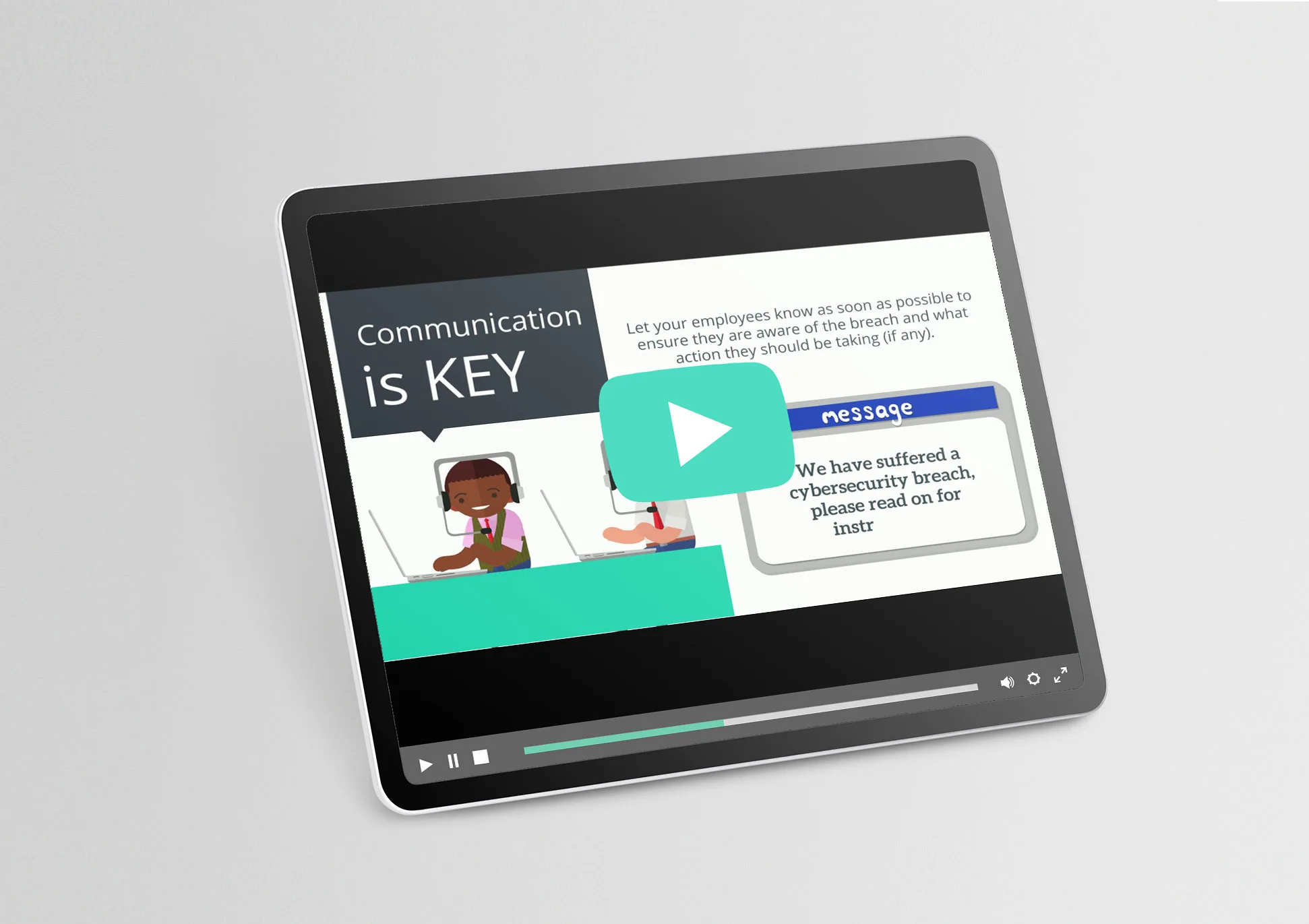 What to do in the event of a cybersecurity breach
Whether you are a victim of a cybersecurity breach or are concerned about the impact of cyber crime on your organisation this video breaks down our advice for what [...]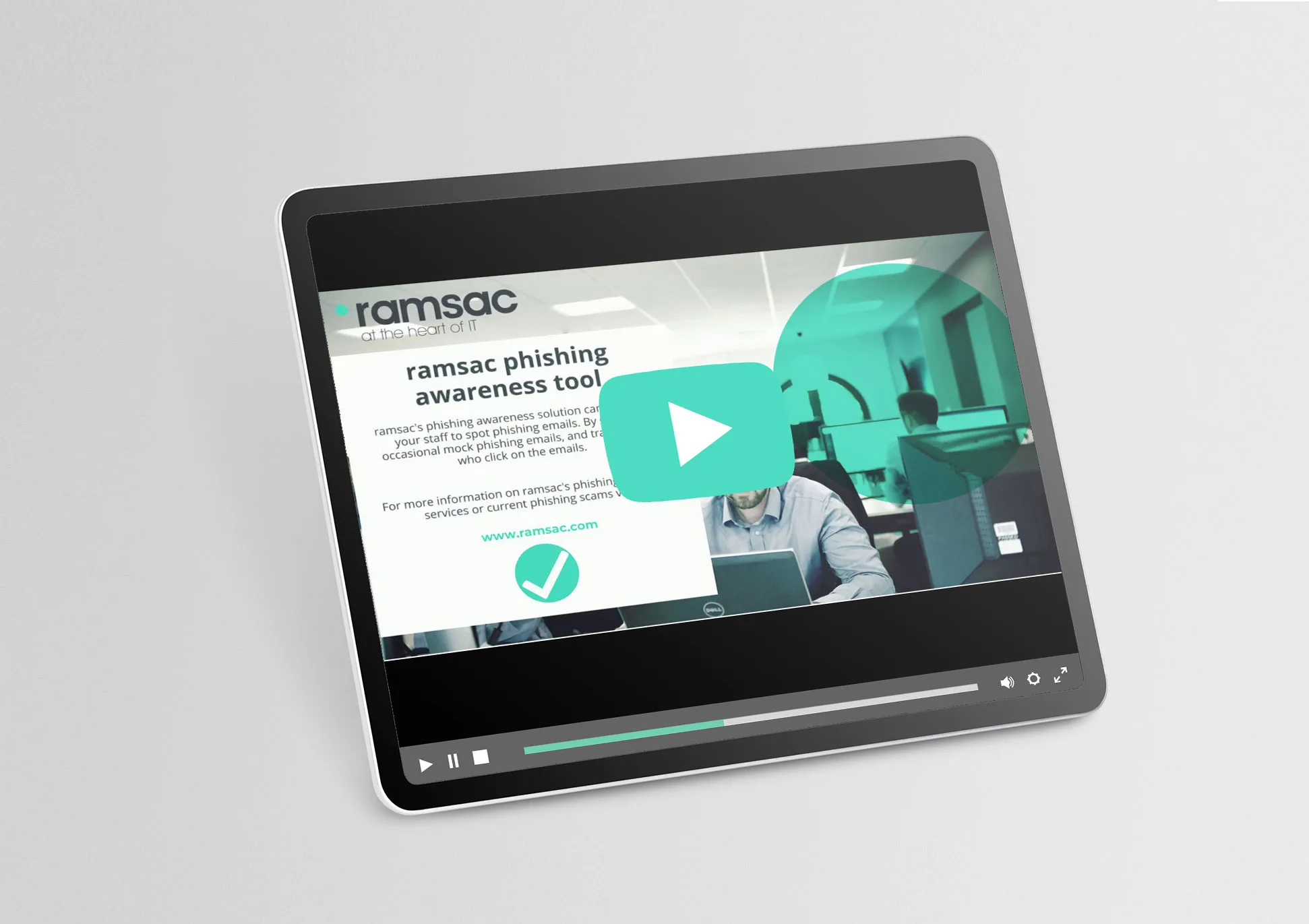 Video – How to spot a phishing email
Phishing scams are becoming more sophisticated and harder to spot, learn how to spot a phishing email and protect yourself and your organisation from cybercrime. [...]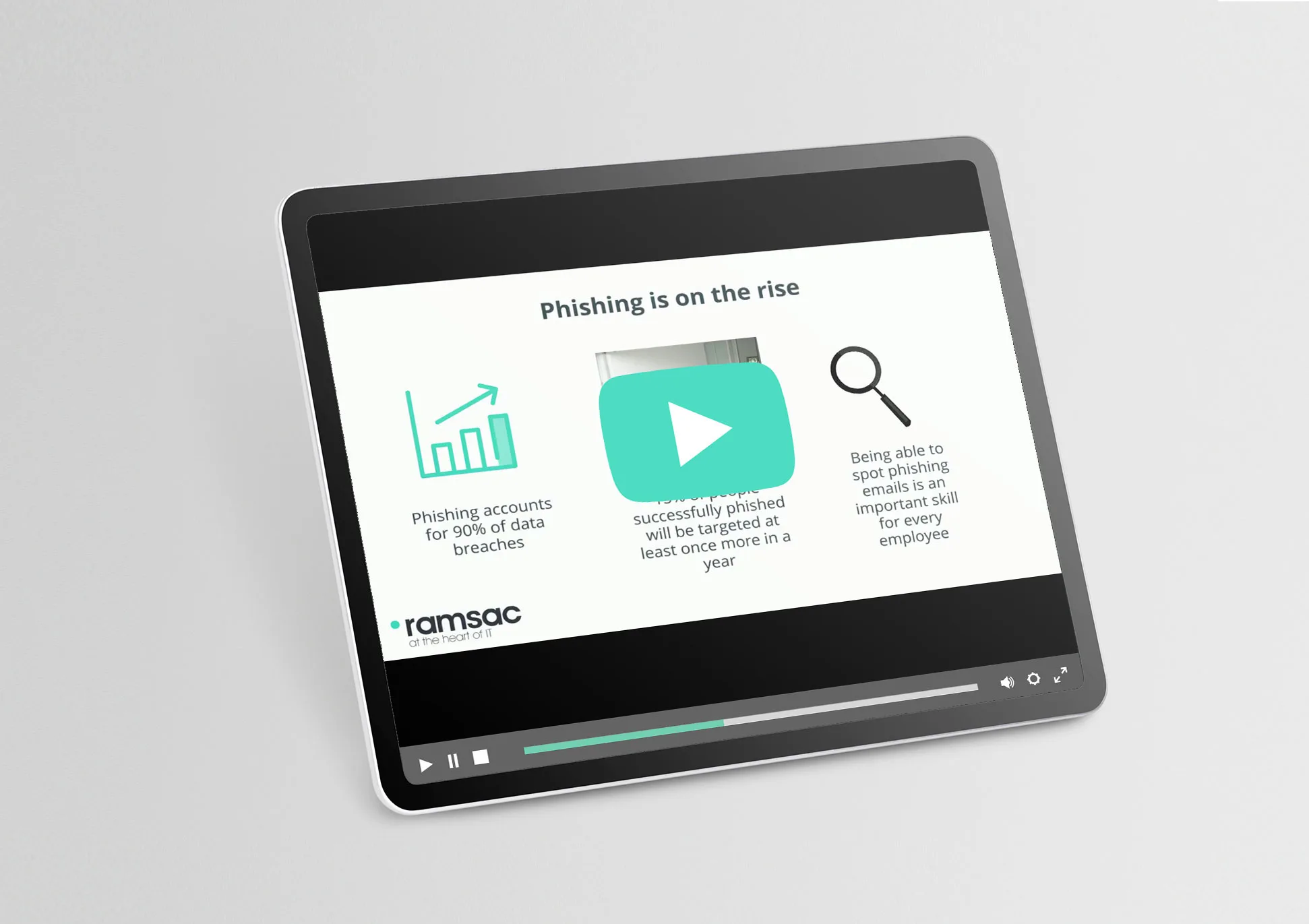 ramsac phishing awareness product
The phishing awareness subscription from ramsac is a great way of increasing cybersecurity awareness. By testing which of your employees can spot a phishing email and which are fooled [...]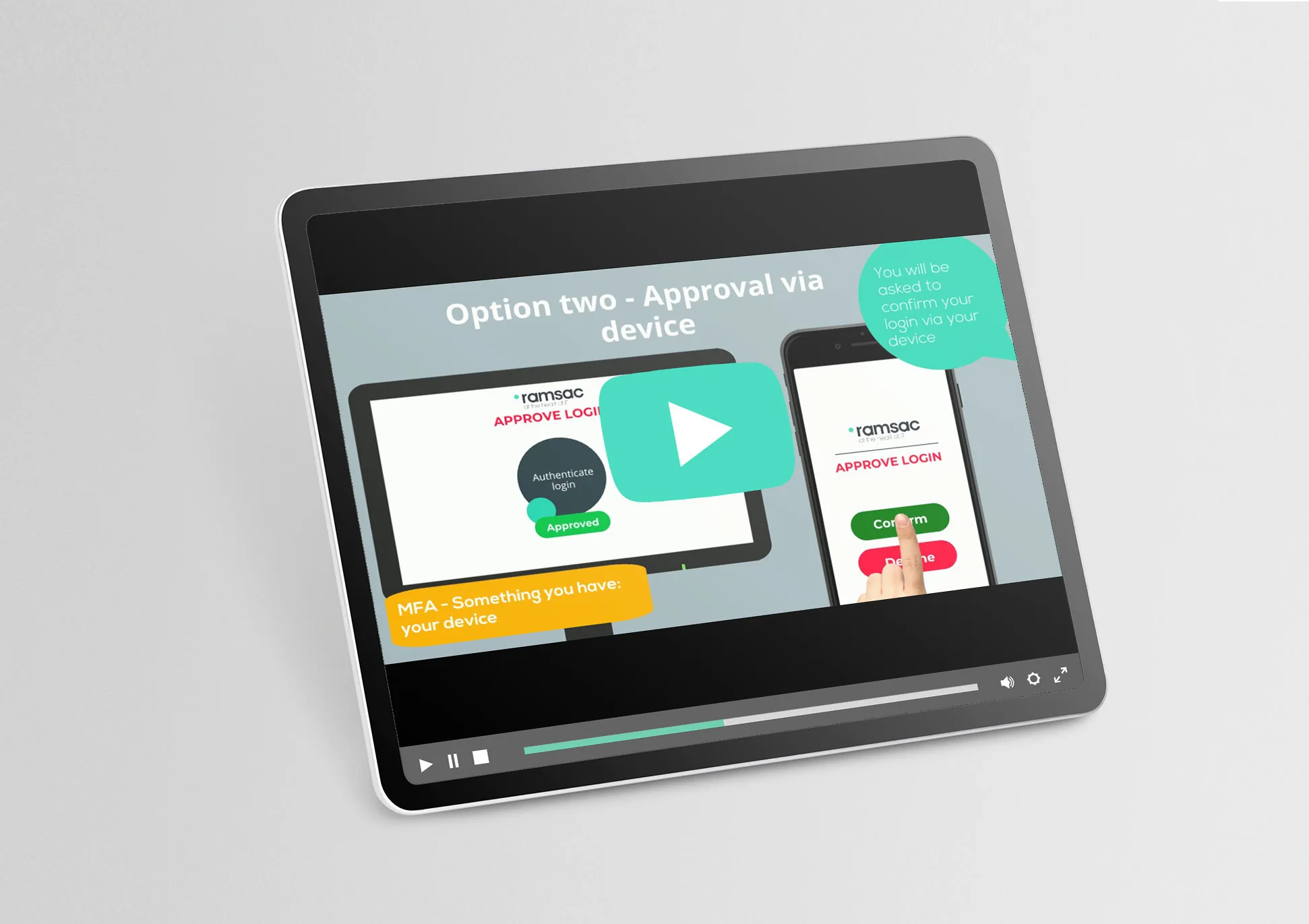 How Multi-Factor Authentication (MFA) works
In this video we explain what Multi-factor Authentication (MFA) is, why organisations are using it and we demonstrate how it works. [...]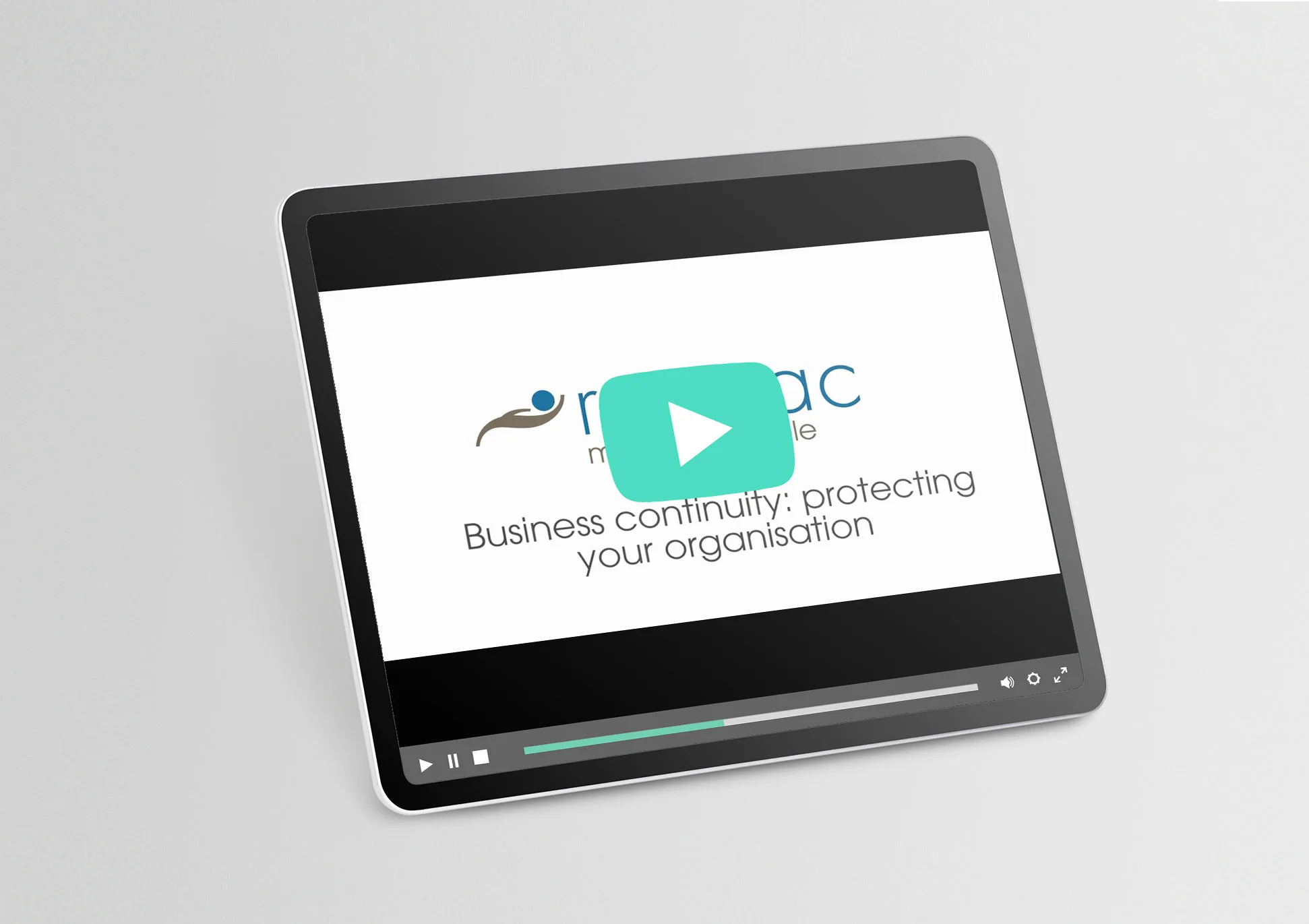 Video: Business continuity – protecting your organisation
Having a strong business continuity plan and testing it regularly is a vital part of your IT, our short video provides advice and guidance on where to start [...]