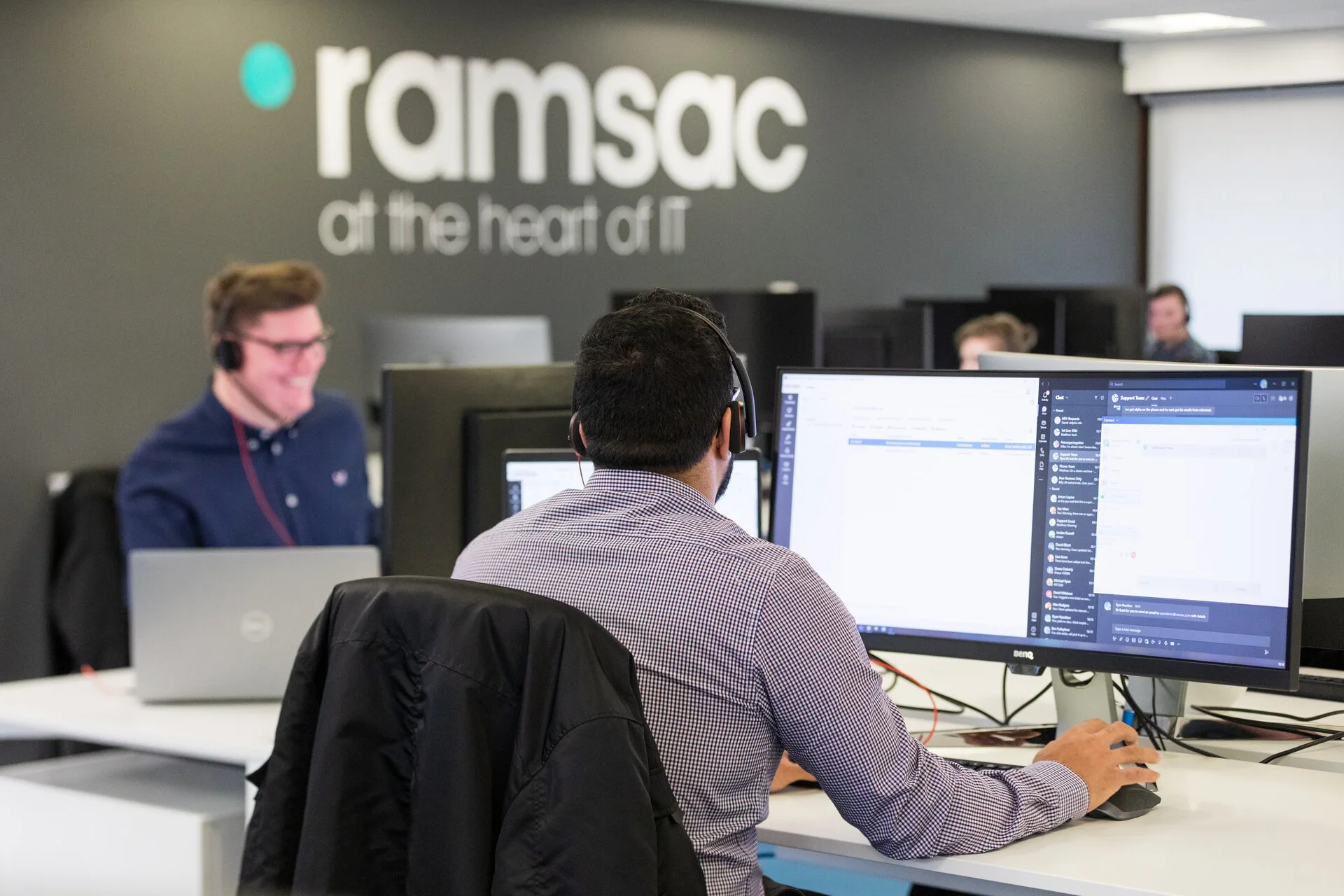 Take advantage of the market-leading products from Microsoft
We'll guide you through everything you need to migrate your existing office functions to Microsoft 365. We will even provide advice on how to implement flexible working and BYOD policies to ensure safe and secure operations.
Tell us how we can help
Microsoft 365 migration & consultancy services
Microsoft 365, previously called Office 365, is Microsoft's most flexible way to get access to the software your company uses daily. It offers significant enhancements in the tools that enable you to run your organisation in a way that empowers your employees to work in a way that suits them best.
As your expert UK-based Microsoft 365 consultancy, we specialise in helping your organisation successfully integrate to Microsoft 365's cloud-based model. We take the time to understand your needs and your goals to create a scalable program that delivers on your expectations.
Microsoft offers the greatest flexibility when it comes to licensing, allowing you to handpick who gets access to what. Instead of buying costly upfront licences, you simply pay a cost per user, per month, for the products that you need What our Microsoft 365 migration & consulting services include
Our approach to migration depends on you and your company, but we largely follow the same steps and processes that we've refined over the years.
1. We take time to understand the situation
First, we understand your current IT provision, technologies, wants and needs.
2. Develop the plan
Then, our UK-based project managers and consultants meet to create a migration plan that fits your timescales and existing hardware. We may also make recommendations at this point where we see fit. We take care of every stage and can talk you through every step of the way.
3. Agree timescales
Once you're happy with our suggestions, we can then agree on a timescale to complete the work, and work around your existing schedules to ensure minimal disruption. There will be some inevitable disruption, but we can be on hand to assist at all points.
4. Complete the migration
Once your Microsoft 365 migration is complete, our expert UK-based support team are on hand to assist you as and when you need them. Benefits of Microsoft 365
Allows employees to work smarter
Microsoft 365 is designed with functionality in mind. It's easy-to-learn features enable your organisation to work harder and smarter. As well as the familiar Microsoft applications such as Word and Excel, users benefit from newer tools such as Teams, SharePoint and OneDrive which combine to make cloud computing and collaboration effortless.
Reliable & approved
Microsoft 365 is a world-renowned office tool featuring adjustable, industry leading security and privacy standards across multiple data spaces.
Cost-effective
With its simple pricing model, you pay only for what you use, on a cost per user, per month basis.
Available on all devices
Licence the user, not the device, so you can run all Microsoft 365 services on multiple devices including laptops, smart phones, and tablets, including non-Microsoft platforms such as iPhones and MacBooks
Safe & secure
Security is a priority. You can use the same systems used by Microsoft to scan your messages and documents for spam and malware 24 hours a day, 7 days a week ensuring that your data is as safe as possible.
All-in-one family
As well as the core 365 applications, we use Microsoft security tools and device management platforms to ensure that security standards are kept high, giving you the power to control who can access what, from what device, and to safely manage devices that may be lost or stolen. This is all done within the same core Microsoft family of products which means users don't have to remember multiple logins and multiple passwords.
Start your migration today
Speak to us today about Microsoft 365 migration consultancy, or any queries you may have. We are happy to help in any way we can so your business can go further. Microsoft 365 features
Explore the breadth of Microsoft 365 products that have been helping businesses improve efficiency and productivity over the years.
Microsoft 365 suite (Word, Excel, PowerPoint etc.)
The latest version of all applications available both via the web and also as installed apps on your PC, Laptop, Mac, or mobile device.
Exchange Online
By integrating with Microsoft Outlook, you can now access email, shared calendars, contacts and tasks without the need for an on-premises Exchange server. This means you can also access them from practically anywhere in the world. Setting up your Exchange account on multiple devices is quick and easy and all devices will synchronise with one another. This means you can access emails from any internet enabled device, even if your main office is offline.
OneDrive for Business
A corporate solution for cloud-based file storage. With users each receiving 1TB of data storage, this is a great solution for mobile workers who want to ensure files are not only existing on their laptop or tablet device. Sharing files and folders is simple and secure and users can access their files from any device, including phones and tablets.
OneNote
A great way of making, sharing and keeping notes and meeting records. OneNote is the tool that really enables you to become a paperless office!
SharePoint
A collaboration tool that allows you to create interactive intranets and shared work spaces, and store all of your company shared documents and files in a secure cloud platform.
Microsoft Teams
The ultimate collaboration software, Teams allows you to bring people together to work on ideas or projects, sharing documents, allowing multiple people to edit documents at the same time, running group video conferences and recording instant chat between colleagues.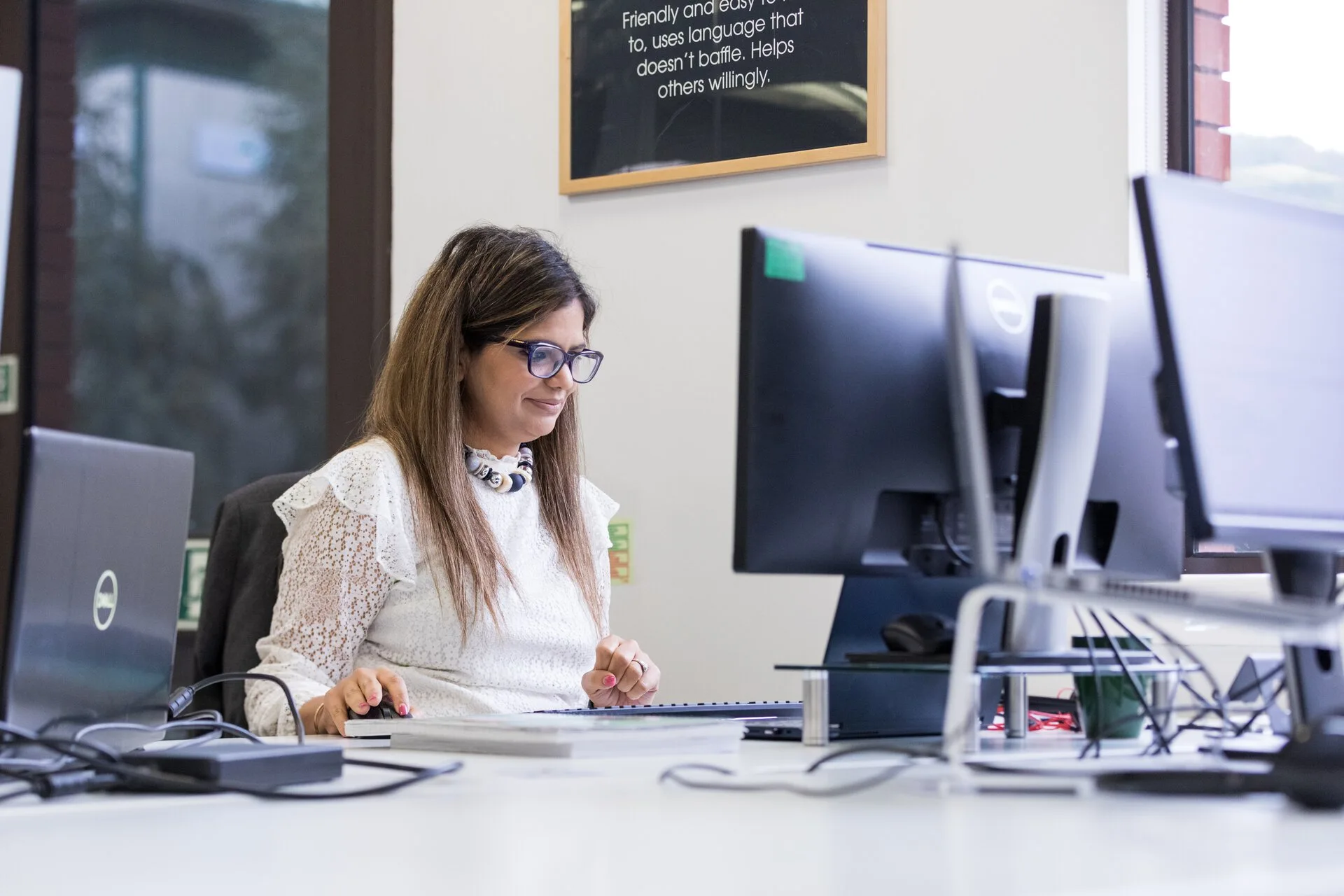 Why choose ramsac to implement Microsoft 365?

Microsoft 365 Experts
We specialise in Microsoft 365 migration services and have successfully helped hundreds of businesses like yours. 

Approachable
Changing your IT framework can be daunting. That's why we use clear, comfortable language and are always here if you need support.

Reliable
We provide consistently excellent consultation and migration support.
What our clients say
★★★★★

"Having a support company there who conduct regular checks of the network, monitoring things like server capacity and everything else that needs to be looked at on a daily basis. I can't tell you how beneficial that is." Helpful Microsoft 365 resources
If you're considering a migration to Microsoft 365, then explore our range of helpful resources to find out more.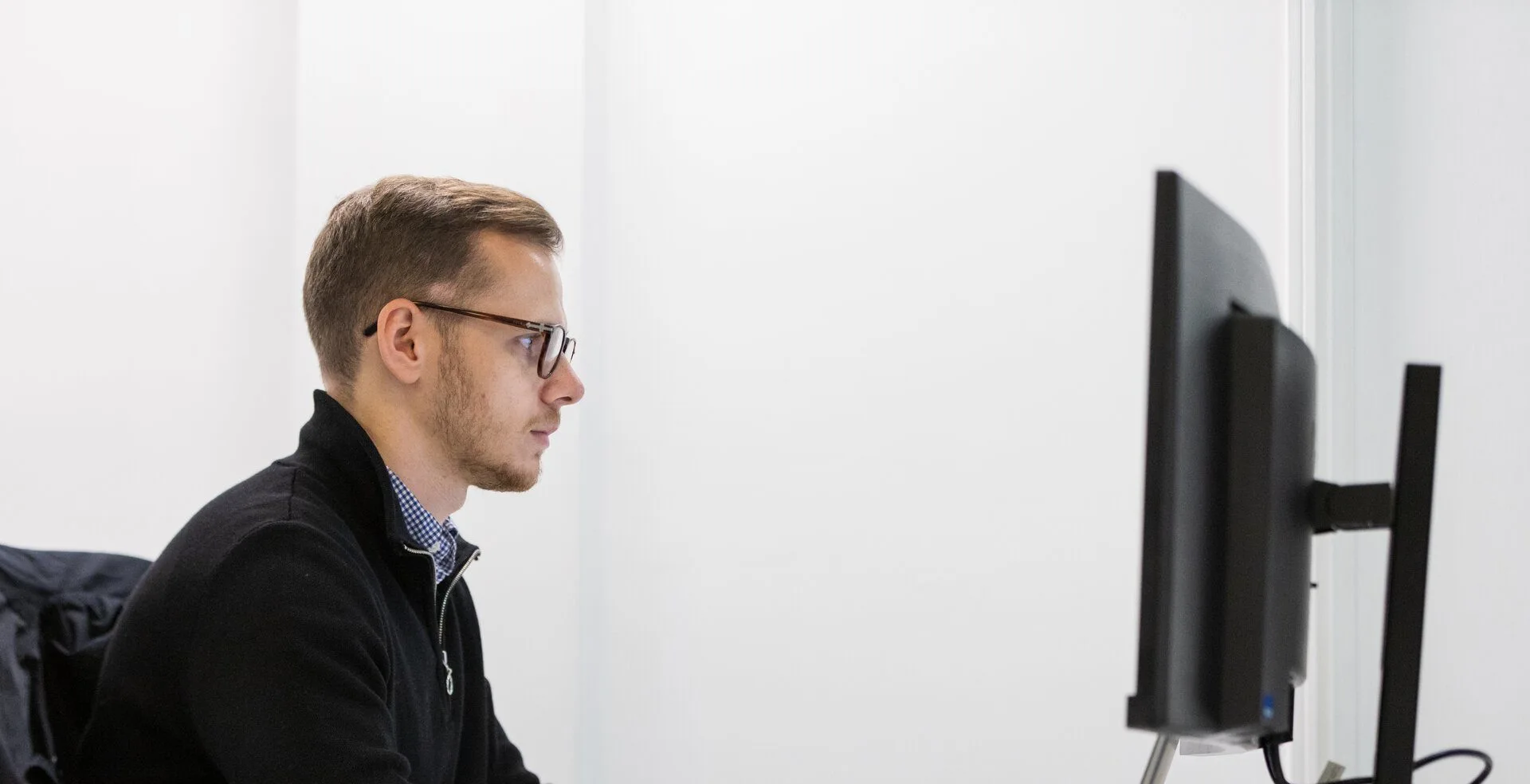 An Introduction to Microsoft Teams
Microsoft Teams was first released back in 2017, and since then has become a staple application in offices all over the world. Microsoft describes the platform as a "chat-based [...]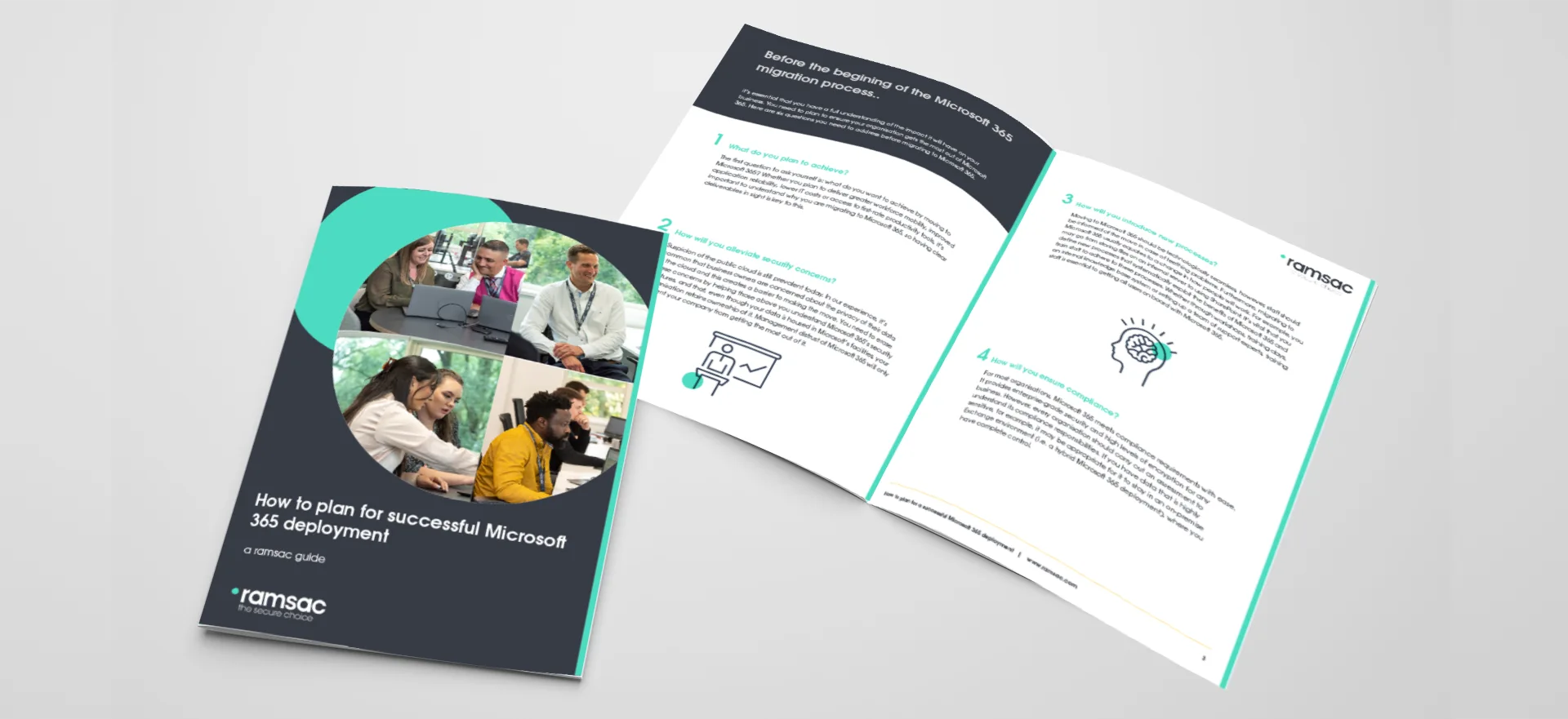 How to Plan successful Microsoft 365 Deployment
In this brochure, we explain the steps to having a successful move from traditional services to using Microsoft 365. This guide provides information on the use of Microsoft 365 [...]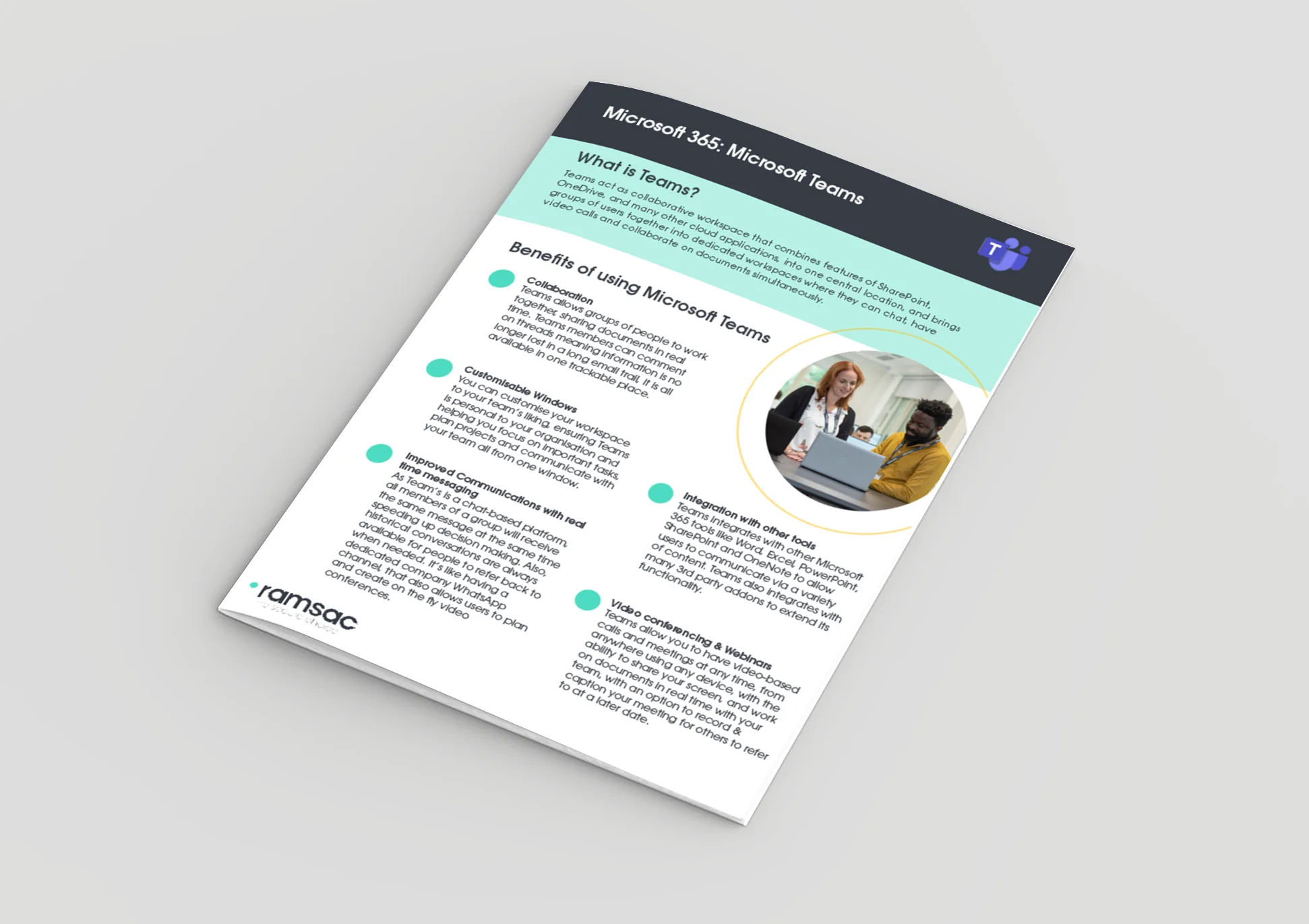 Teams – Microsoft 365
Teams act as a collaborative workspace that combines features of SharePoint, OneDrive, and many other cloud applications, into one central location, and brings groups of users together into dedicated [...]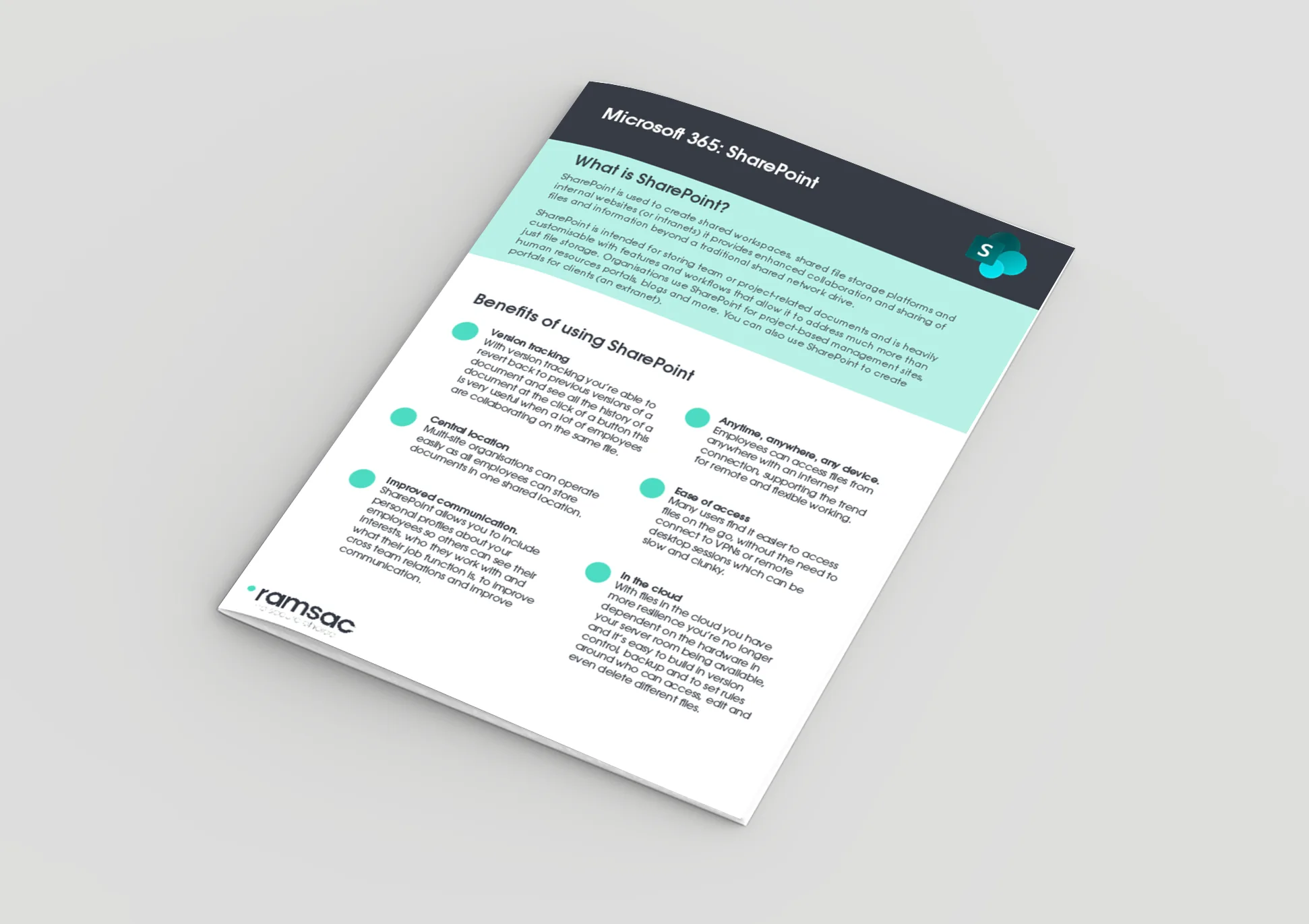 SharePoint – Microsoft 365
SharePoint is used to create shared workspaces, shared file storage platforms and internal websites (or intranets) it provides enhanced collaboration and sharing of files and information beyond a traditional [...]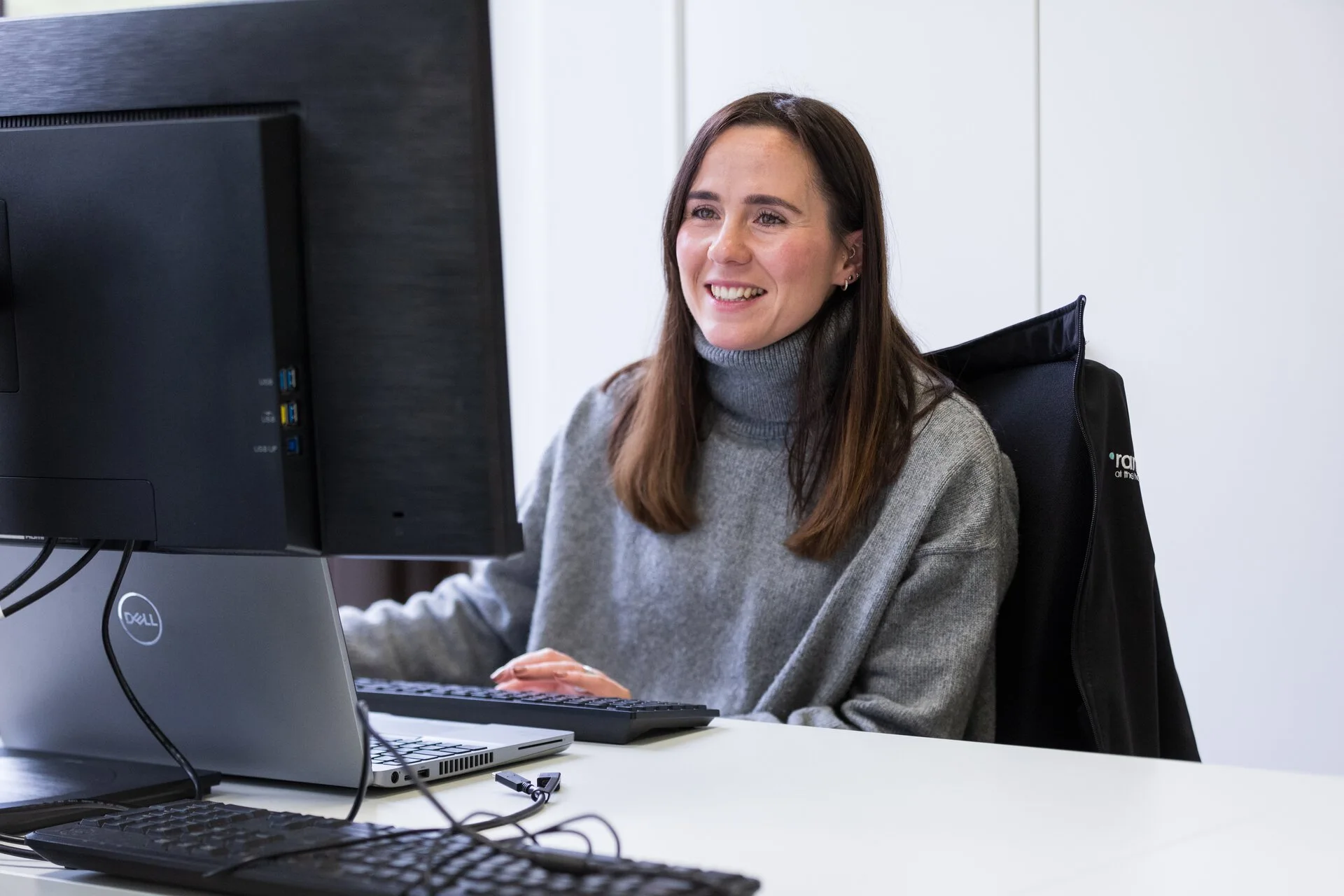 Speak to us today about Microsoft 365 migration
To find out more about our Microsoft 365 consulting and migration services, get in touch today. We'd be happy to offer a no obligation assessment of your current IT set up and offer advice.