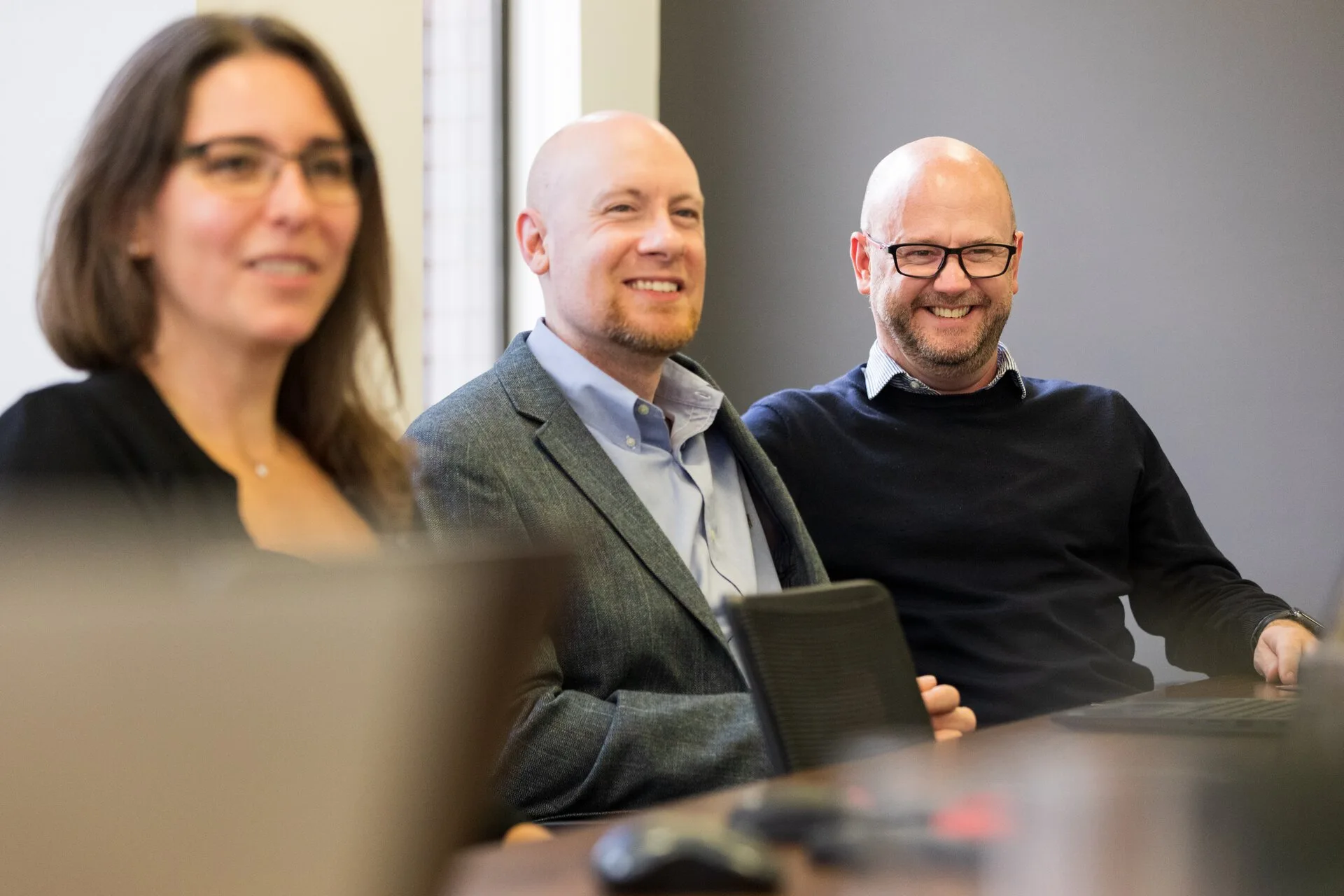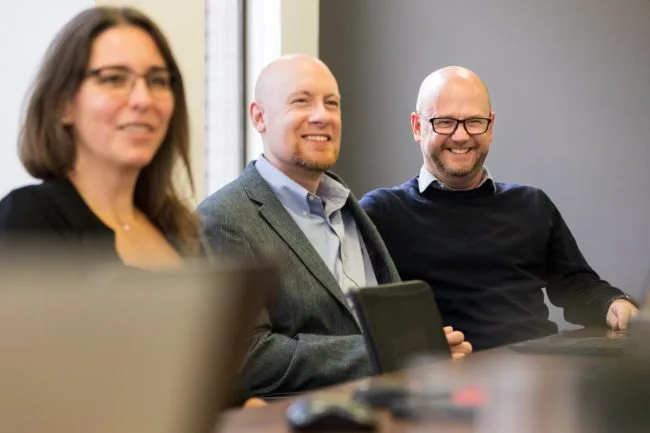 Where are you on your cyber resilience journey?
By assessing your organisation's position against cyber threats, you can demonstrate your commitment to your customers' data and services. ramsac's Cyber Resilience Certification helps organisation achieve the highest level of cybersecurity protection. Contact us for more information
Tell us how we can help
Cyber Resilience Certification
All organisations are on a cyber resilience journey. For some, they are right at the beginning and just starting to think about how they can better secure their data, for others, they are ahead of the curve, they've taken all reasonable steps and they are doing their best to continue to evolve in line with best practice and the latest threats.
To help our UK based clients understand where on that journey they are, we have created the ramsac Cyber Resilience Standards. By assessing your organisation's position against our standards, you can assess your risks, strengthen your protection and demonstrate to your customers and stakeholders that you take the protection of their data seriously.
Gold, Silver and Bronze
Based on over 30 years of managing IT risks for a wide range of UK organisations, ramsac
have created a practical set of standards that cover our views of what good looks like,
and we've broken these down in to realistic levels of best practice.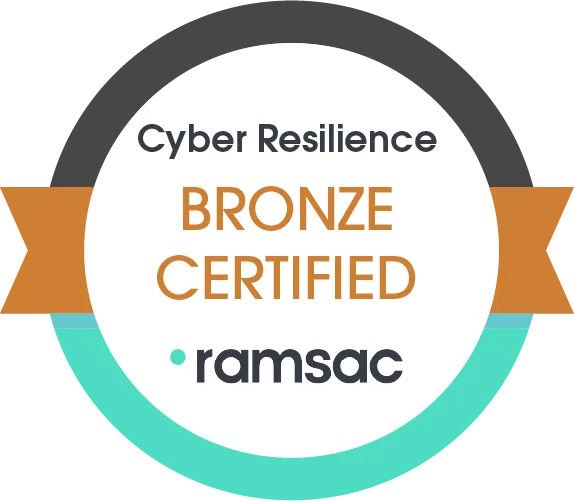 Bronze certification
Our Bronze certification represents the minimum level of good practice that all organisations should strive for. By achieving Bronze, organisations will be committing to implementing and maintaining a solid foundation of a secure organisation and will benefit from significantly reducing the organisations attack risk, minimising the chances of easily avoidable breaches.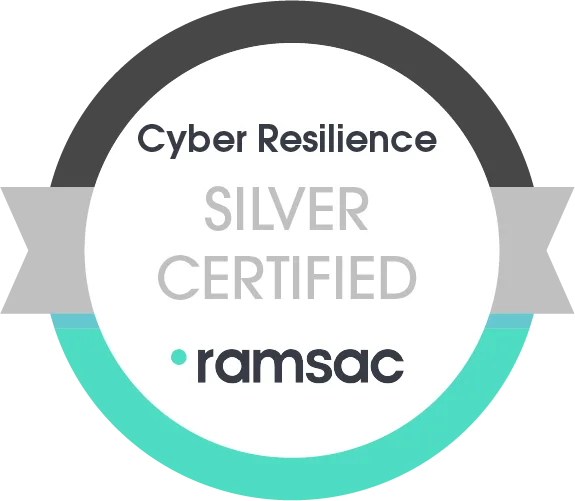 Silver certification
The Silver certification represents great cyber resilience, reflecting practices that protect both end user devices, IT hardware and cloud stored data.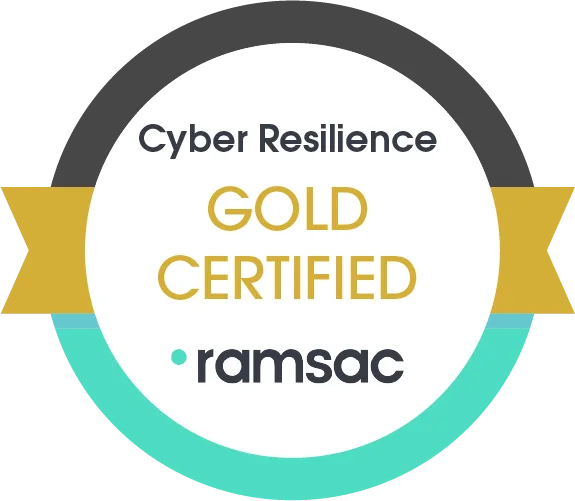 Gold certification
Organisations that achieve Gold certification really are demonstrating the best in cybersecurity practices and they are implementing proactive measures to assess their vulnerability on an ongoing basis.
Why choose Cyber Resilience Certification
With cybercrime continually posing threats to businesses across the globe, and cybercriminals constantly adapting the ways in which they attack, it has never been more important to be prepared. The Cyber Resilience Certification will safeguard and benefit your business by:
Allowing you to understand your position against cybercriminals, enabling you to strengthen your defence effectively
Demonstrating your commitment to data protection to your customers and stakeholders
Continually assessing and improving your position, enabling you to adapt to new forms of cybercrime as they emerge
Strategically prioritise your cyber protection, ensuring your most vulnerable points are addressed first Useful Cyber Resilience Resources
Looking for more information on ramsac's Cyber Resilience Certification?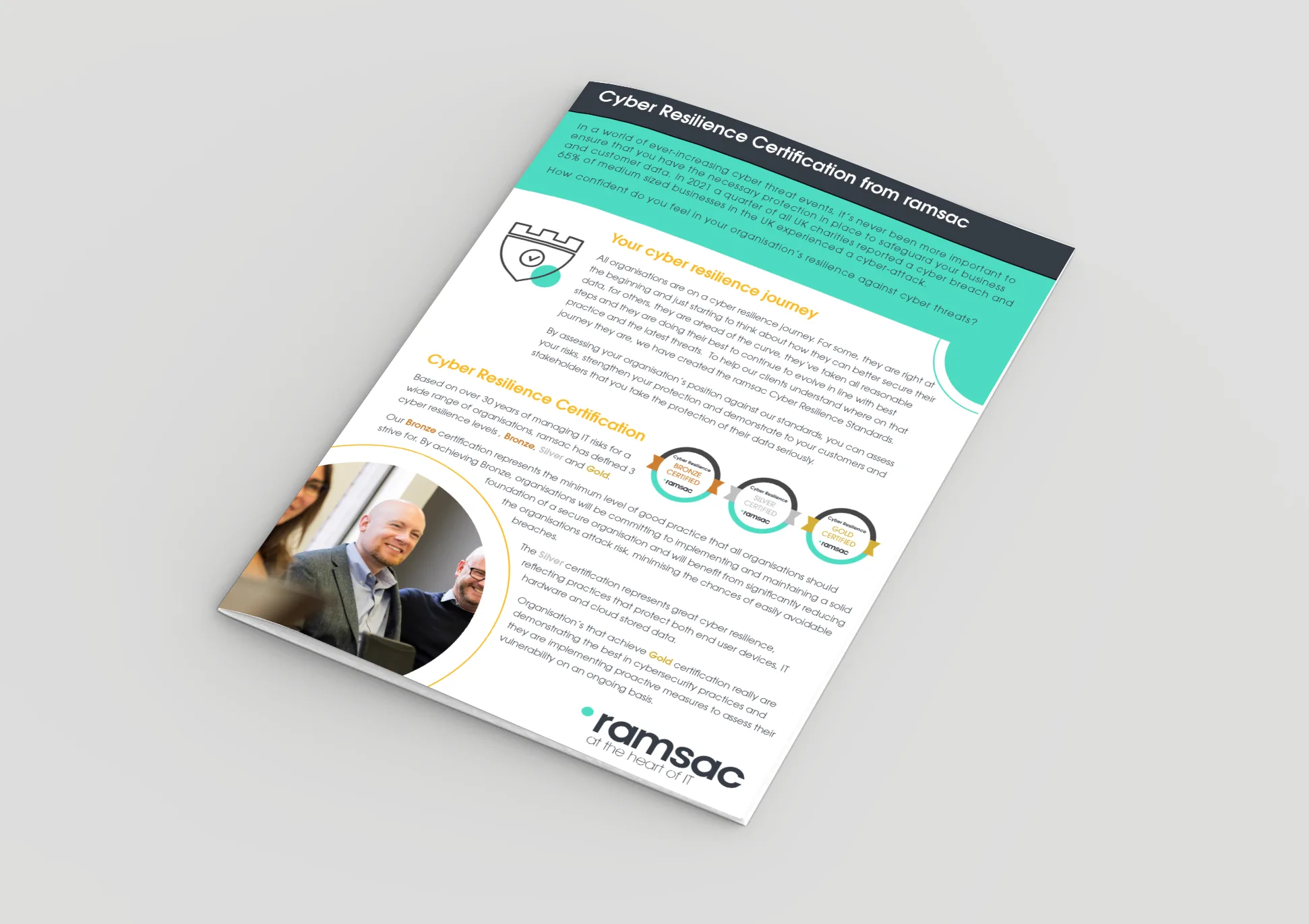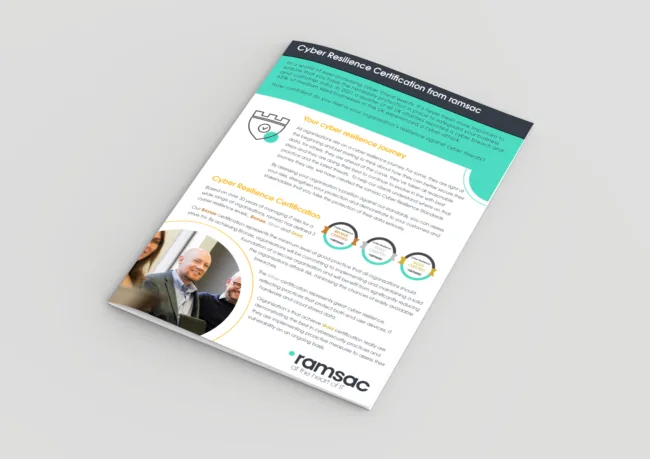 Cyber Resilience Certification from ramsac
By assessing your organisation's position against cyber threats, you can demonstrate your commitment to your customers' data and services. ramsac's Cyber Resilience Certification helps organisation achieve the highest level [...]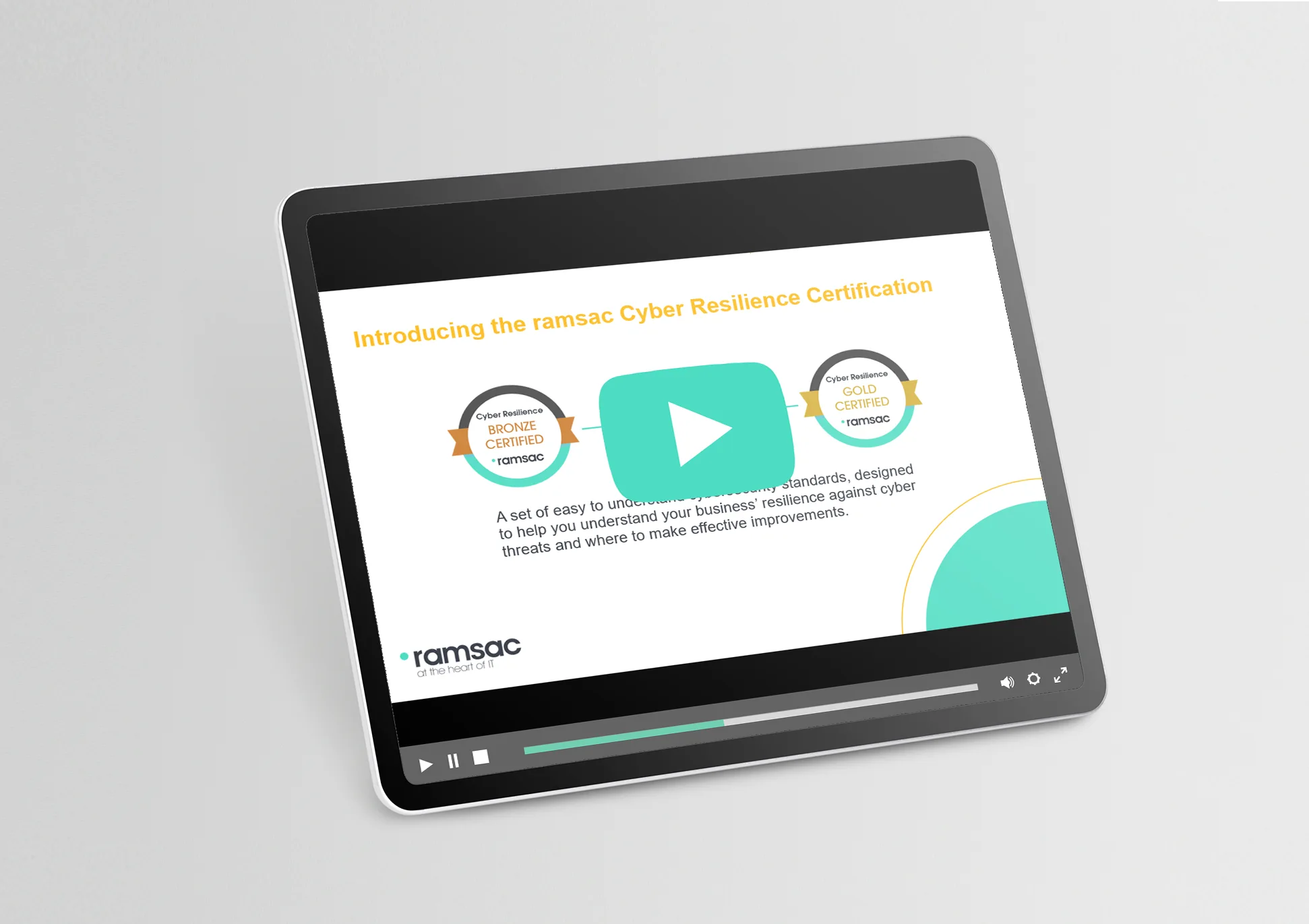 Overview – Cyber Resilience Certification
In this video we introduce the Cyber Resilience Certification, the Bronze, Silver and Gold levels and what organisations need to do to meet them. [...]
Reassure your stakeholders with Cyber Resilience Certification
Ensuring that stakeholders are protected against cybercrime is vital for both parties involved, and Cyber Resilience Certification presents the opportunity to provide reassurance. Certification clearly demonstrates to your stakeholders that you are taking their data seriously and doing all that is possible to protect it.
Stakeholders can be impacted by cybercrime in a number of ways, including:
Exposing sensitive data if a breach were to occur, leaving important company information in the public domain which can be further abused
Downtime caused by a cyberattack may affect stakeholders' operations, potentially causing financial losses for both parties involved
Reputational damage which may impact the trust between customers and the stakeholder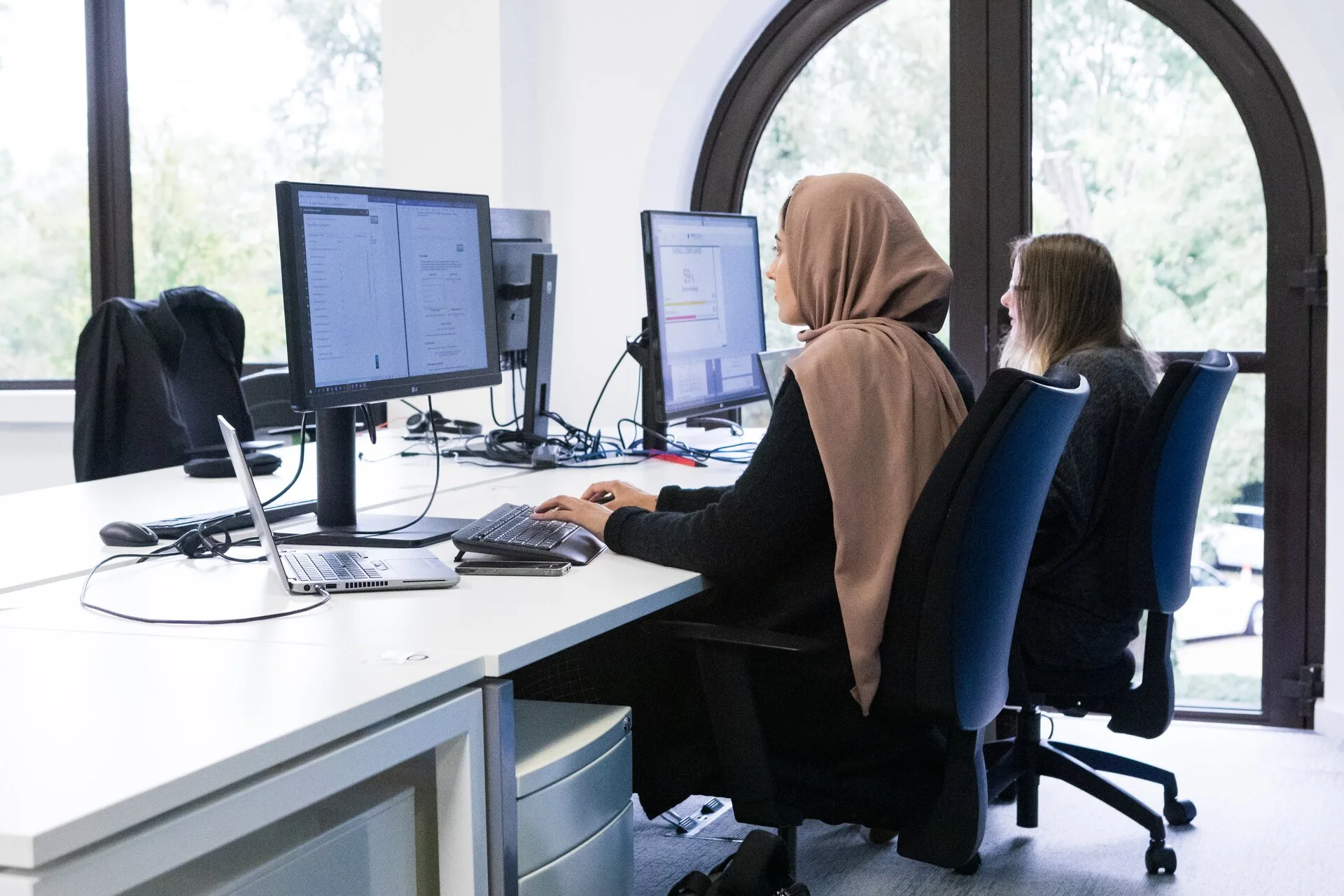 The assessment & certification process
Our experienced IT security professionals will undertake an in-depth audit of your IT estate. The result of our assessment will be a detailed report identifying IT and cyber risks, with a practical suggestion of how each finding can be addressed. We'll rank our recommendations in 'red, amber, green' priorities and work with you to identify easy to address changes, as well as recommending longer term plans for more complicated findings.
We will establish where you are against each of the three levels of our standard, and give you a breakdown showing where you meet, partially meet or fail to meet each criteria, enabling us to work out whether you're already achieving Bronze, Silver or Gold and then issuing you with your certificate, which you can use to demonstrate your commitment to cybersecurity.
What our clients say
★★★★★

"Having a support company there who conduct regular checks of the network, monitoring things like server capacity and everything else that needs to be looked at on a daily basis. I can't tell you how beneficial that is."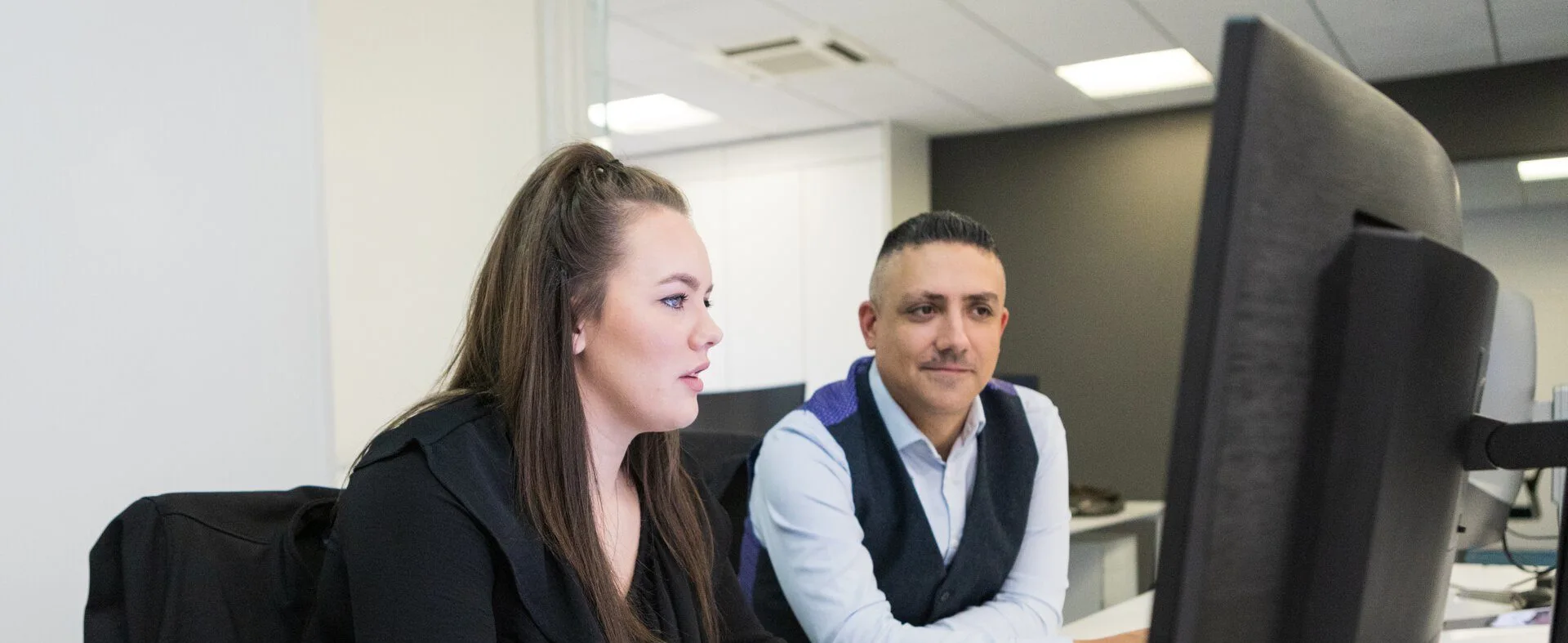 Customer
Satisfaction Survey
All our clients are invited to provide a quick rating of satisfaction when we close a Support request for them. Find out what they had to say.
Why choose us?

Certified
We pride ourselves on maintaining our UK government-approved certification to ensure that we continue to deliver an outstanding cybersecurity service.

Reliable
We provide consistently excellent service and communication. We always deliver on our promises.

Approachable
To make you feel more confident, we explain everything about your cybersecurity in friendly, easy-to-understand language.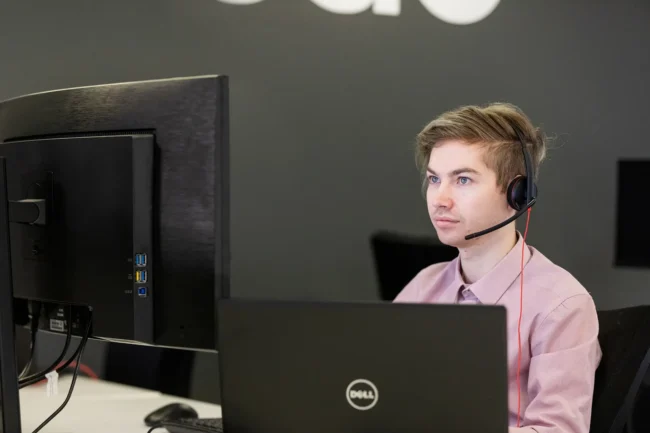 How can we help?
Speak to us today about your Cyber Resilience. We'll be happy to perform an in-depth audit on your current level of cybersecurity protection, and make recommendations on the next steps you should take to improve.