Partners&
Partners& are focused on becoming the best insurance advisory business in the UK. Partnership is the core element that drives who they are and what they believe. Partners& combine the best traditions of broking, which place value in relationships and technical knowledge, with modern thinking and intelligent use of technology to ensure their clients experience a better way.
Before ramsac
Prior to working with ramsac, Partners& had a very fractured IT landscape, from both an applications and infrastructure perspective. They were struggling to operate seamlessly within the legacy remote desktop, collateral was not saved in a structured, accessible file store and they were two months away from a scale constraint that was business stopping, as they would have been unable to connect more users, which was a major issue for a business that had experienced incredible growth of 200% in just 18 months.
Finding the right IT partner
Partners& decided it was time to find a new IT supplier to help facilitate their exponential growth. Campbell Mcclean, Chief Technology and Operations Officer at Partners& explains why they chose ramsac.
"ramsac offered us a partnership with a business "like us". ramsac are ambitious in terms of the pursuit of excellence. We jointly agreed to move our collaboration tools to the cloud, to move our remote access to the cloud and put in place a virtual VPN to our other cloud platforms. In addition, we had a shared view of what the future should look like, and we perceived them as being fix focussed not contract focussed, and retrospect has proven our judgement to be correct."
Making the move
Moving from their incumbent supplier to ramsac was a carefully run project, with the high level design agreed within a week, the migration journey plans confirmed in 6 weeks with the migration completed in 4 months. This was not just about changing supplier, this was redefining the whole IT estate set up and the project was running at the same time as Partners& were migrating 3 newly acquired businesses onto their cloud broking platform. Campbell describes the experience of transitioning to ramsac
"The move was pretty smooth all things considered. We have subsequently rebuilt every device and deployed a suitable level of security, everything rebuilt from the ground up in 7 months, and as we grew from 100 people to 370 people, it was altogether a great experience."
Projects, projects and more projects
Partners& came onboard with a requirement to provide over 300 people with access to virtual desktops quickly. They were experiencing existing resourcing challenges with their on premises hardware and RDS environment which meant that Microsoft's Azure Virtual Desktop was the perfect solution. We scaled up this environment so all users could access a desktop and within a month had improved the environment. Since then we have been improving the system further by leveraging Microsoft's security licensing (EM+S) to beginning to roll out a better laptop experience for all users meaning each user can interact securely with their data and core system applications from anywhere with an internet connection. These projects have also been completed to hard deadlines alongside an ambitious growth plan from Partners& where ramsac have helped streamline many processes such as new users, procurement, and much more. Campbell reflects on the projects delivered by ramsac.
"Frankly it's been great, stuff gets done on time. That means predictability, we can then plan tightly and deliver our promises to the business. IT functions never get a parade, the best we can hope for is that everything is quiet, therefore everything is working. ramsac have silenced the noise allowing us to focus on bringing innovation to our business, we are therefore valued and are expected to contribute, this is great for our business."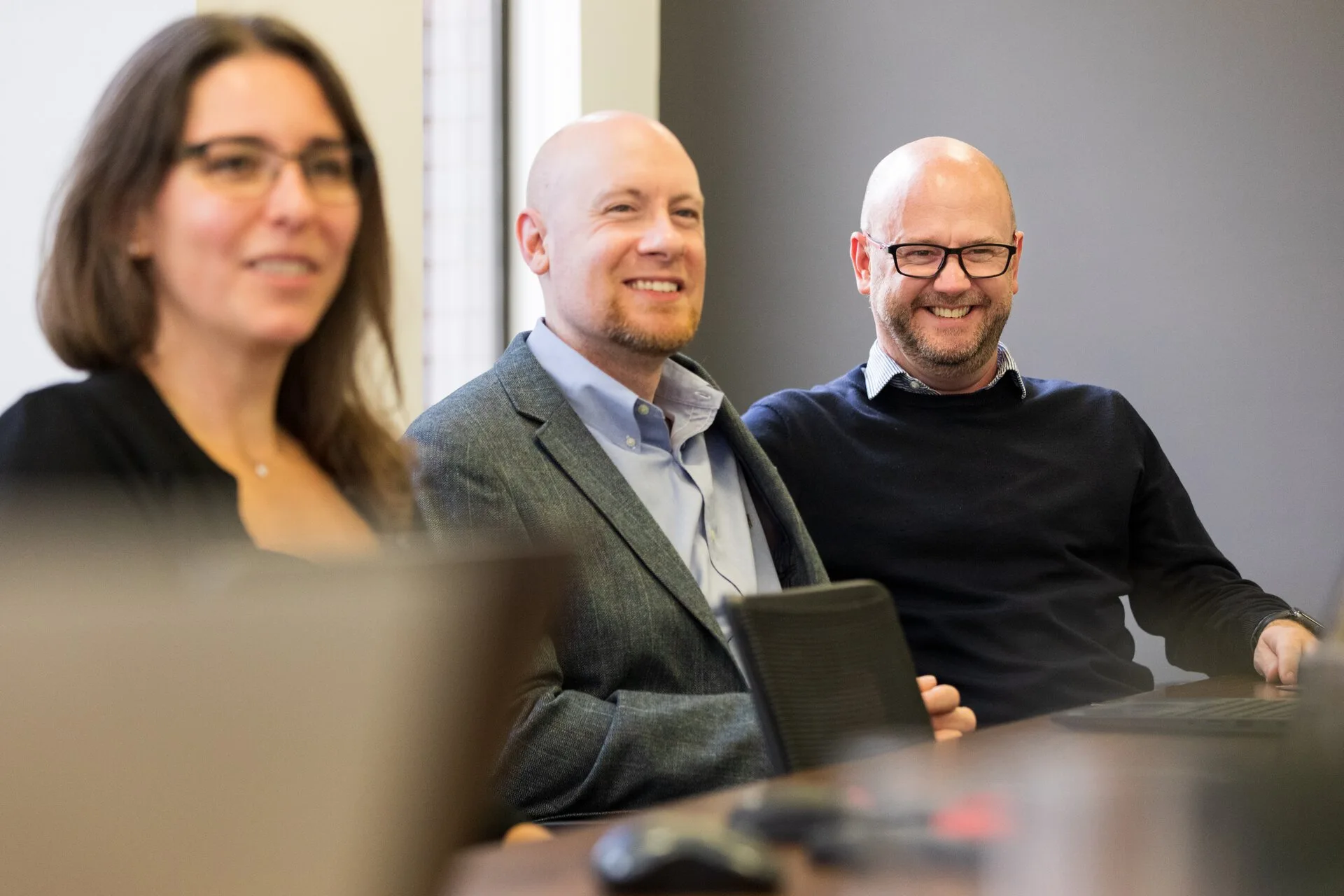 "Collaborative, committed, creative and honest"
ramsac have committed to scaling our support team to meet Partners& growing needs and it is a partnership we are very proud to be a part of. Campbell comments
"ramsac have grown their team to support us, have simplified the complexity of the legacy landscape to make supporting us easier and to also make everything scalable. We are still being jointly ambitious and believe that we have a mutually beneficial relationship. ramsac people are like us, collaborative, committed, creative and honest, at the engagement level, they act like us, work like us and are committed to our, not their, success. I wouldn't hesitate to recommend ramsac to other organisations. Choosing ramsac is one of the best 3 decisions we have made."