Video: How to Use Microsoft Teams for Video Calling and Chats + Transcript
With more people now working remotely, we recognise that many people are looking to make use of Microsoft Teams in new ways, especially for connecting, messaging and calling other colleagues.
In this short vlog, Dan May demonstrates:
How to use Microsoft Teams

for

video calls with colleagues

How to use Microsoft Teams to have online chat sessions with colleagues

Other helpful features from within a video call, including

sharing content and configurable backgrounds.
This is a short vlog looking at how Teams can be used for calls and chats, but there is plenty more this technology can do in terms of collaboration. Microsoft Teams is changing the way groups collaborate and work together. As well as providing great remote working tools such as instant messaging and video conferencing, it's also changing the way people can come together with others, both inside and outside of your organisation, to share documents in real-time, plan projects and work plans, run meetings and share resources. There is a more in-depth vlog which looks at the structure of Teams itself, which is available here.
How to video call on Microsoft Teams – starting a call
Open up

your

Microsoft T

eams

application

and familiarise yourself with the activity pane.

From within here

,

you can see your teams or groups

, any recent activity

,

and

find colleagues

to chat with

.

Hover over the icon

at

the top

left

of the screen

, which

looks like a notebook and pen.

Clicking on this icon will create a new chat window. From here

,

you can start a new private or a group chat

, which works like a messenger app.

Within your chat room, you have the option to either send messages, video call or simply phone call. These icons are displayed in the top right of the screen.

The first icon is the video call feature on Microsoft Teams.
Tip: the green tick next to your profile means that you're currently online and available.
How to
u
se
v
ideo
c
all
on Teams
– t
ips &
FAQs
How many people can I call or mess
age
at one time?
In our video, we demonstrate how teams can be used to call multiple colleagues at once. From within your messenger window, you can invite and call up to 100 participants from around the business, or even choose to include guests.
Can I share my screen while I'm on video call?
Yes, a host or a participant can share their screen with others on the call. This function is available from within the option box that appears at the centre of your screen during a video call (hovering over the buttons will reveal each feature).
The "share" option allows users to share their desktop, or a specific window or application they have open. This gives you full control of what part of your screen is shared during video calls.
To end the screen share at any point, simply reopen Microsoft Teams and toggle the "share" button to return to a video call.
Can guests have access to video calls?
Whilst external or guest access is turned off by default, users can change the settings for their calls to allow those from outside their organisations to appear on video calls too. For more information on this feature, read our article on guest access for video calling those outside of your business.
What can I do about my background on a video call?
When using Microsoft Teams for video calls, users can enjoy flexibility with their backgrounds. These can be configured in a number of ways.
When you join or host a video call in Teams, it will prompt camera actions. You can adjust whether or not your camera is active

. If not, participants will see your profile image instead.

You can use "more actions" to create a background blur

.

Alternatively

, if you want

to configure your background image,

visit our step-by-step guide

to learn how.
These background options help users control their level of privacy when using the video call function on Microsoft Teams, which can be especially helpful for those working remotely or away from the office.
Is Microsoft Teams
c
hat
p
rivate?
From within the messenger pane, you can confidently chat with other colleagues in private. This is not accessible from outside the app, or by other users.
Where can I learn more about Teams meetings?
We've written an in-depth guide on making the most of Teams meetings, and what you need to know to a be a Teams meetings expert.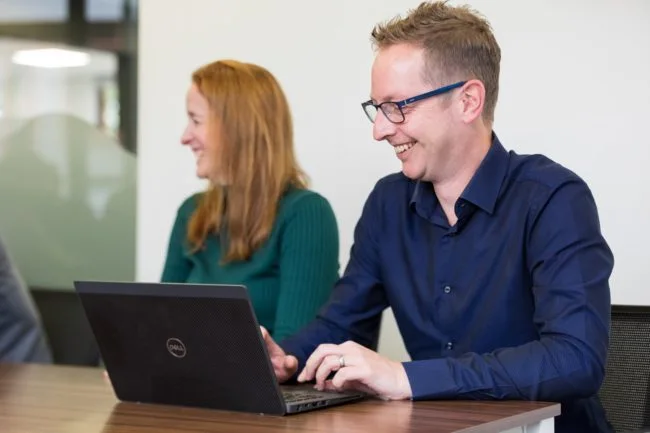 Microsoft 365 migration.
Microsoft Office 365 provides unparalleled collaboration and productivity tools to help your organisation succeed.