Q&A ramsac Support Apprentice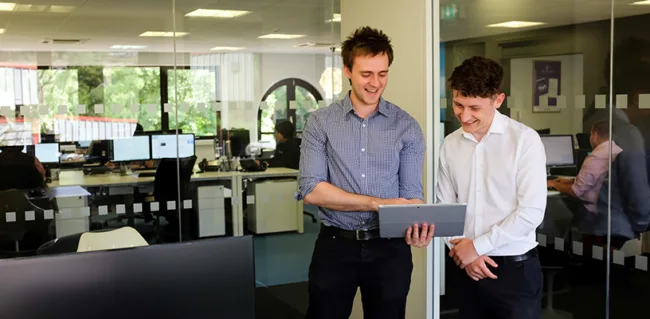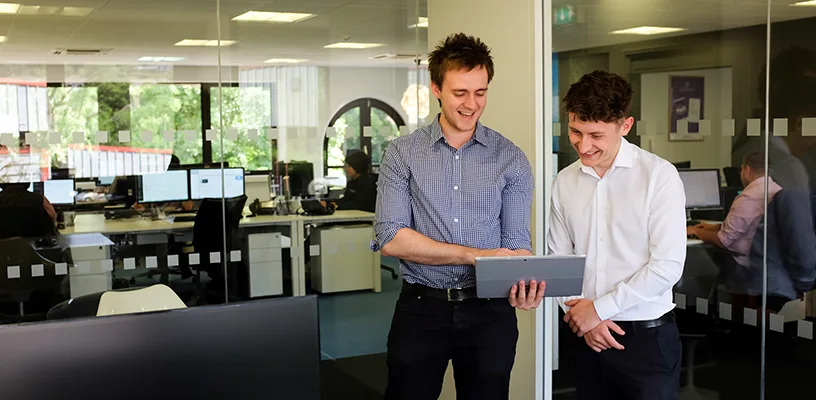 Posted on September 30, 2019 by Samantha Baidoo
Here at ramsac we are passionate about helping people build solid careers. Every year for the last eight, we have recruited at least one IT Apprentice, as position typically filled by school leavers post A Level or College. We believe that IT careers are very practical, and with the wide variety of clients that we support, we can give interested candidates huge exposure to a vast range of business technology. Our apprentice scheme lasts a year and leads directly into a career in our first line support team, with a post apprenticeship career and training path all mapped out. We are really proud that many of our apprentices are employed with us several years after they have qualified, with some now serving in leadership or more senior technical positions.
I sat down with our current apprentice, Joel Gidley, to find out why he chose to be an apprentice at ramsac and how he has found the experience.
Q: Hi Joel, thank you for taking the time to answer a couple of questions about your experience of being an apprentice. What made you decide to start your career as an apprentice?
A: Hi Samantha. I wanted to start as an apprentice as it suits my learning style of being practical. I knew that I would be able to learn more by being interactive and learning on the job, whilst getting a qualification and gaining experience without the huge debt that university can bring.
Q: Why did you choose ramsac to do your apprenticeship?
A: I was lucky enough to have had a friend who had been to ramsac for work experience and I knew a few of the clients we have. All of them fedback that ramsac had a real community feel and friendly nature, which made it a great place to start my career. I wanted to be part of a company that puts people first and ramsac was offering just that!
Q: What are the benefits of being an apprentice?
As an apprentice, I have received regular training courses although have largely had the same job as most of the first-line support team for a while.
The biggest advantages for me came at the start of the job, I started with very little confidence and whilst I had a technical background I had almost no server knowledge and no customer service experience.
I felt that as an apprentice, I had the freedom to work at my own pace and didn't feel that I had high expectations I had to meet. This allowed me to keep my confidence, always ask when I was stuck, and I felt supported the whole way through my journey.
Where do you see yourself in 5 years?
My plans are to be a part of the Second line team. This is so I have increased exposure to more complex and technically in-depth cases. By using this knowledge, I hope to apply this to a more cybersecurity centred role. Although I am unsure if this would be within 5 years or longer, but I would like to stay at ramsac for a while yet.
Q: What advice would you have for someone trying to decide between an apprenticeship or further education?
I firmly believe that experience on the job has taught me more than Uni ever could and that it will kickstart my career directly in the field I want to be in. I've done this whilst being able to avoid the debt associated with Uni. I believe that further education can be done at any age and I am already considering the open university and weekend degree schemes to go alongside work, so it doesn't have to be one or the other, but right now I have a job, with good career prospects, some certifications and I'm debt-free.
If you are interested in a career in IT and are thinking of doing an apprenticeship click the link below to find out more.