Introducing ramsac's Environment, Social & Governance Policy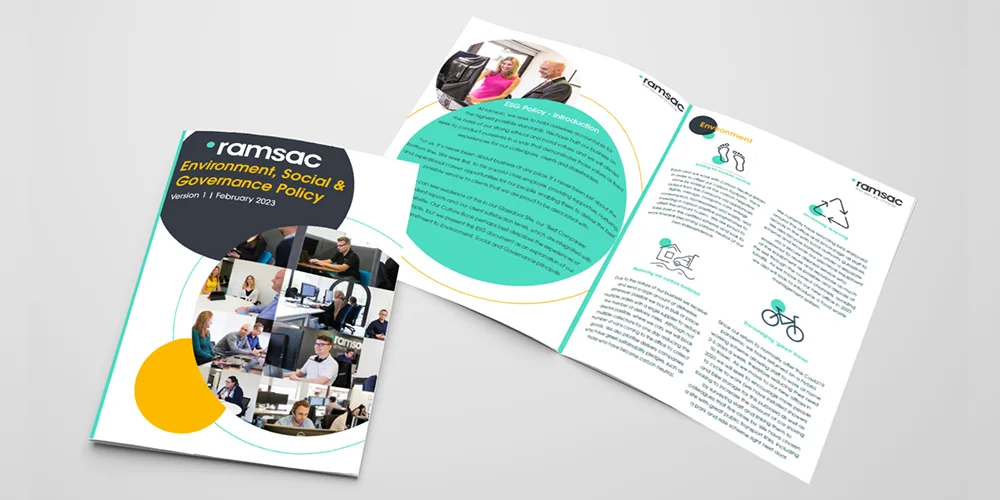 Posted on March 16, 2023 by Louise Howland
At ramsac, we seek to hold ourselves accountable to the highest possible standards. We have built our business on the basis of our strong ethical and moral values, and we will always seek to conduct ourselves in a way that demonstrates those values as lived experiences for our colleagues, clients and stakeholders.
As an outward expression of these intentions, we have now published our Environmental, Social & Governance Policy (ESG), as a public declaration of our commitment to being a responsible business.
What is an Environment, Social & Governance Policy?
An ESG Policy is a framework that companies can use to ensure that their practices are sustainable and have a positive social impact. It is a way for businesses to take responsibility for their environmental and social impacts and to make sure that they are working to improve them. ESG investing refers to a set of standards for a company's behaviour used by socially conscious investors to screen potential investments. Environmental criteria considers how a company safeguards the environment, including corporate policies addressing climate change, for example.
What motivates ramsac's ESG policy?
For us, it's never been about business at any price. It's never been just about the bottom line. We seek first, to be a world class employer, providing supportive, nurturing, and aspirational career opportunities for our people, enabling them to deliver the best possible service to clients that we are proud to be associated with.
You can see evidence of this in our Glassdoor Site, our 'Best Companies' independent reports and our client satisfaction levels, which are integrated with our website. Our Culture Book perhaps best describes the experiences of our people, but we present this ESG document as an explanation of our commitment to Environment, Social and Governance principals.