Announced: How Microsoft Copilot will revolutionise working life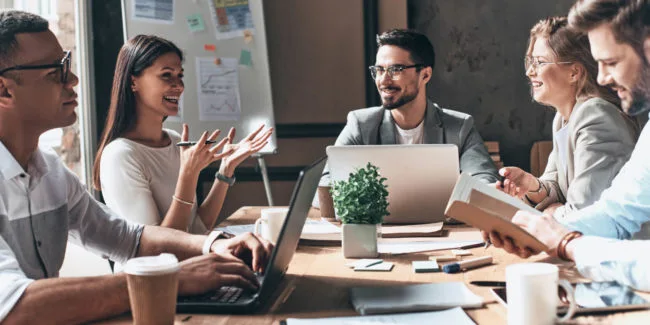 Posted on May 8, 2023 by Louise Howland
Are you ready for a whole new way of working? Microsoft's launch of Copilot is set to revolutionise how we tackle our day-to-day jobs and could even evolve the way we view technology in our personal lives. Offering support with productivity and creativity, Copilot could increase work output by up to 88%.
Through the use of AI, Microsoft Copilot will collaborate with a range of Microsoft products, from Teams to Outlook, to transform your workload, saving you time and effort on the tasks where it's least required.
What is Microsoft Copilot?
You may have heard in the news recently about the AI-powered ChatGPT and how it is changing the way we work. Microsoft has taken this one step further and created the AI-powered chatbot assistant, Microsoft Copilot, which will collaborate with your Office 365 apps.
Copilot goes much further than ChatGPT though. It works alongside your emails, documents, meetings, and Microsoft's new Business Chat service. You'll also find it integrated into Microsoft 365 apps such as Word, Excel, PowerPoint, Outlook, and Teams, by pulling information and data from Microsoft Graph.
What is the Business Chat service?
Business Chat allows users to communicate with Copilot to get tasks done faster, and you'll find it easier to use too. You can ask Business Chat to do things like create documents, schedule meetings, send emails, or update presentations. You can also use it to provide feedback or gather additional information on your work.
What is Microsoft Graph?
Microsoft Pilot uses Microsoft Graph to access your data and content across Microsoft 365 apps and services. It leverages your calendar, emails, chats, documents, meetings, contacts and more to generate relevant content and insights for you based on the questions you ask it.
Copilot is powered by GPT-4 from OpenAI, appearing in the sidebar as a chatbot. Office users can summon it to generate text in documents, create PowerPoint presentations based on Word documents, or even help use features like PivotTables in Excel. It is designed to unleash creativity, unlock productivity, and uplevel skills.
When can you start using Microsoft Copilot?
Microsoft is keeping us on our toes as to when we can expect to integrate Copilot, but we've been teased with its due date within the next few months. It's also yet to be announced whether Microsoft Copilot will cost anything additional to the Microsoft 365 package you already own.
It's worth noting that Microsoft has already indicated some potential issues but, through time and language-learning technology, this should be rectified. One example that has also been evidenced by other AI technologies, such as Chatbot GPT, is that some answers from the writing programmes may be "usefully wrong." However, Microsoft is arguing that even when this occurs, it will still put users ahead compared to when they had to start from a blank slate.
What Microsoft 365 programmes will Microsoft Copilot work with?
Microsoft Copilot works with the 365 apps to simplify your working day. Below are some examples of how you might use Copilot in the main 365 apps.
1. Word
In collaboration with Copilot, Word will offer a new functionality designed to speed up writing processes. Utilising data stored within the organisation, and from other 365 apps, it can write, edit and summarise information as needed. You can even get suggested tones — from professional to passionate and casual to thankful. Here are some examples of commands you can ask Copilot to do:
Draft a two-page project proposal based on the data from [a document] and [a spreadsheet].
Make the third paragraph more concise. Change the tone of the document to be more casual.
Create a one-page draft based on this rough outline.
2. PowerPoint
PowerPoint is a really powerful tool when used to its fullest. Copilot can help turn your slides into stunning presentations by weaving together all relevant information, adjusting layouts, formatting text, and adding perfectly timed animations as needed. Here are some examples of commands you can ask Copilot to do:
Create a five-slide presentation based on a Word document and include relevant stock photos.
Consolidate this presentation into a three-slide summary.
Reformat these three bullets into three columns, each with a picture.
3. Excel
Excel can be challenging for inexperienced users, but Copilot works alongside you to help you analyse and explore your data, presenting you with the most important points first. During this process, it will also provide visually appealing graphics that are suitable for professional meetings and documents. Here are some examples of commands you can ask Copilot to do:
Give a breakdown of the sales by type and channel. Insert a table.
Project the impact of [a variable change] and generate a chart to help visualise.
Model how a change to the growth rate for [variable] would impact my gross margin.
4. Outlook
Where time is everything, even the 3.2 seconds it takes to delete an email is precious. Most workers spend 28% of their day reading and answering emails. Copilot can summarise lengthy, convoluted email threads from multiple people allowing you to catch the key points. It can understand what has been said, as well as the different viewpoints of each person and the open questions that have yet to be answered. Here are some examples of commands you can ask Copilot to do:
Summarise the emails I missed while I was out last week. Flag any important items.
Draft a response thanking them and ask for more details about their second and third points; shorten this draft and make the tone professional.
Invite everyone to a "lunch and learn" about new product launches next Thursday at noon. Mention that lunch is provided.
5. Teams
Everyone has joined a Teams meeting late, it's just how business goes. But trying to catch up on the essentials can be counterproductive, especially when time is limited. Copilot helps you run more effective meetings, get up to speed on the conversation, organise key discussion points, and summarise actions so that the entire group knows what to do next. Here are some examples of commands you can ask Copilot to do:
Summarise what I missed in the meeting. What points have been made so far? Where do we disagree on this topic?
Create a table of pros and cons for [topic being discussed]. What else should we consider before making a decision?
What decisions were made, and what are some suggested next steps?
How will Microsoft Copilot benefit your organisation and users?
It saves time by automating repetitive tasks and summarising key information during meetings and in email threads.
It reduces stress by helping users manage their inboxes and prioritise their workload more efficiently.
It improves collaboration by helping users communicate more effectively with their colleagues and customers.
It enhances creativity by helping users generate high-quality content in Word, Excel and Outlook based on their prompts and context.
It increases skills by helping users learn new features and best practices across Microsoft 365 apps.
It respects privacy by inheriting all the security, compliance, and data protection policies of Microsoft 365.
It empowers users by giving them full control over what Copilot does for them, allowing them to modify or discard any suggestions.
It adapts to users by learning from their feedback and preferences over time.
It works across devices on desktop, web, mobile, and tablet versions of Microsoft 365 apps.
Looking for support with Microsoft Copilot? ramsac will help
Taking advantage of market-leading products is a smart choice for business. With the announcement of Microsoft Copilot coming, many businesses are ready to jump at the opportunity. Speak to our team today to see how we can help you.