Microsoft Teams deployment best practices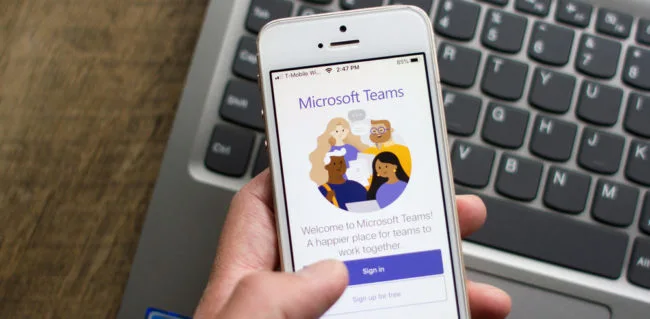 Posted on December 10, 2020 by Louise Howland
Getting started with Microsoft Teams is an exciting, albeit possibly daunting task. Teams has a host of features, there's a real danger that an unplanned deployment will mean that users only ever use Teams to make video calls and will never take full advantage of everything that the platform has to offer.  Find out about Microsoft Teams deployment best practices, to make the transition as seamless as possible.
Getting Started with Microsoft Teams
There are a number of considerations to make after you've made the decision to use Microsoft Teams within your organisation. It's important that senior staff are all onboard, and that each give adequate attention to each of the following points.
1) Ensure all staff are fully aware of the move, and what Teams means for them.
It's vital that everyone who will be expected to use Teams is made aware that a move is in the pipeline. Your staff need to know not only about the introduction of the platform, but they should also be told the reasons why. Explain the benefits of Teams and how it will improve their day-to-day working life. If Teams is replacing other applications such as Skype or Zoom, give users notice so ther aren't surprised when their known application ceases to function.
Teams offers so much more than video calling alone, help users to understand what the benefits to their work is going to be, in terms of increased collaboration, communication and productivity. Get the team excited about the opportunity!
2) Staff should be trained on how to use Microsoft Teams
In addition to informing employees about the upcoming use of Microsoft Teams and its benefits, it's a good idea to carry out some training about how to use Microsoft Teams effectively. Teams is known for being very-user friendly and almost self-explanatory, however, an hour or so spent taking staff through the various functionalities is not only useful, but will really start to drive user adoption and will help different teams to think about how they can fully benefit from the new platform.
This can be carried out in-house, by senior staff who have already been introduced to the platform, or with the help of Microsoft Teams tutorial videos.
Make sure your employees have the opportunity to ask questions, and get clarification on anything they're not sure on.
3) Decide on the channel structure that will be used within Teams
One of the most favoured Teams features is that companies can set up an endless number of 'Teams', in which only certain members have visibility. These could be created according to any kind of relevant group, such as:
Department
Team
Project
Seniority
Social activity
Those who are not part of any given 'Team' will not have visibility of the conversation and its contents, unless this is requested and approved. Once a 'Team' structure has been developed, this should be explained across the business, so that Teams can be used most effectively.
Many businesses open up Teams as a bit of a free for all, but we would recommend thinking carefully about how you want the platform to be structured. It may be wise to limit the number of people that can create Teams initially, to keep an element of control, and to think about how you want to group people together.
4) Clarify how/if Teams will be used for sharing and storing files
Teams uses a SharePoint background for storing files. If your organisation is already storing files in SharePoint, some thought should be given for how you want this to integrate with Teams. Do you want to allow people to use Teams itself to organise files, or do you want to link back to existing SharePoint structures. It's a good time to review how you store files and how you want people to access them, to ensure that you don't end up with proliferation of data stores that end up adding confusion to the team.
5) Think back up and security
As with all IT projects, it's important to think about data protection. How open are you making Teams, how do you control access to your system, do you manage mobile device access properly, are you going to allow collaboration with invited external users, have you turned on Multi Factor Authentication and do you need to back up your Teams data to a third party source? There are lots of questions that are best considered before you start sharing data on the platform, to ensure you're fully prepared. You wouldn't open up access to a traditional server without giving this proper thought – a move to cloud based applications shouldn't be any different.
Microsoft Teams Implementation Checklist
Ensure you've covered all your bases in order to guarantee a successful deployment of Microsoft Teams. See our Microsoft Teams implementation checklist to help:
| | |
| --- | --- |
| + | Inform senior staff |
| + | Inform all staff |
| + | Host Microsoft Teams training |
| + | How to set up 'Teams' |
| + | How to host individual calls |
| + | How to set up conference calls |
| + | How to share files |
| + | How to edit files within Teams |
| + | How to use Teams with other Office 365 apps |
| + | How to make channels/conversations private |
| + | Put together a channel structure |
| + | Decide how to share and store files |
| + | Consider your security and back up needs |
Writing Microsoft Teams Rollout Emails
One of the most important Microsoft Teams deployment best practices is to maintain effective communication. Any change within a business can cause disruption and concern among staff, and the best way to remedy any problems is to keep in constant communication with everyone involved. In addition to providing training and offering the opportunity for staff to ask questions, many workplaces find that a Microsoft Teams rollout email is beneficial.
When putting this together, consider including the following information:
A timeline of changes. This should include the date when Teams will be adopted, dates when it will be used by various staff/departments, and dates when alternative platforms will be removed. If the implementation of Teams will impact on other processes, such as how work will be shared, the expectation of this should also be mentioned. For example, 'From 1st January 2021 all documents should be shared via Teams instead of via emails.'
Dates of training sessions. Whether you will be offering one-on-one, group, or webinar training, make sure your teams are aware of when and where this will be held. You should also explain their options with regards to when to attend.
Benefits of teams. To help gain support, it's worth reiterating the many benefits of Microsoft Teams within your rollout email. If staff can understand how the platform will help them, they'll be more likely to get onboard and get excited about the change.
Rolling out Microsoft Teams need not be the stressful transition period that many business-owners worry it will be. As long as communication is consistent and upfront, and staff are made aware of how the use of Teams will impact – and benefit – them in their role, the deployment of this popular Microsoft 365 application should be easy.
For companies that are new to the Microsoft Office 365 suite, ramsac offer a 365 migration and consultancy service to help you start reaping the rewards of Microsoft 365. Get in touch to find out more, or download our Office 365 white paper for further information.