Peter Tooke joins the ramsac board as the new Technical Delivery Director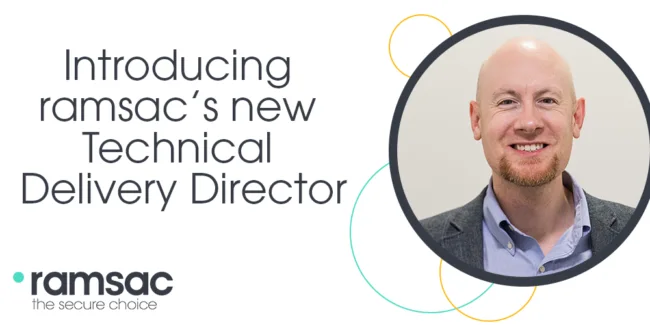 Posted on November 9, 2023 by Louise Howland
Peter Tooke joined ramsac 16 years ago and worked his way through the technical department to become Head of Technical Services, this month Peter joined the ramsac board to become the new Technical Delivery director. I sat down with Peter Tooke, to discuss his journey at ramsac, what makes ramsac a special place to work and what he has in store for the future. 
First off, congratulations on your new role! We've worked together for several years now, but can you start off by telling me a bit about your journey?  
Before ramsac, I was studying for various professional qualifications, I was the go-to tech guy for friends and family and thought, why not get paid for something I enjoyed doing? ramsac gave me that opportunity as a first line support consultant, and being in the Support department was (and still is!) an amazing place to learn; my mind was a sponge and I was sat next to colleagues I still work with who taught me so much about IT.  
I progressed to third line and loved dealing with the biggest problems, but eventually found myself helping and coaching others on the team. One day, my manager (who I still work with) asked whether I wanted to do that full time – I'd never thought that would be something for me, but this is the thing about ramsac, you are afforded so many opportunities to learn and grow, you might end up doing something that you didn't originally set out to do!  
I said yes, learnt from him how to nurture people and get the best out of them, which was (and still is) very rewarding, and also grew as a person. My next move was to manage the technical team, which was a new and exciting challenge and that's where I've been for the last 7 years, moving into the head of department role, growing the team and developing new products and services during that time. 
I've thoroughly enjoyed every minute of it, especially having an amazing team manager, a fantastic team who are all passionate, skilled people who support and look out for each other, and great mentors who coached and believed in me.  
Thank you; you've been on quite a journey at ramsac, and you've been here a fair amount of time, how have you seen the company change over the years?   
We were 25 people when I joined and we're approaching the 115 mark (as of writing!) – it's been steady growth, and always sustainable – we haven't doubled and then halved again overnight, we've made strategic decisions that has allowed us to still be thriving after 31 years, whilst retaining people and clients alike for decades.  
We've seen so many people internally grow and develop into who they are today, and we have "fixed" some of the issues that plague smaller businesses, which has taken a lot of hard graft but is a really nice place to find ourselves in, and something I'm immensely proud to have been a part of.  
Throughout the years, you've been in several roles in the company, but what has really kept you here for all that time, and what makes you want to keep progressing? 
One thing that I've never been at ramsac is bored. Even after 16 years, I'm still facing new and exciting challenges and I think the fact that we are always onboarding new customers, and bringing new people into the business, is what keeps everything fresh – they each bring new ideas and ways of working, which helps us to grow and improve what we do by giving a new perspective on things. 
 I've had highs and lows and I've learnt how to deal with different (and often difficult) scenarios. I like to think that I don't shy away from a challenge.  
You've been in a leadership position for 8 years; can you tell me a bit about your management style and what inspires you? 
I like to understand what we're dealing with; I like to ask questions and I make considered decisions based on the information I have. I look for patterns in what has come before to help me work out how I need to deal with something that's happening now, and I do that quite intuitively; it's just part of who I am. I also consider what impact any change or decision I make is going to have on our business, our people, and our clients, as what's the point in making a quick decision, if it's the wrong decision?  
In terms of management style, I like to get to know my team, I work hard for them, I encourage and collaborate with them and try to give them the tools they need to succeed. I don't micromanage people and I like to allow people to have freedom within a framework – I care much more about making sure we get the right outcome as opposed to how someone gets there. Also, I think everyone wants to be heard, and in business, everyone is often too busy to stop and give people the time of day, but if you do, you get so much more back, and I think people really appreciate it – I know I do.  
It sounds like you're someone who likes a challenge and is always striving to make things better; what would you say have been your biggest learnings during your time here?  
I've learnt so much being at ramsac: technical skills, people management skills and business skills, but the main thing I have learnt is There's a solution to every problem and there's nothing that we can't solve – it might not always seem immediately obvious, but it's there and not always what you might think it is! 
That's really insightful; what advice would you give people wanting to advance in their careers at ramsac?   
Listen to what clients are really asking for, absorb as much knowledge as possible, don't worry about the things that are outside of your control, constructively challenge something if you think there is a better way to do things, be innovative and creative in your approach, don't be restricted by your role or your department, look after your colleagues, build strong relationships, and never stop learning and growing.   
That's great advice and we've seen lots of people grow and flourish in the company; what would you say sets ramsac apart from the competition?   
What I love about ramsac is that we all essentially have the same job; we're all working towards the same goal of looking after our clients and we all have a passion for technology. That means you can talk to anyone in the company and find common ground. Equally, if you're facing an issue, everyone around you will be able to help and give you some advice.  
Furthermore, we only recruit people that want to be in that kind of environment; we've built a strong culture of looking out for each other and when we recruit, we want to make sure that the person applying is right for us, but also that we are right for them, and generally if they are, our people stay with us for long periods of time and that in turn helps us provide fantastic service to our clients.   
I couldn't agree more! Lastly, what have you got in store for the future?   
ramsac have got a lot of exciting things that we're working on; we want to continue to grow the company, diversify our service offerings to help our clients succeed in their businesses, as well as continuing to support the development of our people. I'm humbled to be a part of that, and my role is to help organise and deliver it, drive efficiencies in everything we do, and be pioneering in the way we look after our clients.