Power BI Free vs Pro vs Premium: Which do you need?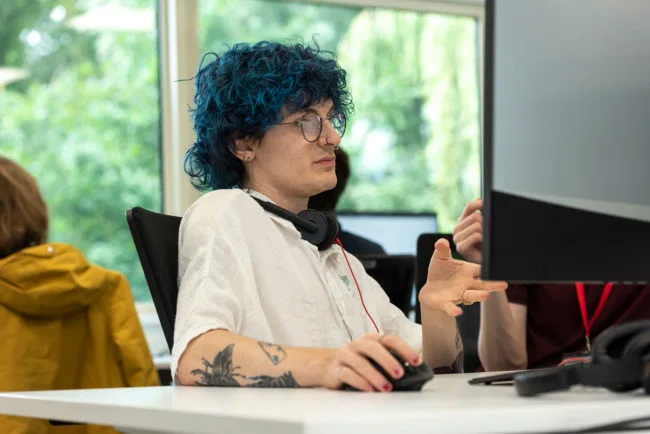 Posted on October 30, 2023 by Louise Howland
Since 2017, major business publications have been emphasising the point that data is the new oil. Having data is one thing, but correctly harnessing that data and creating actionable value off the back of that is another matter altogether.
That's where Power BI comes in. Power BI (which stands for Business Intelligence) is Microsoft's flagship data visualisation tool. It allows users to connect data sources from across their business, as well as external tools, to create easy-to-digest dashboards for any department or stakeholder.
If you've just discovered what Power BI can do for your business, or have recently created an insights and data team, you might be wondering why Power BI is on a separate license or which Power BI license you need to get.
What does Power BI offer businesses?
As we've said, Power BI is all about data visualisation. You can add data from sources like Excel spreadsheets or SQL databases, as well as other internet sources. Once your data is added, you can create connections between data sources, improve the formatting of the data, and create a data model.
Those data models become reports and dashboards, which you can share with the relevant teams. If you want to see all this in detail, Microsoft offers an interactive demo of Power BI for free with no signup needed.
The Power BI plans available
Power BI offers five different pricing plans (it's a bit confusing at first glance) for users. To help make it simple, we've broken it down in a table below:
| | | | | | |
| --- | --- | --- | --- | --- | --- |
| | Free | Pro | Premium | Power BI Premium per capacity (includes Microsoft Fabric) Power BI Premium SKUs | Power BI Premium per capacity (includes Microsoft Fabric) Fabric SKUs |
| Cost per month for a single user | Free | £8.20 | £16.40 | From £4,105.60 per capacity / month  | From £216 per capacity / month  |
| Included in Microsoft 365 E5 licenses? | 🗸 | 🗸 | ´ | ´ | ´ |
What is Microsoft Fabric?
Microsoft Fabric is a way to connect all your Microsoft data from across your entire organisation in one platform. On their website, Microsoft describes Fabric as a platform that lets you "manage your data in a single, AI-powered analytics platform that helps teams turn data into a competitive advantage." It's in preview in the US at the minute, hence why we won't include it much in this blog. We're not sure on the exact UK release date, but there are positive rumours coming from America!
Power BI sits as the visualisation arm of Microsoft Fabric, but you don't need Microsoft Fabric to use Power BI.
Why are some Power BI plans based on capacity per month?
For companies processing huge volumes of data, like logistics companies, those with lots of moving parts or even those who rely on data as a service, the per-user plans limit them. This is because each per-user plan has a cap on how much data can be processed by a user at any one given time.
Per capacity plans allow users access to a dedicated set of resources for their exclusive use. This means they can process the volume of data they need without any restriction. The SKUs are different levels within those capacities that offer better performance, and storage or increase the number of tasks you can run in parallel.
What does Power BI Free offer?
Unsurprisingly, Power BI Free offers a very basic service. It's great if you want to understand what Power BI could offer you, kind of like a demo model, but the only thing you can do with Power BI free is create reports on the desktop application. Sharing and collaborating isn't possible with Power BI Free, so you can really only make reports for your own use. It's not really fit for general business use but is often a good stepping stone into one of the other plans.
However, if you're learning Power BI or want to understand what it could offer your business, Power BI Free is a great way to start.
What does Power BI Pro offer?
Power BI Pro is included in Microsoft 365 E5 licenses, so there's no extra cost if you have that license. Power BI Pro allows you to share and publish reports with others for collaboration. It also gives you a storage allowance and lets you refresh your data more regularly.
It's £8.20 per user, per month, for those who don't have Microsoft 365 E5.
What does Power BI Premium offer?
Power BI Premium offers everything from Power BI Pro, plus you get access to advanced AI, dataflows and much more. You also receive access to greater storage per user at 100TB vs the 10GB that Power BI Pro gives you.
With Power BI Premium, you get an extra 40 refreshes a day. Power BI Premium offers you much more than Pro, but this does come with a cost. It's not included with any M365 licenses, so per user, per month, you'll be paying £16.40.
So, which Power BI license do you need?
If you're just starting out and want to find a data visualisation tool that works for you, we'd definitely recommend starting out on the free plan, especially if you're comparing it with other data visualisation and reporting tools.
However, if you're ready to unlock the potential that data has in your business, then we'd definitely recommend looking at either Pro or Premium for your users.
Are you considering Power BI for your company?
Power BI can be a truly powerful tool when harnessed correctly. If you've just hired a data specialist or are looking to expand your data and insights team, upgrading your Power BI license might be the next step for you. Our IT specialists at ramsac can help you with license management and migrating to Power BI. Why not get in touch today?