Silver for Mallory Franklin at the Olympics
Posted on July 29, 2021 by Louise Howland
If you are like us, you will have been enjoying the Olympics over the last few days, this morning was particularly special for us, here at ramsac, watching the women's canoe slalom, an event which is debuting at the Tokyo Olympics.
We were all cheering on Mallory Franklin as she made a bid for the medal podium. There was a lot of celebrating here as she came away with a silver medal!
We have been proud sponsor's of Mallory for many years and we can't wait to see what she does next!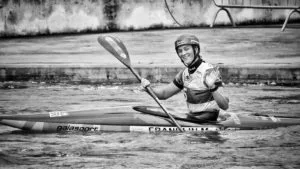 Paul Mew, Technical Director at ramsac has been canoeing for years and knows Mallory well and he commented "I train mostly at the Lee Valley Whitewater Centre, which was the site of the London 2012 Olympics. This is a sport that I've been passionate about for many years, having previously helped coach the GB junior team and having had the privilege of helping many future Olympians over the years. Indeed, ramsac are proud to sponsor Mallory Franklin, former World and European champion and now silver medal Olympian, who I got in a boat for the first time at the age of seven at Windsor Canoe Club. I am so thrilled for Mallory she deserves her success".
Well done Mallory from everyone at ramsac and we can't wait to see what happens in Paris 2024!