A guide to Microsoft MyAnalytics (now Viva Insights)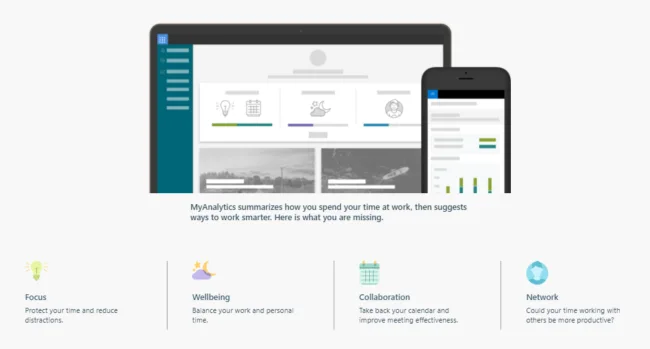 Posted on March 18, 2021 by Louise Howland
Since being launched as Delve Analytics in 2015, then rebranded as MyAnalytics back in 2016, Microsoft has been adding in more and more features around workplace analytics ever since. Now in 2022, the rollout of MyAnalytics becoming Viva Insights has begun.
While you can still access the MyAnalytics dashboard under its original branding, Microsoft is starting to rename the tool, including creating Viva Insights apps for Teams.
What is MyAnalytics/Viva Insights? With many businesses looking for performance insights, Viva Insights is a tool that summarises your week and creates suggestions to improve your workload. Perhaps meetings frequently overrun, or you bring work home too often – Viva Insights will suggest ways to avoid unproductive habits.
Viva Insights is a valuable resource for any business. It empowers not only employee productivity, but also helps with wellbeing and time and project management too.
What is changing between MyAnalytics and Viva Insights?
Aside from the name and visual differences, the key functionality differences are:
The 'digest' now comes monthly instead of weekly. This gives you greater insight into your working patterns as well as identifying data from a month, rather than a week-on-week breakdown.
There's a virtual commute, which takes you through four steps to help end your day, such as rating your day, setting tasks, and a guided meditation with Headspace.
How does MyAnalytics/Viva Insights work?
For Microsoft 365 users, you'll get insights shared with you through emails, the Outlook app, and via a personal (and private) 'dashboard'. Viva Insights spots patterns from your emails, meetings, calls, and chats – across Teams, Outlook, and other apps – to offer productivity insights.
Viva Insights is able to cleverly find out about your habits and working patterns, in order to help you work smarter, not harder. Microsoft collects insights from across most of its apps, including Teams, OneDrive, and SharePoint. From here, it will start to notice your working patterns and will identify areas to strengthen, or identify potential weak spots, such as how your time is spent in meetings.
How does Microsoft Viva share its insights?
Insights and analytics about your working pattern will be shared with you throughout the working week. From monthly emails, to an accessible private dashboard, your personal insights are dynamic and often unprompted, so that you can learn about your working preferences as you navigate tasks and meetings.
Whether you're arranging your calendar, replying to emails, or updating a laundry list of weekly tasks, you'll receive data and AI-driven notifications about tips, insights, or best practices. These are actionable insights designed to help users learn about unhelpful, or unproductive habits in order to reclaim lost time. It also promotes clearer focus and suggests ways to better collaborate with colleagues.
Business analytics from Microsoft: how Viva Insights helps
With Viva Insights, your employees can be even more proactive with their own time.
Viva Insights helps productivity
Personal productivity insights, according to Microsoft, are based on "workplace intelligence". This simply means time that a Microsoft 365 user spends in meetings, composing emails, on calls, or completing tasks (as scheduled in their Outlook calendar).
Microsoft will analyse your workload based on two insights:
How you spend your time and,
Who you spend your time with.
Viva Insights improves wellbeing
Where aspects of Viva Insights helps you to understand your productivity and performance, Viva Insights provides mediations, asks you to check in with your emotions and log why you feel that way. These all encourage employees to take a pause and allow them to reflect emotionally on their day.
Its two key insights show how well you disconnect from work, including time in-between tasks and other 'quiet' moments outside of a working day. It also suggests ways to reduce stress and, therefore, avoid burnout.
One of the most common goals for Viva Insights is how it can facilitate a healthier work/life balance by optimising productivity within a day.
With the rebrand to Viva Insights, Microsoft even collaborated with Headspace to include short, five-minute meditations available throughout the day. Microsoft are taking wellbeing seriously and want to encourage other companies to do the same.
What are "quiet days" and focus time?
In Viva Insights any time spent outside of collaboration is considered quiet time. This is based on the activity of your Microsoft Outlook calendar, including any daily tasks or meetings. Collaboration, according to Viva Insights incorporates everything from composing an email, to attending meetings, receiving calls and participating in all other types of messaging (including Skype).
With Viva Insights, Microsoft has also added in a 'focus time' setting, which updates your status to Do Not Disturb in Teams. Microsoft automatically detects the best time in your calendar to assign this and suggests in your virtual commute to book in a slot for the next day.
Viva Insights for management
Viva Insights is a tool for collaboration, and it has also been known to help managers gain valuable insights and boost organisational productivity.
Viva Insights for managers can help organise goals of engagement and productivity, which are universal themes that affect all industries. For teams that are apart, either working remotely, or affected by other disruptions, managers can find actionable insights and performance cues from their dashboard in Microsoft's Viva Insights.
This tool can demystify the potential barriers to your team's productivity or help identify areas to reinforce. For example, if tasks aren't balanced or time is overly invested in meetings and other calls.
Start enhancing productivity
Microsoft's analytics tools have great workplace potential, especially for personal discoveries about ways you can manage time better and become more productive and efficient. Its wellbeing features feel like an extension of its suggestions for productivity, which makes the insights more well-rounded, relevant and actionable too.
For more information about Microsoft 365 and its benefits for your team, get in touch with ramsac today.