Microsoft Loop: A New Way to Collaborate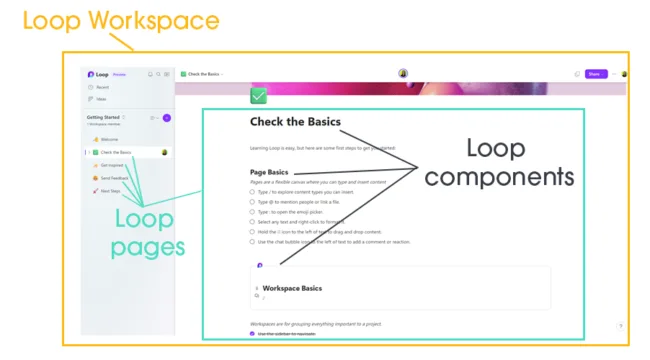 Posted on October 6, 2023 by Louise Howland
Microsoft describe Microsoft Loop as a transformative co-creation experience that brings together teams, content and tasks across your apps and devices. In this blog we look at what that means and how Loop can help us collaborate more effectively. Microsoft Loop is currently in 'Public Preview' and is free to all Microsoft 365 users.
What is Microsoft Loop?
Microsoft Loop is an app in 365 that helps people work together. It stops you from needing to jump between apps like Teams, Outlook, Word, Whiteboard etc and losing documents or the thread of conversations, and brings everything together in one place, syncing in real time with these apps to ensure nothing gets missed.
Loop is made up of Workspaces, Pages, and Components.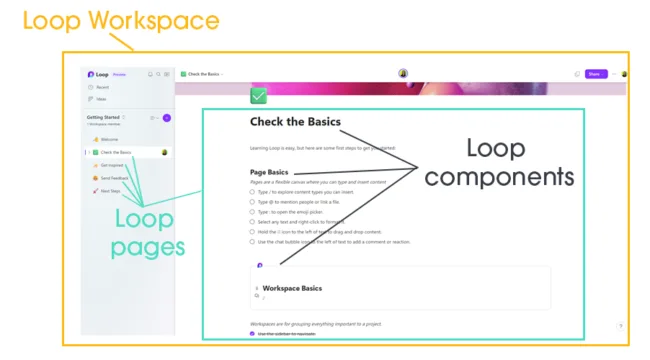 Loop Workspaces are spaces you can create for each project you are working on, users can bring all the elements of a project together, from Word documents to meeting notes to PowerPoint presentations. Loop will even search content for you and make suggestions as to what to include in your workspace making it easy for you to catch up on what everyone is working on and track progress towards your project goal.
Loop Pages sit within workspaces and are flexible canvases where users can react, comment, and collaborate with their team, to ensure the project is running smoothly. They can be anything from a word document to a web link or even a blank canvas. Microsoft have created page templates which can be drag and dropped into workspaces to help you get started
Loop Components are used when you want to share information with people outside of your workspace. Within loop pages you can click on content and chose create loop component, then simply copy, and paste across M365 apps, including Teams chat, Outlook, Whiteboard, Users can share whole pages as well, either as a link or as a live page. People can respond to you in the flow of their work. For instance, a person who prefers email can add their input to the Loop component or page from their email. The changes will update across all the places where the component or page was shared.
Loop has notifications to help you keep track of progress and respond to colleagues in a timely manner. Tasks you create and assign in the loop app and in the task list component sync across Planner and To DO giving a seamless experience and means you will always have an up-to-date task list
How to use Microsoft Loop?
To get started with Microsoft Loop, you need to have a Microsoft 365 subscription. You can access Loop from the Loop website, log in to 365 and this should take you to the workspace homepage where you can click on the + icon to create a new workspace for your project.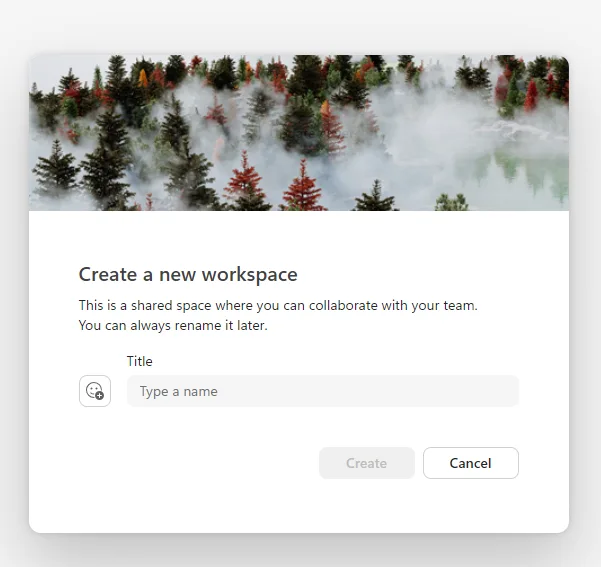 From there you can begin to add pages. You can choose from a variety of page templates or start with a blank page.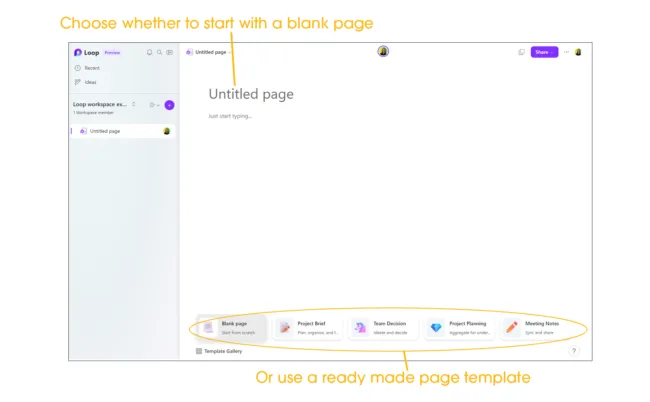 You can then add content to your page by either typing / to create a new piece of content or by typing @ to find and add existing content,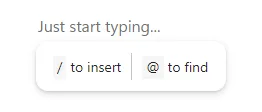 You can share Loop workspaces with your team by clicking the purple share button in the top right corner of the screen.

To get feedback and collaboration on the page you have created you can convert the content on the page to a loop component, by clicking on the 6 dots next to the content and choosing create loop component.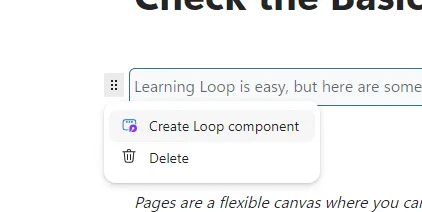 You can then copy the component and share with the team via outlook or teams or how you choose in 365 and this will share the content with the team and they can work on it from wherever they want, and it will sync in real-time on the Loop workspace.

What are the benefits of using Microsoft Loop?
Microsoft Loop is designed to help you and your team think, plan, and create together like never before. Some of the benefits of using Microsoft Loop are:
Stay in sync without switching apps: With Loop components, you can collaborate on a Loop page or in a chat, email, meeting, or document. You don't have to worry about version control or data loss, as everything is updated in real time across apps.
Get started easily: With Loop pages and workspaces, you can quickly kick off projects with intelligent suggestions, page templates, and an insert menu at your fingertips to easily add what you need to work together.
Work together wherever, whenever: With Loop, you can communicate ideas asynchronously, collaborate, and stay in touch wherever you are despite time zone differences, commutes, and work style preferences.
Stay in control: With Loop, you can get only the notifications you care about and stay focused on what needs your attention. You can also manage the access and permissions of your pages and workspaces easily.
Microsoft Loop, although only in preview mode, is already proving how powerful and flexible it is, allowing teams to create workspaces with portable components that move freely and stay in sync across applications — enabling teams to think, plan, and create together.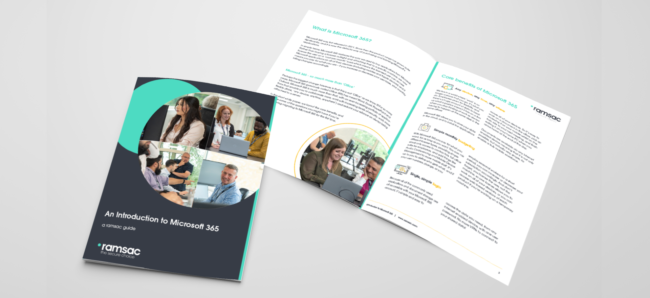 Find out more about 365
Visit our resources page to understand how Microsoft 365 can help you work, learn, organise, connect, and create.