Microsoft Viva Benefits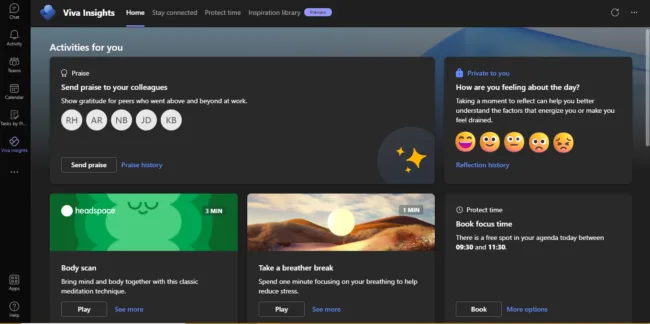 Posted on May 12, 2023 by Louise Howland
Hybrid, remote or in the office full time; regardless of where your employees work, having a wellbeing platform that puts their mental health first should be a priority. Microsoft Viva is an ever-evolving platform that enables employers and employees to make wellbeing a focus in the workplace.
As Viva is part of Microsoft Teams as well as a separate web app, and is easily accessible from the sidebar in the Teams app, everyone has the ability to take a moment to reflect in the midst of a busy workday. Useful features such as a Headspace integration, focus time and praise, where you can send praise to colleagues to show you appreciate them, make this possible.
But how can using Viva benefit your workplace?
The 7 benefits of Microsoft Viva
1. Protects employee time
One of the main benefits of Microsoft Viva is that it protects employee time with ease. Rather than employees having to book out space in their calendar, Microsoft Viva automatically integrates with Outlook, reads the calendar and books in 'Focus time'.
Focus time slots are booked up to twice a day and are varying lengths to allow for space between meetings. Then, an automatic 'Focusing' status is applied to your Teams status, rather than you needing to set Do Not Disturb. Not only does this encourage your employees to focus solely on one task during that time but it also allows other employees to be more conscious of disturbing people between meetings.
2. Encourages leaving on time
Part of Viva's offering is their Virtual Commute. Targeted specifically at remote workers or those working from home once a week for example, the virtual commute is a reminder with a series of steps to encourage employees to switch off on time and prepare for the next day to avoid blurred working boundaries.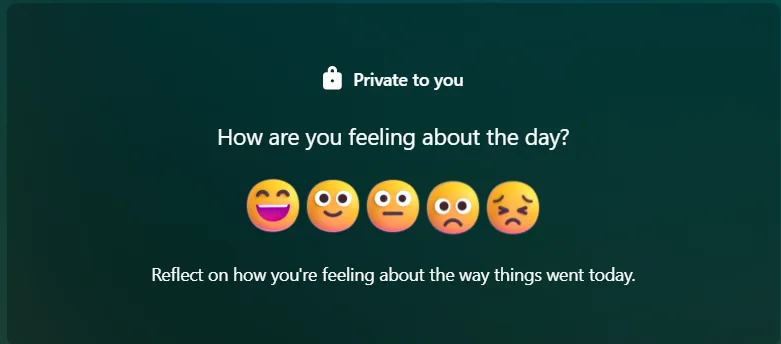 The three steps are Meetings, Tasks and Wind Down
Meetings checks if you have any meetings the next day, including outstanding invites or conflicts, and encourages you to respond.
Tasks prompts you to review tasks and then set any reminders for the following day.
And finally, Wind Down offers a series of closing activities, including taking a breather break, and reflecting on your day through a simple emoji click. You can then add a note to reflect at a later date.
3. Shows recognition to colleagues
The Praise function in Viva is also embedded into Teams chat. It allows you to send praise to a specific colleague for a variety of reasons, such as inclusivity, team player, leadership and optimism.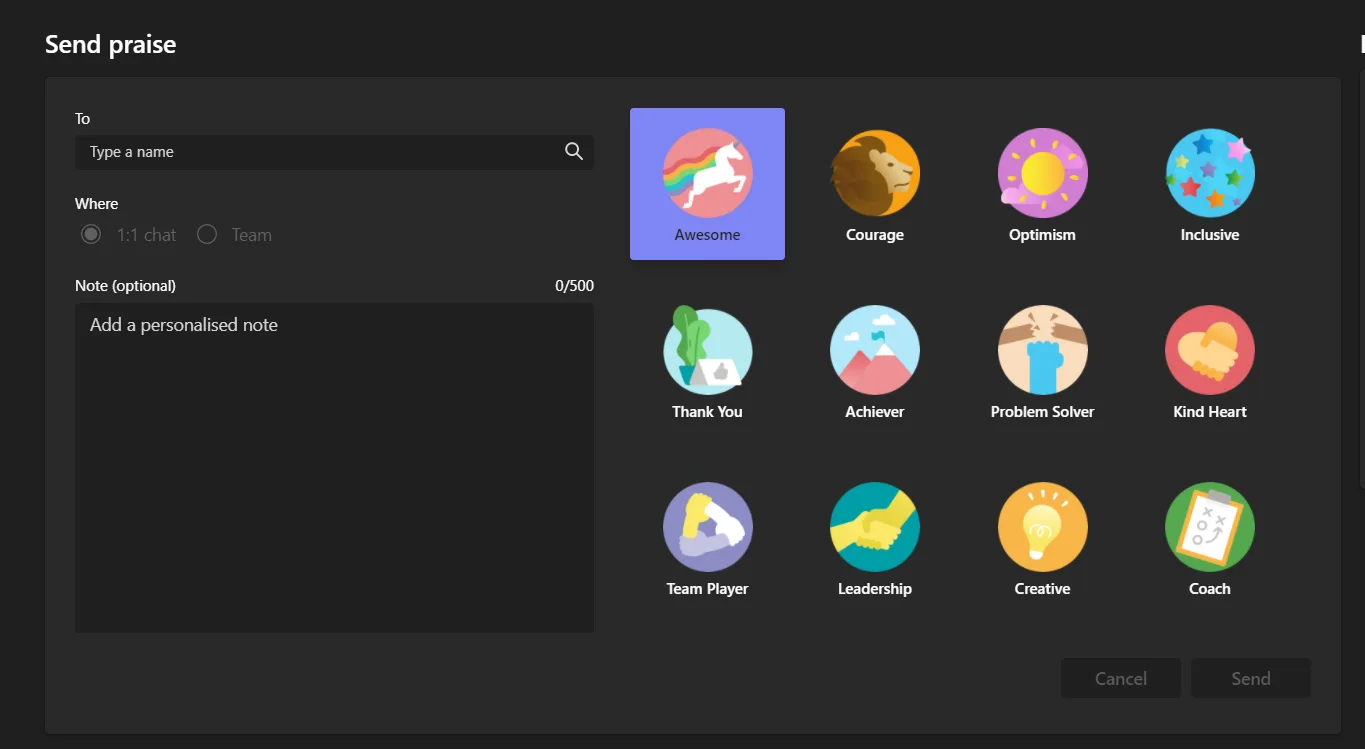 Rather than praising just direct performance and KPIs, the praise function allows you to celebrate the little things that go a long way in an office environment, highlighting the intangible achievements.
4. Prioritises mental health
In both the Teams app and web version, the data provided by Microsoft's tool Viva Insights puts a clear emphasis on mental health at the core of a working day. From data such as quiet hours interruptions, which looks at the number of messages you get outside of work hours, to data on whether you have enough uninterrupted time to get your work done, Viva Insights is about ensuring your employees' mental health is a priority.

5. Inspires better working habits
Working habits such as catching up with other Teams messages during meetings, turning up late to video calls and creating last-minute catch-ups can all be detrimental to productivity and focus.
Viva Insights analyses your work habits and reports on how well you adhered to best practice.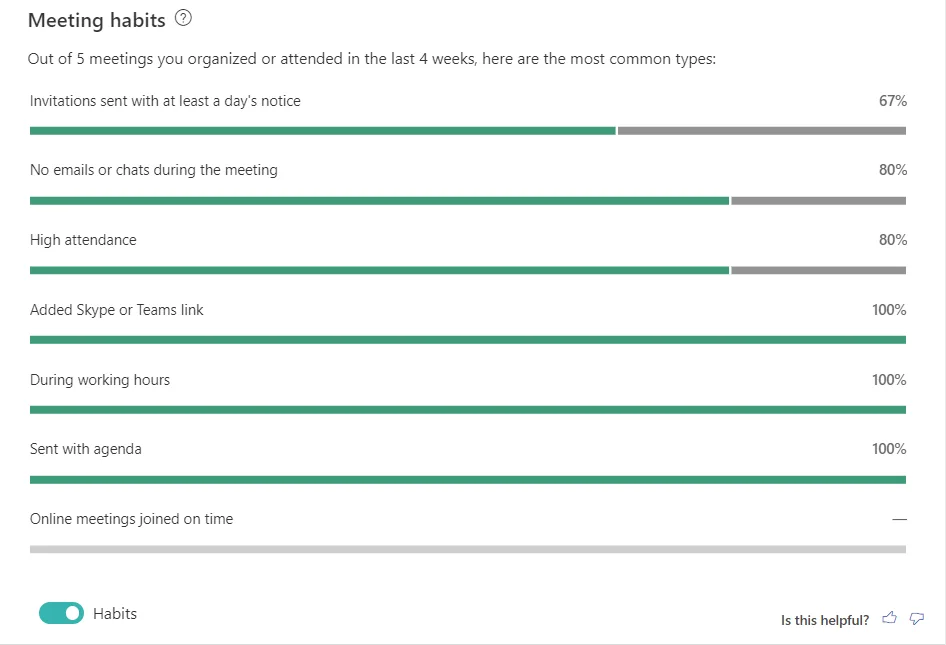 It then provides suggestions if you're consistently struggling in one area and recommends how you can improve your working habits. For example, recurring meetings where you're replying to chats throughout might be a meeting that you don't need to have, or one that you don't need to be in.
6. Creates easy catch-up tasks
By using machine learning and text recognition, Viva begins to analyse your emails. If you've responded to a colleague saying "I will do this task tomorrow morning", it will remind you to add a task to your ToDo to ensure that you complete it.
This removes a lot of the manual process of creating a task, and also saves the need for post-it notes, long paper trails or even missing emails. It's a much easier way of working, and one that is more adaptable, something that was hugely beneficial during the pandemic, as it meant you didn't have to rely on remembering your notebook.
7. Quantifies your working day
Understanding what you've actually achieved in a working day can sometimes be a tricky task, especially on days where it feels like you've barely been at your desk.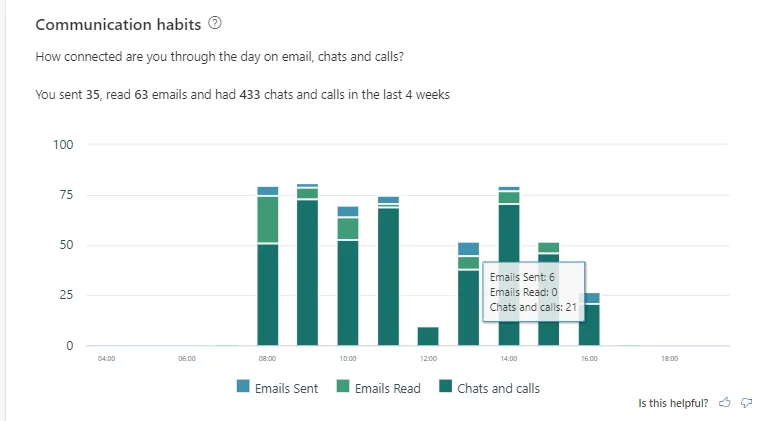 Viva's communication habits look at what you've accomplished in terms of collaboration and collates it into a four-weekly bar chart. This way you can see what you do regularly, and what your habits are at any one point in the day.
There's a multitude of other data sets as well, which all connect to give you greater insight into tasks completed, your work habits and where you can improve.
Get the most out of Microsoft with ramsac
Here at ramsac, we don't just help with day to day IT requests, we ensure that you get more out of Microsoft by utilising tools like Microsoft Viva to boost productivity and wellbeing.
Get in touch with us today for a no-obligation chat about how we could help you.