ramsac celebrates 30 years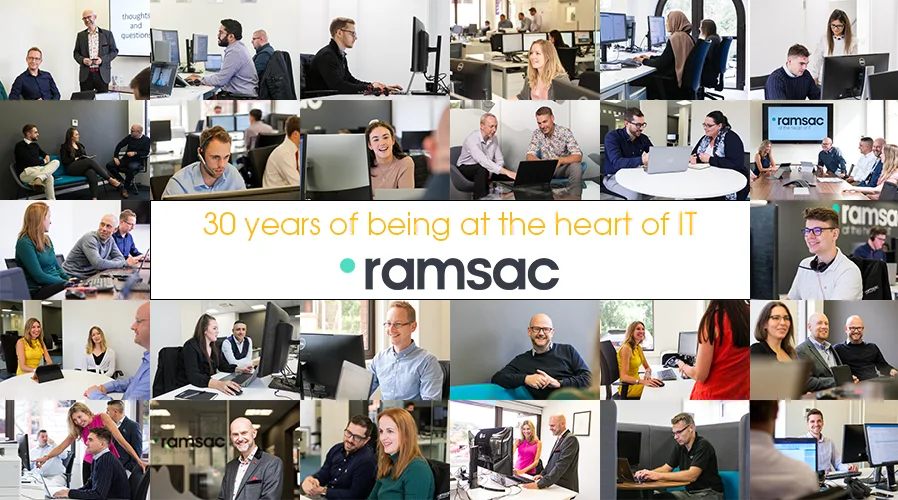 Posted on March 17, 2022 by Louise Howland
This month we are celebrating ramsac's 30th birthday. The company was incorporated on March 17th, 1992 by Rob May and Sally Cooper, at a time when a personal computer cost around £5,000 and the internet, which was largely accessed via dial up modems, only accounted for 1% of business communications. 30 years later and ramsac has gone from strength to strength in a technical environment that was not even imaginable when ramsac formed.
With an initial team of just two people, who were originally supporting four companies' IT needs, we have grown to 100 colleagues who last year dealt with over 40,000 support cases and delivered thousands of hours of IT management and project delivery. We now support the IT needs of 9,000 end users across 175 organisations. Growth has been consistent and entirely self-supported, with longevity being a feature of the business; our longest standing employee celebrated his 26th year at ramsac recently.
Over the years we've been lucky enough to collect some awards and recognitions, as well as being Gold Partners with major industry partners such as Microsoft, Dell, Sonicwall and Sophos, we were recently named by Surrey Business awards as it's 'Large Business of the Year' and most recently we were awarded the prestigious 3 Star accreditation rating, reflecting "world class levels of workplace engagement" in the 2022 Best Companies to Work For survey, and named as the second highest rating in our sector by the Best Companies team.
Whilst the business has gone through an almost constant change, with new services, rebrands and exciting new clients, we're most proud of our culture which has remained constant since day one, focussing on great service, delivered honestly by friendly people that really care about helping clients to get the best out of IT. It's why we still have one of those first 4 clients in contract today!
We will be celebrating this milestone throughout the year with several events, including a big summer party where employees will come together with their families and a '90s week in March with lots of fun activities planned.
Managing director of ramsac, Rob May commented,
"I'm immensely proud of all that we've achieved in the last 30 years of ramsac, we've created a brilliant culture and an award-winning business that is respected in the industry, we've launched the ramsac academy and supported 1000's of people all whilst growing and developing an amazing team of people. The fantastic thing about running the company is it never fails to challenge, interest, and excite me, we repeatedly innovate, launching new additions to our services and refining our delivery model. I'm excited about our future and the opportunities that it holds for all of us."
As ramsac enters its 30th year we are preparing to launch our new secure+ solution, to complement our totalIT solution. secure+ will improve the cybersecurity and resilience of our clients and give organisations peace of mind, with the knowledge that their IT is in safe hands.