ramsac celebrates with the Surrey and Hampshire employee of the year 2019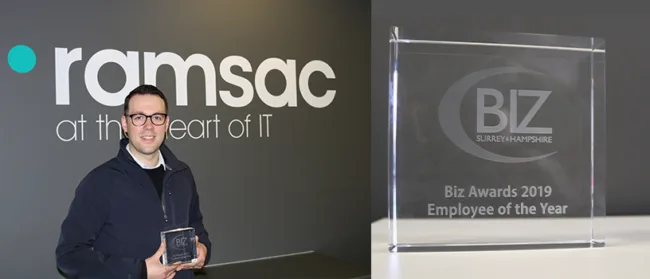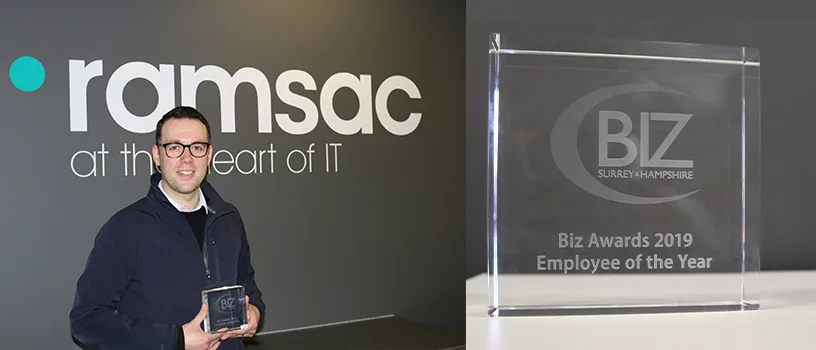 Posted on May 22, 2019 by Louise Howland

We were all celebrating in the office last week because one of our own, Adam Burness-Smith, won the employee of the year award at the 2019 Surrey & Hampshire Biz Awards. It really was a great evening celebrating the very best of business in the two counties. The evening was held at the HG Wells Centre in Woking with great food and live entertainment. The award for Employee for the Year was sponsored by Morgan Kinley and was created to celebrate exceptional employees who make a real difference to an organisation. We are so thrilled for Adam that he was announced as the winner. Adam joined ramsac as a second line support consultant in June 2017 and very quickly established himself as being a key player in our busy remote IT helpdesk team. His caring nature, attention to detail and commitment to his customers was noticeable very quickly, and it didn't take long for him to be promoted to the role of Senior Support Consultant, a role that he has held since November 2017. He has always gone above and beyond, taking the initiative to implement changes to improve the service that our Support Team can offer, mentoring less experienced colleagues and working tirelessly to ensure that his clients get a positive experience of dealing with us for any of their technical queries. Speaking about winning the award, Adam said, "I am blown away by the award. I had no idea that I had even been nominated until the day the shortlist was announced, just to be shortlisted was a shock, I honestly never expected to then be named as the winner! Working at ramsac is amazing. I am surrounded by supportive colleagues who have had my back from day one, this award is something that I am immensely proud of! The culture at ramsac is extremely important and the whole team works together under the principle that we are all ramsac (reliable, approachable, motivated, skilful, adaptable and committed). So, this may be an award for an individual's efforts but it is something I could never have achieved without the hard work and support of my team." Rob May commented "We are so proud of Adam for winning this award, and it is well deserved. Adam's customer focus is second to none – he understands deeply how IT issues affect people and their business, he sees past the problem itself and works tirelessly to get a client back up and running. He is often in the office late, ensuring that client issues are fixed before they come in the next morning. He is also very popular with his colleagues who have so much respect for him, he's friendly, fun, approachable and caring, but he has also become the role model that others aspire to be like. He has been used to mentor a number of less experienced colleagues who have all benefited from his cool, calm and collected disposition. He epitomises that ramsac corporate values.".