Surrey and Hampshire's Business of the Year and Leadership award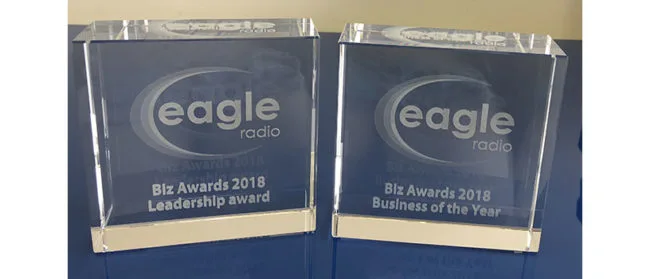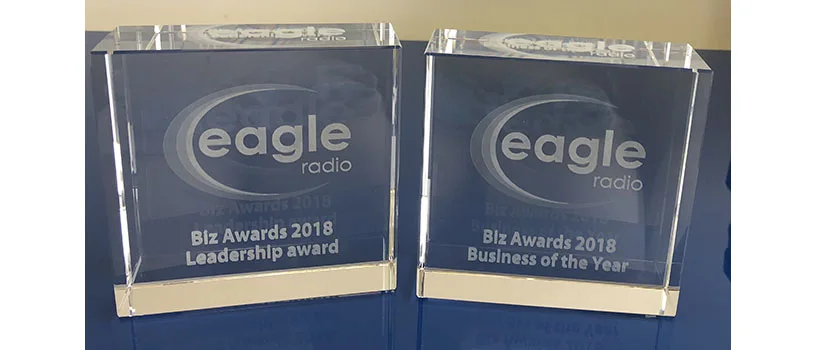 Posted on May 31, 2018 by Louise Howland
There was a lot of cause for celebration here at the ramsac offices last week, after we won not one but two(!) awards at the 2018 Surrey & Hampshire Biz Awards. It really was a great evening celebrating the very best of business in the two counties. The evening was held at the HG Wells Centre in Woking with great food and live entertainment from Una Healey (from the Saturdays).
The two awards we were finalists for were the last two to be announced, so we waited patiently whilst the other honours were handed out. First up for ramsac was the leadership award, sponsored by Woking works this recognised a leader who has demonstrated exceptional leadership qualities. Rob May, ramsac's Managing Director was thrilled to win this award after working tirelessly to make ramsac both a fantastic place to work for our staff whilst delivering exceptional IT services to our clients. Finally, it was time for the main award of the night, The Surrey and Hampshire Business of the Year award, sponsored by the University's Surrey Business School. This award recognises a company truly leading the way in business excellence and we were over the moon when ramsac's name were called.
Rob May commented "Surrey has more company headquarters than any other county in the UK and the combined GDP of Surrey and Hampshire is greater than many countries in the world, therefore to be recognised in these awards, firstly for my leadership but most importantly as the Business of the Year 2018, is truly a huge honour and one for which I am totally delighted. Thank you to the event organisers, everyone who voted for us, to the amazing ramsac team and of course to our clients".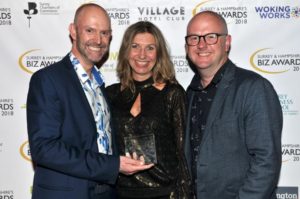 Rob May, Sally Cooper and Dan May celebrate the award win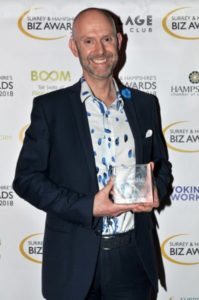 Rob May with his leadership award