ramsac shortlisted for two Surrey Business Awards 2023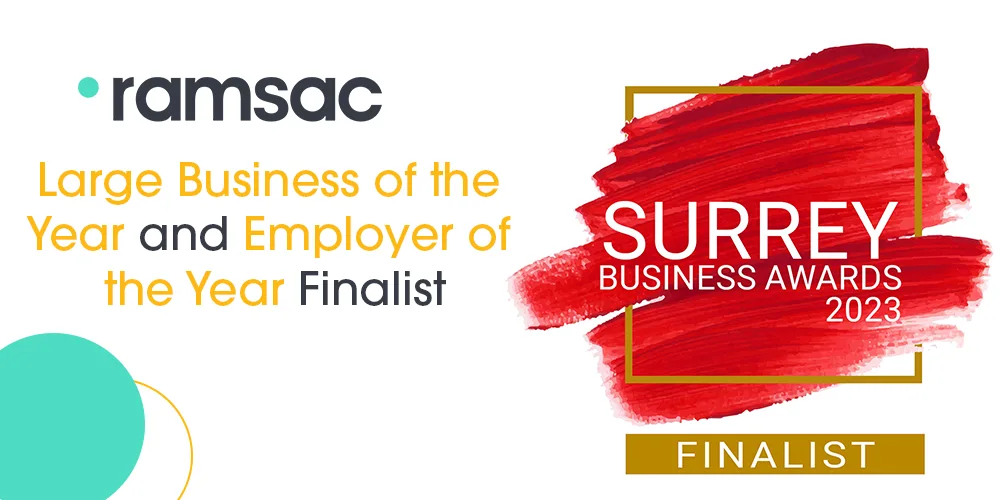 Posted on September 15, 2023 by Louise Howland
We are delighted to announce that ramsac has been shortlisted for two awards at the Surrey Business Awards 2023. The awards celebrate the best innovators, leaders and entrepreneurs in the county, and recognise the achievements of all kinds of businesses, large and small, across different sectors in Surrey.
We are a finalist in the Employer of the Year category, which honours organisations that demonstrate excellence in their approach to employee engagement, well-being, training and development, and corporate social responsibility. We are also a finalist in the Large Business of the Year category, which recognises businesses that have shown outstanding performance, growth, innovation, customer service and contribution to the local community.
The winners will be announced at a gala dinner on October 17th 2023 at G Live Guildford.
Rob May, Managing Director of ramsac, said:
"We are thrilled to be shortlisted for these prestigious awards, which reflect our commitment to providing exceptional IT support, security and consultancy services to our clients, as well as creating a positive and rewarding work environment for our team. We are proud to be part of the vibrant and diverse business community in Surrey, and we look forward to celebrating with our fellow finalists on the night."
At ramsac, we are more than just an IT managed services provider. We pride ourselves on our ability to help our clients achieve their organisation's goals. And we understand that technology is not a one-size-fits-all solution, whether we are helping our clients design a new infrastructure, migrate to the cloud, enhance their cybersecurity, or providing friendly and efficient IT support, we want to be the best that we can be. We are also focused on supporting our people. We believe that our team is our greatest asset, and we invest in their well-being and development. We offer an excellent working environment and a culture that is supportive, flexible, and fun. We provide ongoing training and career opportunities, as well as a range of benefits such as pension, health insurance, gym membership, and more. We also have a strong social responsibility ethos, and we support various charities and community initiatives. We feel this ethos is why we are finalists for these amazing awards and we work hard to constantly improve.