ramsac's best ever year ends in a flurry of award nominations!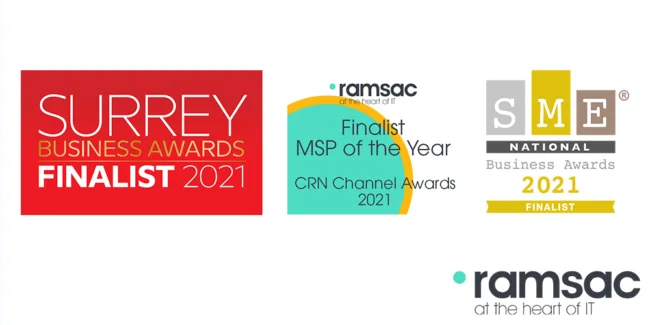 Posted on November 8, 2021 by Louise Howland
Award season appears to be upon us, and we are thrilled to announce that ramsac are finalists for no less than 7 industry awards!
Surrey Business Awards 2021
The Surrey Business Awards are the most sought-after accolade by organisations from every sector in the region. We were thrilled to discover we are finalists for 4 Surrey Business Awards. Employer of the Year, Business Growth, Large Business of the Year and 'the big one' – Company of the Year. To be recognised in any one of these categories is an honour and we are excited for the award ceremony on the 18th of November to find out who has won.
SME National Business Awards 2021
We have been named as finalists in 2 SME National Business awards. 'Employer of the Year' an area close to our hearts as we are focused on making ramsac a great place to work, and 'Business of the Year – more than 50 Employees.' Businesses in this category have shown outstanding initiative, boldness and imagination in the enterprise, as well as sound management practices. Finalists were expected to demonstrate sustainable growth combined with a degree of commercial success that is exceptional for the size of the business. We will be celebrating with our fellow finalists on Friday 3rd December at Wembley Stadium.
CRN Channel Awards 2021
The CRN Awards are the biggest and most prestigious awards in the UK IT Channel, and we were thrilled to be shortlisted for Managed Services Provider of the Year. Winners of this award will be announced on 11th November at Battersea Evolution.
"It is so exciting to have been shortlisted for such a great handful of awards! The last 18 months have been spectacular for ramsac, I'm so proud of the way we've managed the business through the pandemic, we've not only achieved significant growth, we've also really taken the time to look after our people, recognising the impact of the global situation on individual's wellbeing, and working really hard to invest in our people. In turn, this has allowed our people to invest in our clients and this combined effort has enabled us to achieve our best ever year. It's fantastic to be rewarded for this with our recent award success."

Dan May, Commercial Director at ramsac – Reflecting on the award recognitions
We are all waiting with bated breath for the award ceremonies to see who wins and we are looking forward to meeting our fellow nominees.