What are the benefits of OneNote?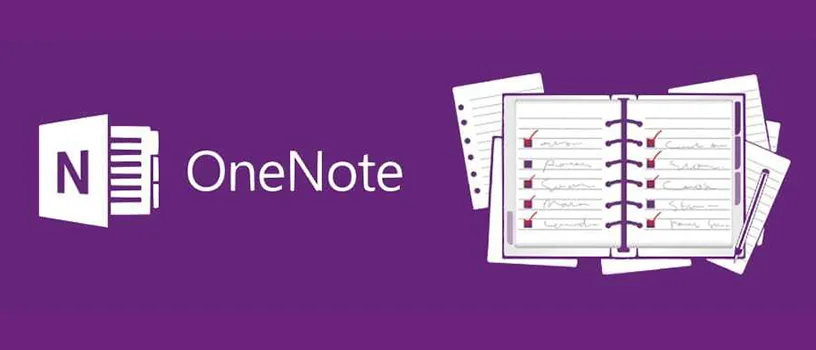 Posted on October 28, 2019 by Dan May
Microsoft OneNote, part of the Office 365 suite of applications, has become an essential productivity tool for businesses. But many don't fully appreciate the valuable contribution that the system can make at work. OneNote fully leverages the cloud and Microsoft technologies to make capturing, storing and sharing any kind of information easy.
Watch our helpful video explaining how to use OneNote and its benefits:
What is OneNote?
OneNote is a note-taking application. It provides a hub for all of your notes, which can be organised into separate notebooks, and individual sections within notebooks. It is compatible with a range of digital formats, meaning it's possible to pin multimedia documents as well as simple text.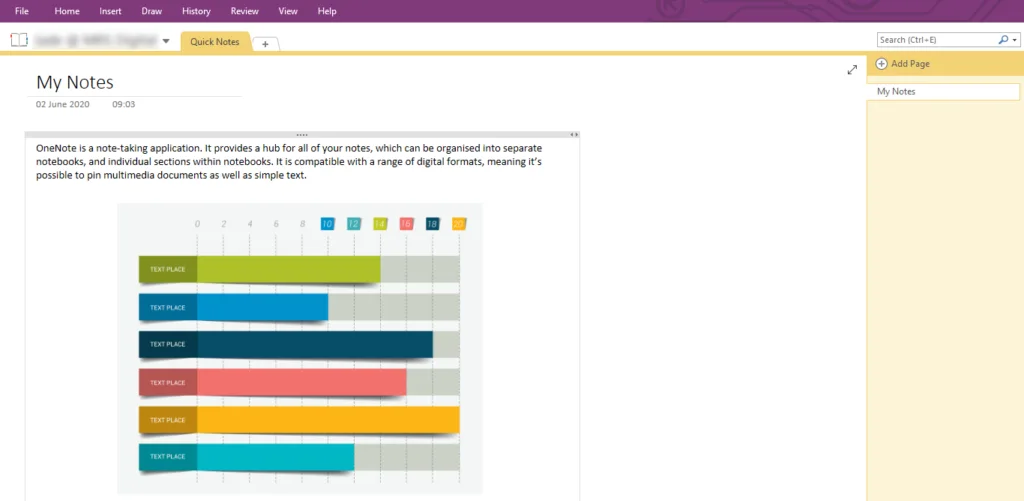 What are the benefits of OneNote?
In 2010 OneNote was praised for being "one killer app for education". Its many functionalities and user-friendliness have led to it's becoming hugely popular in this field, but also in any other environment that demands note-taking and the sharing of ideas. As part of the Office 365 suite, it has a familiar interface and has now been integrated into many workplaces. Anything saved in OneNote is instantly shareable with other users.
Some of the main benefits of OneNote include:
✓ Real-time collaboration
✓ Access revisions & track changes
✓ Securely store information
✓ Use on any device & major operating system
✓ Access on the go
✓ Scan handwritten notes & convert to text
✓ Touch capability to draw into system
✓ Supports multimedia
✓ Record audio & video into your notebook
✓ Integrate with Microsoft apps & plugins
1. OneNote enables collaboration in real-time
As Office 365 is cloud-based, you can share a OneNote file with other people to enable a real-time, collaborative workbook. Notebooks can be shared for viewing or editing, and as OneNote automatically saves as you work, multiple users can collaborate at the same time.
It's not unusual for accidents to happen when there are multiple users editing the same file. OneNote has this covered. Through its 'history' tab, you can view past revisions to track changes and restore file versions.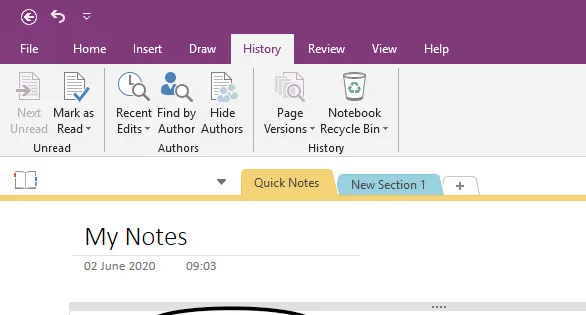 2. OneNote secures sensitive information
Like any program that stores information, notebook software needs to have security measures in place to ensure that only those who should have access do so. OneNote has the functionality to password-protect individual sections, securing information through the 3DES encryption standard.
In addition to this, if OneNote remains inactive for a specified period of time, it automatically locks your password-protected sections to ensure they're kept private.
3. You can use OneNote to record ideas and information on the go
OneNote is designed for use on any device, and it's available on all major operating systems including iOS and Android. So by synchronising OneDrive notebooks across multiple devices, users can access all their notes, as well as create new notes, regardless of whether they are in the office or out and about.
Like a word processor, text, tables, images and links can be added to the application. Also, if you're using a device with touch capability, you can write or draw directly into the system. OneNote can even scan your handwritten text, and convert it into typed text.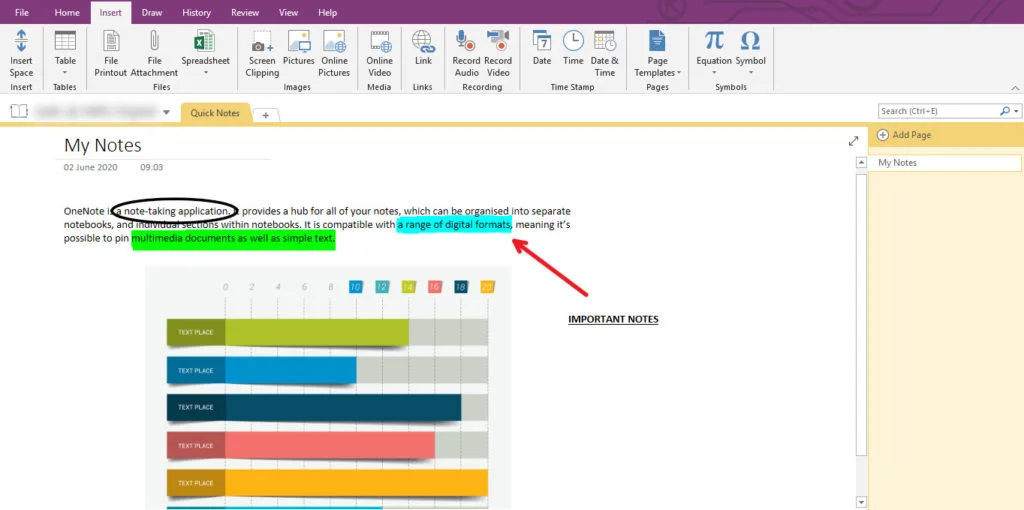 4. You can support your notes with multimedia
As well the ability to enter text (processed or handwritten), images and other media types that are possible through Microsoft Word, OneNote lets you record audio and video straight into your notebook. This is perfect for documenting meetings and sharing them with co-workers.
OneNote can also recognise spoken words, so you can search through recordings to find exactly what you're looking for.
5. OneNote can be integrated with other software
The great thing about Office 365 is that its applications integrate simply and perfectly. For instance, OneNote can be synced with Outlook, enabling you to can send information from emails straight to OneNote, and likewise, notes can be directly emailed from OneNote.
Its integration capabilities don't just end with Microsoft applications. You can install a number of plugins to add functionalities to OneNote, like Zapier, which connects OneNote with applications such as Salesforce, Trello and Slack. This enables applications to work in harmony, improving productivity.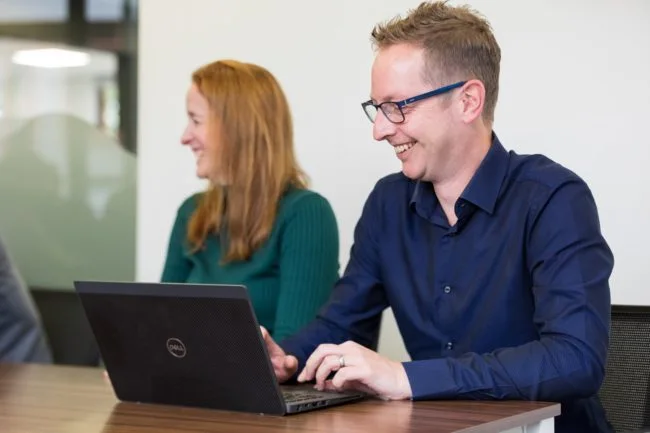 Ready to empower your staff with OneNote & Office 365?
ramsac provide Office 365 migration and consultancy services for businesses looking to take advantage of Microsoft's cloud-based tools.
OneNote vs Microsoft Word
OneNote is predominantly used as a note-taking application, whereas Microsoft Word is designed for those who need to create various types of content – from letters to manuscripts.
Microsoft Word offers all the tools needed to create one document of any length, whereas OneNote is used as a platform for collaborating ideas. OneNote allows users to make notes and pin inspiration such as videos, articles, images, and music.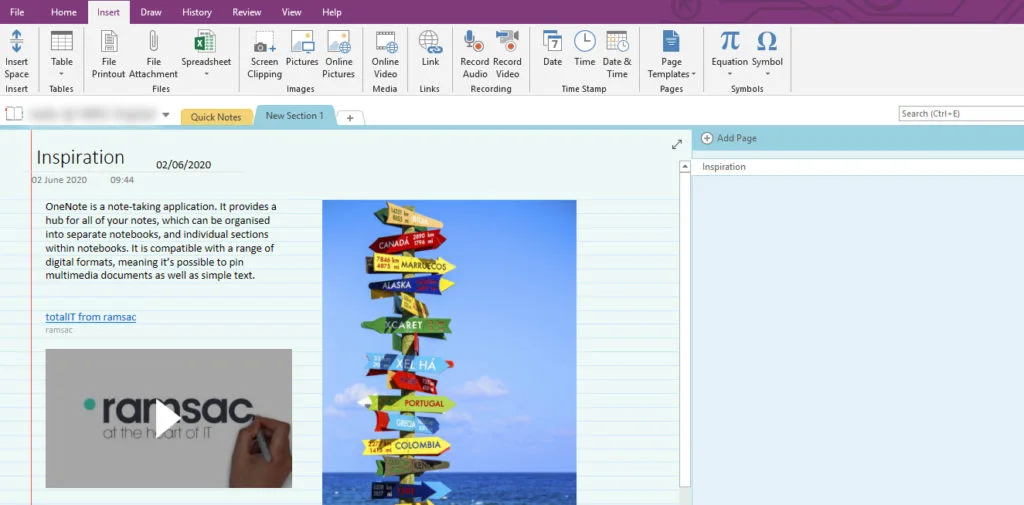 Considering OneNote vs Microsoft Word is unnecessary, in that both pieces of software can be used in conjunction, as they complement each other. While a team can collaborate and share ideas using OneNote, the finished piece of professional content – whatever that might be – could be produced using Microsoft Word.
Why is OneNote ideal for businesses?
OneNote, in addition to the whole Office 365 suite, makes it easier for businesses to focus on doing work, rather than to spend so much just planning how the work will be done. The main benefits are;
Your team can quickly access their relevant planning information
Colleagues can see each other's ideas, enabling efficient collaboration
Teammates are able to add to and access shared documents, wherever they are
It's the optimal platform for combining a range of media types
Any confidential business material is properly protected
Are there any drawbacks to OneNote?
In general, complaints about OneNote are few and far between. The two main complaints with the software are;
1) The ability to search through notes is limited. While it is possible to search for keywords in your open document, there is minimal 'tagging' capability.
2) Difficulties in adding documents created in other applications. Some MAC users have reported problems with attaching/saving into OneNote, even when documents have been made using other Microsoft products.
3) Those new to Microsoft Office 365 find it complicated. If you've never used OneNote or a Microsoft Office 365 application before, it can be tricky to navigate and understand at first.
Ultimately, OneNote can provide an ideal solution for anyone needing to organise their work and share ideas. Whether this is in a professional, educational, or even private environment, the functionalities of the program mean that OneNote can be used to suit a range of requirements.