Why the cybersecurity industry needs more women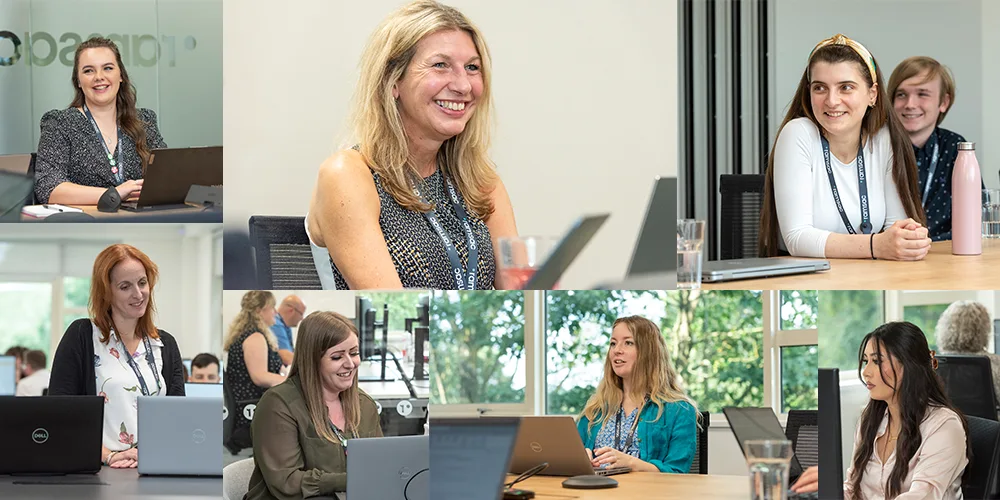 Posted on September 18, 2023 by Kayleigh Wilkinson
Unique Skills 
Despite it being 2023, there is still a surprising lack of women who work in STEM (Science, Technology, Engineering and Mathematics) careers. It is common for women to be particularly detail orientated, high achievers, problem solvers and determined, all skills which are highly sought after in STEM roles. Technology roles often come with the enjoyment of learning new skills, working in dynamic environments and working with a broad range of people. At school, sadly, only a few girls will hold their hands up as being interested in tech, seeing it as a 'boy thing' or for fear of being labelled as a 'nerd' however according to some studies, gaming and coding in both teens and adults has seen a dramatic increase of the percentage of girls and young women who take part. Enjoyment of these activities can easily lead to a career particularly in IT.
There has been research into the unique skills women can bring to the workplace. For example, data shows that employing more women leads to higher profits and projects that complete on time and within budget! Women score highly when it comes to intuition, emotional and social intelligence. They're able to remain calm during times of difficulty, looking at the whole picture and using their intuitive thinking skills to make good decisions. Studies have also shown that women gauge risk differently to men, being typically more risk averse and highly attuned to changing patterns of behaviour. These particular skills are very desirable in the IT sector, especially cybersecurity. Being able to look at things from a different angle and remain calm in the face of a cyber breach are invaluable assets which women can bring to the table. Samantha, who works in ramsac's IT security team, said:
"I got into working in IT, by accident. I found that while learning IT skills and troubleshooting was doable in my first company, and my colleagues were more than happy to help me, it was my customer service skills that was what was needed. Being able to answer a phone, talk a little to put people at ease and to get the information that was needed was important, building rapport over the phone and doing some quick and easy troubleshooting which I had from my previous roles in Customer Service were transferable. A can-do attitude and willingness to learn new things are skills you need for any job, but I have found these are important in IT as things are always changing and growing." 
Role Variety 
The way we look at cybersecurity is very different today than it was 20 years ago. Previously the focus had been on protecting businesses from hacks, website defacements, and subsequent lawsuits. When we look now, we see a range of cybersecurity threats to businesses and individuals coming through a growing variety of methods not just looking to infiltrate systems but bring down entire industries, high power individuals and even governments. Hackers aren't governed by the same restrictions as organisations and therefore can appear to always be one step ahead. This makes cybersecurity, as a career, incredibly diverse, ranging from structural defence to simulated attacks and everything in between from both the technology and business side. Looking from the technology side you aim to solve tech problems with things like security assessments, ethical hacking, secure coding, encryption, fraud, and forensics. The business side is more focused on the human factor, compliance, training, GDPR, and strategy.
IT is a growing industry, 65% of the global population are online with that set to rise to at least 90% in the next decade. The careers in this industry will therefore increase in line with demand, and sadly so will the rate of cybercrime. According to a report by Cybersecurity Ventures, cybercrime will soon become more profitable than the global trade of all major illegal drugs combined. Although this is not a cheery fact, it does mean that cybersecurity is a booming career choice and one of the most future proofed career choices. Women working in cybersecurity often say they joined to be able to solve real-world problems and making a positive impact doing so, feeling they were working in an important industry and with salaries that exceed expectations.
Getting started 
There are many ways you can start a career in cybersecurity depending on your age and experience. The industry can seem like it is full of the same 'type' of people but in fact it is incredibly diverse, your education, background, age or gender won't hinder your application. In fact, forward-thinking businesses all over the world are implementing initiatives to encourage women into IT roles, recognising the importance of their skill sets and how they can come together with computer science. Janine who works in our IT Operations team had this to say about moving into an IT career:
"I was unhappy in my previous role but had no idea what to do next, I had previously done a lot of work analysing data and had been working in 3rd level customer services where I was fixing faults on the front end.  I knew I had the skills; I just had no knowledge of working in the IT sector. I applied for this role not sure if they would consider me, as I had no IT experience.  It has been an amazing journey and I have really enjoyed learning and transferring my skills to this role.  As a mature woman over 50 it shows it is never to late to start a new journey." 
When looking at where to start, from the ground up is always an option but you can also join as an apprentice and some companies offer internal training schemes. There is also less focus on formal trainings or qualifications due to the amount of on the job learning which can be achieved by those who are driven. This enables you to take on a job earn as you learn, with support and development opportunities tailored to match your interests. I love these schemes especially as apprentices are able to see that the work they're doing is making a real difference, and there's career progression in the form of a job straight after. Apprenticeships are hugely beneficial, and often companies sponsor their apprentice through university or other qualifications if they so desire.
Cybersecurity is an exciting career choice with so many specialities for you to choose from.  If you like fast paced environments, constantly evolving work, are naturally curious and want to feel like you are doing something worthwhile, it could be the career for you. Have a look at our careers page for more information.