How has technology changed business? (2021 round-up)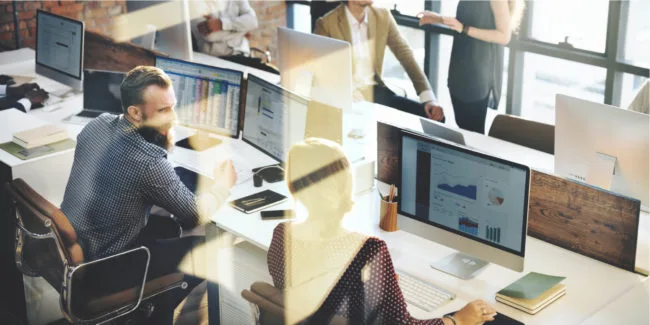 Posted on February 22, 2022 by Rob May
Technology is constantly changing and evolving. Over time, various technologies get upgraded, they adapt, and even become obsolete. How we use them in our daily and professional life is always changing too.
Whether it's how smartphones are becoming closer to film cameras, or the various ways professionals have found Microsoft products (such as Teams) even more helpful in communicating, technology continually creates meaningful and valuable change in the way businesses work in 2021.
The latest in workplace technology helps colleagues, especially those who work remotely, remain connected, engaged, and productive. These products, like new Teams functionalities, help employees with collaboration and communication.
How fast is technology advancing in 2021?
In 2020, the uncertain climate caused by the global pandemic didn't slow new tech adoptions, as increasingly more businesses underwent digital initiatives. One of the biggest pushes came in the form of cybersecurity measures, which were reinforced in the wake of high profile data breaches like the Microsoft Azure vulnerability.
In 2021, the role of technology feels even more relevant as many families and professionals use the likes of Zoom and Teams to remain connected and engaged. Over the year, the growth of technology has not slowed either. Almost every second, 127 new devices connect to the internet. With such a fast adoption rate, the state of technology in defining business is undeniable in 2021.
At the end of every year, tech pundits often speculate on the state of business technology. Workato's "State of Business Technology", for example, saw how automation of various business processes was on the rise in 2021. This shows how round-ups and yearly reflections are key to our understanding of technology and how it's impacting our lives – whether in the office, at home, or on the move.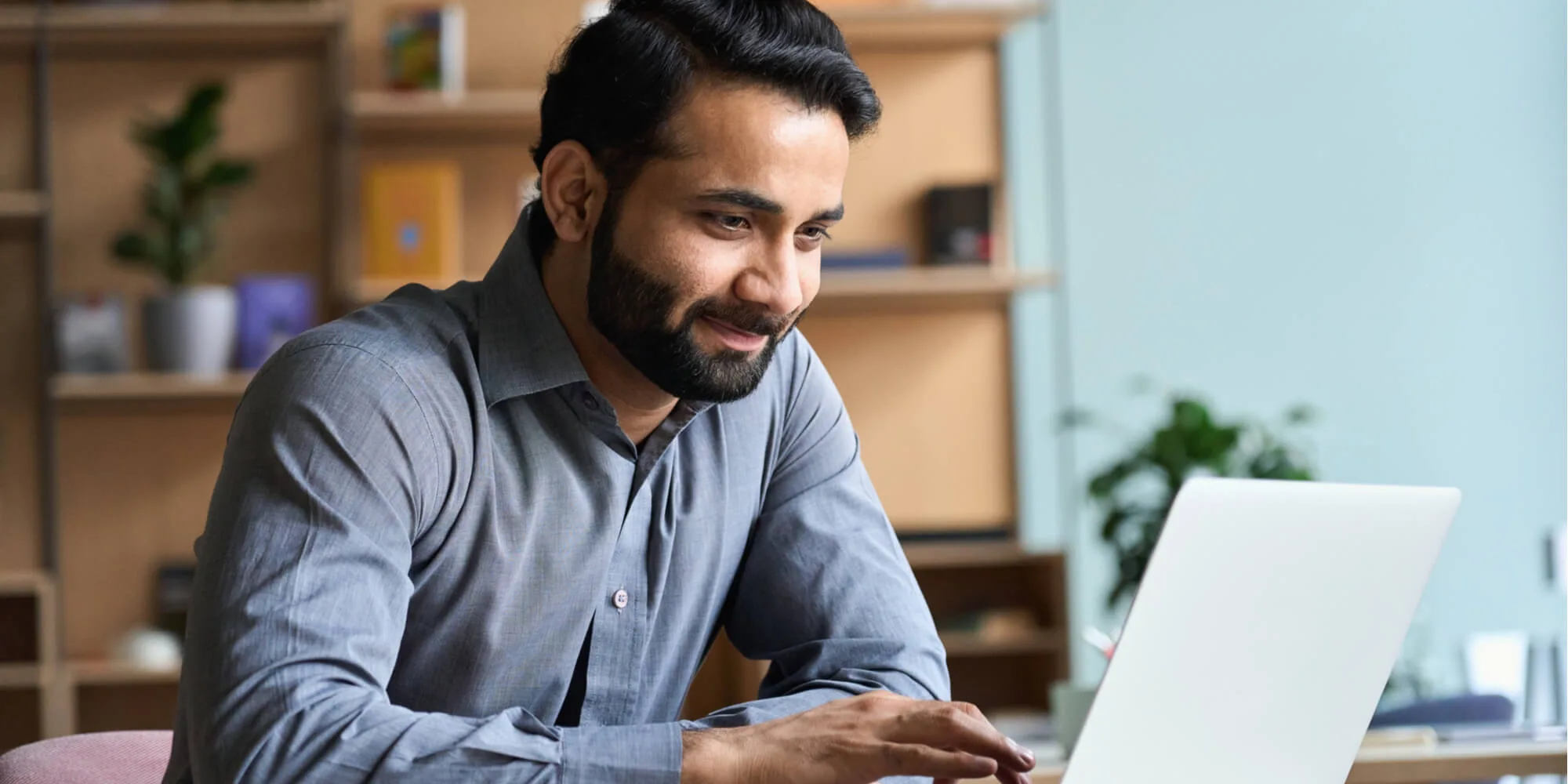 Six ways technology is changing business
1. Digital transformation quickens
During 2021, businesses underwent a digital transformation, changing how they use digital technology to adapt workplaces for the better. Many businesses have, for example, recognised how tech products can enhance employee wellbeing, productivity, or efficiency. It also changed how these can be deployed to answer technical problems, such as using "workplace intelligence" apps to understand how an employee's time is being spent throughout the day.
Since March 2020, when the global pandemic disrupted business, many owners had to quickly change how they operated. Some turned to digital initiatives to change the way they reach customers and conduct their services. In fact, Workato's 2021 report observed how tech budgets largely increased throughout the pandemic (approximately 65% growth), specifically in areas related to cybersecurity and data analytics.
Business technology, as we have seen, can support a business's efficiency and success. Workato's report even went as far as to observe how business technology can become the "backbone of revenue and efficiency". This was reinforced when journalists from McKinsey, Forbes and the New York Times all reported on the high stakes of business technology during the early months of COVID-19. One report even claimed how the pandemic set the stage for such rapid change that COVID-19 accelerated tech adoptions by at least several years.
2. Enablement of hybrid (or remote) working
Many industries were forced to turn to remote working, and these were amongst the largest changes, and those most likely to make a long-term impact on business. High profile companies like Adobe, Amazon and Apple were amongst those to announce remote working policies, which allowed for flexible or hybrid working arrangements for many employees.
Due to the growing risk of coronavirus, remote working was the quickest and safest solution that many businesses turned to, where possible. As restrictions eased, and businesses continue to adapt, some of the remote workforce has started to return to work on a hybrid arrangement.
"Hybrid" working has, for many, outgrown its roots as a buzzword to become a business reality. On March 12, 2020, Microsoft reported that 560 million minutes of Teams meetings were used. In only four days, that number rose to 900 million minutes. A year later in March 2021, Teams meeting use was at 2.7 billion minutes daily.
But working remotely came with its challenges as businesses had new needs to meet, including:
Security concerns
If your employees are working from home, what security protocols are in place to ensure workplace data and information is secure from risks?
Bandwidth capability to handle videoconferencing
Videoconferencing, especially when it's a regular part of your working day, can take a toll on minimal bandwidth packages. Most residential homes have standard WiFi, which can feel limited if it's not updated to meet new streaming demands.
Access to the right tools, like Microsoft Teams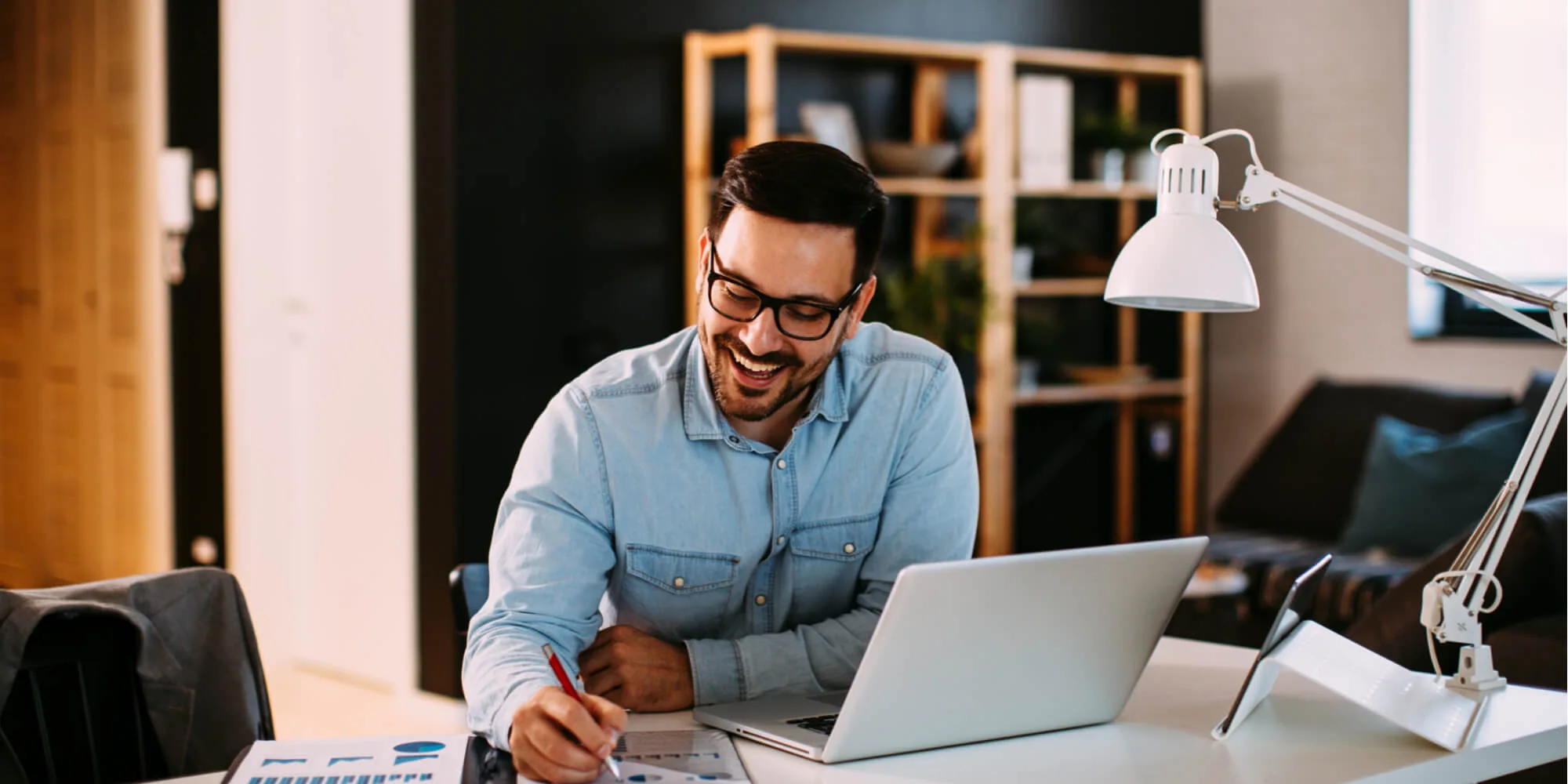 As employees 'commute' from their laptops in their home more regularly, what applications do they have that can help them collaborate.
3. Increasing employee productivity
Digital transformation has allowed many businesses to align employee workflows with broader business goals, helping them to achieve greater levels of productivity. Technologies are often "stacked" in a business, which is when different applications are used in the workplace to manage tasks better. These applications often streamline manual tasks, such as everyday admin and emailing, allowing employees to feel more focussed and invested in achieving business goals, rather than being stuck on necessary but time-consuming tasks.
Just as businesses focussed on aiding employee productivity, market innovators like Microsoft created a greater focus on this. In 2020, during the early months of the pandemic, Microsoft shared hidden insights for productivity within Outlook to help users navigate their inboxes better.
Productivity has become a priority for Microsoft tools, as the wider Office 365 suite of applications has grown in popularity. "Workplace intelligence", as Microsoft describes it, is the drive to learn more about our working routines and find creative solutions to troubleshoot less effective habits.
At ramsac, we identified some of the best Microsoft applications for business productivity, including:
Members using this application increased during the pandemic, where Microsoft Teams updated in-app functionalities to make working feel even more efficient.
Offering insights and recommendations, MyAnalytics helps employees better understand their working habits.
Take notes with you anywhere with the help from a digital notebook.
4. Improved employee wellbeing and engagement
Spotlighted by the pandemic, employee health and wellbeing became a major talking point. Wellbeing, critically, is all about balancing work with the backdrop of life. High profile charities and businesses alike – including Chartered Institute for Personnel and Development (CIPD) and Mind.org – encourage wellbeing and mental health initiatives to help employees cope with pandemic and the different climate of remote working.
Wellbeing can be monitored and analysed by the technologies we use. For example, Microsoft MyAnalytics takes workplace intelligence a step further and understands employee health and wellbeing, helping employees take control of their workloads by offering downtime. These types of applications have been described as a kind of "fitness tracker", capable of digesting your habits, and then offering tips with a wellbeing focus.
Employees can use this simple application, which sends breakdowns via Outlook, to better hijack their working routines and understand any areas for improvement. This app also helps with wellbeing goals, so employees can find time in their busy schedules to rest and recover after a full week. Employers can encourage uptake of these apps by empowering their employees to better understand how they use their time during the working week.
5. Changed the ways we collaborate
As employees become increasingly distant and separated during the pandemic, there was an urgency to fill the gap with video-conferencing tools. Where colleagues had traditionally collaborated around whiteboards and interacted over the office coffee pot, the likes of Microsoft Teams and Zoom grew in demand.
Collaboration is so critical that one report from McKinsey discovered how 60% of working hours are engaged in some form of collaboration, be it over emails or problem solving as a team. The relevance of collaboration become so important in 2021 that videoconferencing rose in popularity. By January 2021, Zoom had 10.47 million downloads on the App store (at the time, this was the 7th most downloaded application).
These tools become a convenience and lifeline for business teams that have continued to work remotely, as applications like Teams or Zoom have simplified how colleagues interact, collaborate, discuss, and share information, files, and their work. Keeping colleagues connected has been the main goal – even beyond the work roles, as many teams used videoconferencing for coffee breaks, quizzes, and other wellbeing exercises.
But 'Zoom fatigue' became a challenge in 2021, as videoconferencing become so commonplace that many professionals noticed symptoms of burnout related to using this technology. Many businesses changed this trend by refocussing on employee wellbeing, which apps like Teams now offers support with. For those feeling stuck choosing between videoconferencing applications, our comparison guide has helped narrow down the best platform for team-based collaboration.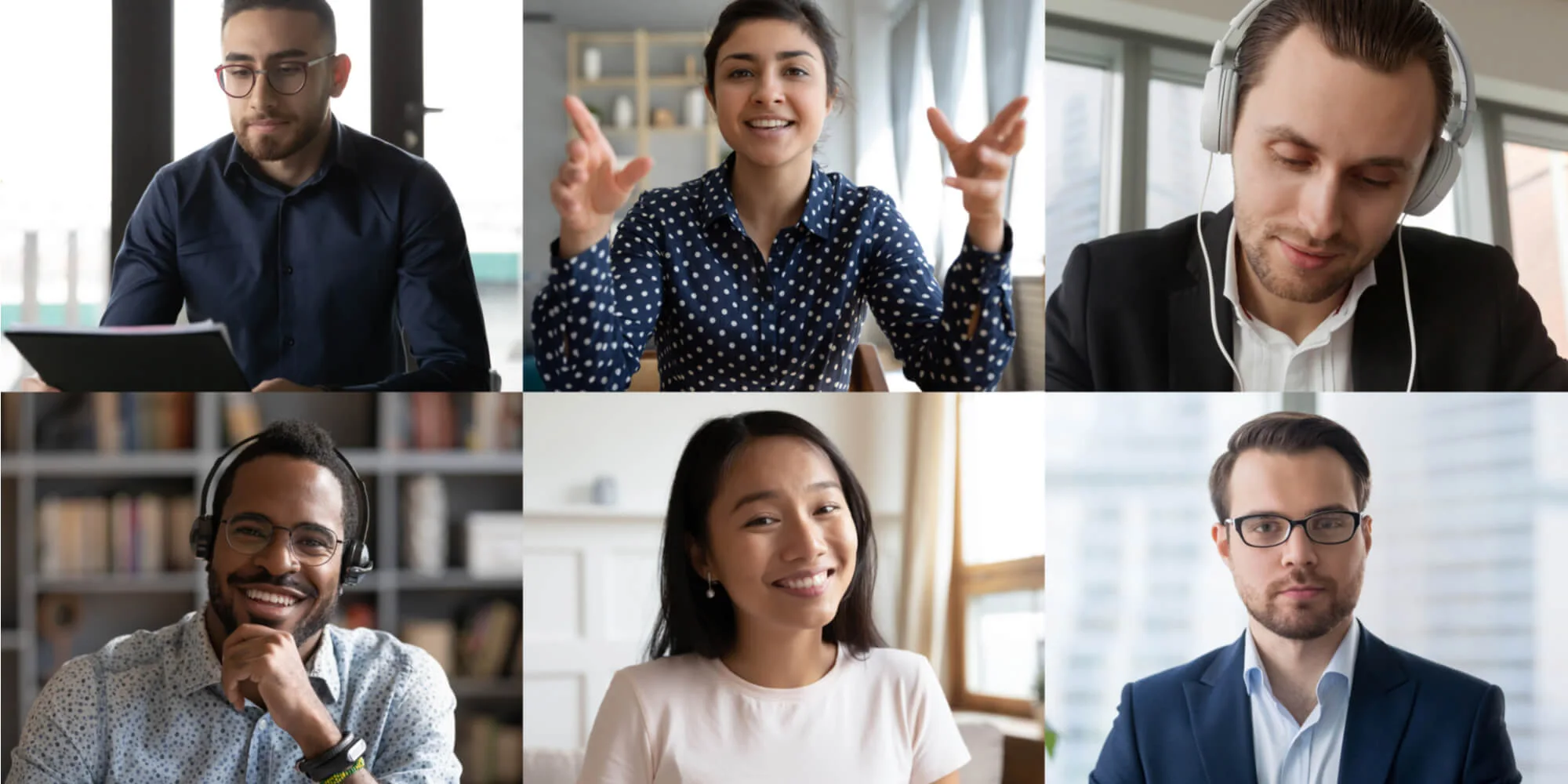 6. Changed the risk varieties (and how we protect ourselves)
Every year, UK businesses reportedly lose £1.3bn to fraud and other cybercrimes. The anxieties of growing cyber risks were captured in Verizon's "Data Breach Investigations Report 2020", which contain critical statistics about the evolving landscape of security and the risks that businesses face today.
In 2021, email phishing was a major cause for breaches. Motivated by financial theft and fraud, cybercriminals were relying on misinformation, outdated passwords, and deceit to gain access to employee inboxes. But as these risks grow and change, it teaches us that increased awareness and best practices are critical in preventing a system vulnerability escalating into a costly breach.
Risks remain just as relevant in 2021 as they had been in 2020, that's why training, awareness, and the basics – like password updates and patching – are critical. ramsac continues to advise businesses on how they can stay protected from risk varieties online. From a strong password policy to regular patching, you can use our IT advice to keep your business more secure.
Get IT support from the experts
In 2021, business technology changed for the better. With a greater push to reinforce cybersecurity and a larger investment in remote technologies like Teams or AV equipment, the changes to business have been significant.
Rounding up these changes in 2021, technology has transformed businesses in the following ways:
Greater uptake of digital technologies
Companies going remote
Employee productivity and wellbeing get equal focus
Collaboration got easier
Risks and cybersecurity are still important
ramsac provides a range of services and advice, helping businesses to unlock their full investment. From cybersecurity to cloud migration projects, get in touch with our team of specialists to find out how we can help your business today.