What's your idea worth spreading?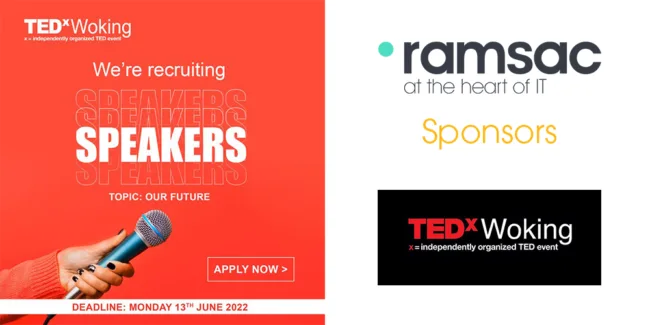 Posted on May 27, 2022 by Louise Howland
Would you like to stand on stage and give a TEDx Talk? Maybe you can!
ramsac are proud to be sponsoring TEDx Woking for the 4th consecutive year. The 2022 event is bringing together engaging speakers and TED videos all under the theme of 'Our Future'.
TED is a non-profit organisation which began in 1984 devoted to spreading ideas in the form of short, powerful talks of 18 minutes or less. The numerous independently run TEDx events help share ideas in communities all around the world.
We are delighted to be involved in this year's event where local experts in their respective fields will be welcomed to the stage to deliver talks with diverse perspectives on a theme leaving the audience with 'ideas worth spreading'.
The first time we were involved in a TEDx Woking event was back in 2017 when ramsac's Managing Director, Rob May presented a talk; Your human Firewall – The Answer to the Cyber Security Problem. To date that talk has had over 225,000 views on YouTube, 269,000 views on TED.com and has spawned two books. Commenting on his talk, Rob said
"My TEDx journey has been one of the most rewarding things I've done, and I am proud to be one of the alumni of humans all over the globe who have summoned the courage to stand on the TEDx stage."
Have you got an idea worth spreading and does it fit the theme of 'Our Future'? Rob has shared his thoughts on the process, and you can find his advice for giving a talk here.
If you want to be part of an afternoon of inspirational and enlightening talks, please submit your idea by signing up to become a speaker for this year's TEDx Woking (note that the deadline for applications is 13 June 2022). You need to apply here.